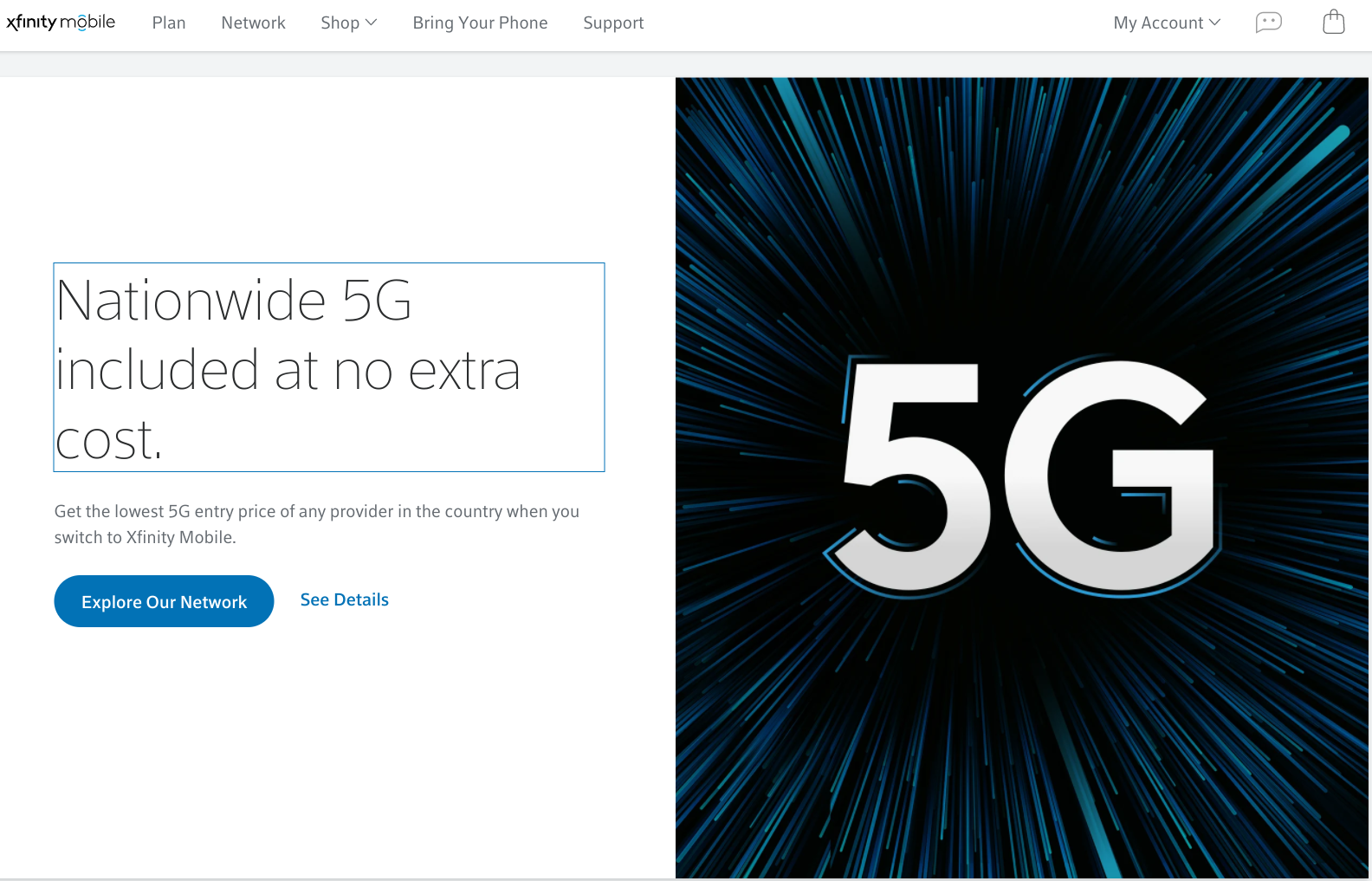 Image source: Comcast
Seeing the writing on the wall, cable TV companies Comcast Xfinity, Charter Spectrum and Altice decided they needed to start selling wireless to their customers. The only problem was, they didn't own a wireless network. So, they took the next best alternative… they became MVNO resellers. Let's take a look at how cable TV is doing in wireless so far.
The separate industries of wireless, telephone, Internet, pay TV and more were starting to blend together. That means cable television providers, which traditionally had no competition, were suddenly faced with hypercompetitive players like AT&T, Verizon and T-Mobile.
The first attempt started a decade ago and failed. The second attempt started a few years ago and… so far, so good. While none of them is having an impact on the wireless industry, as wireless MVNO resellers, they seem to be holding their own.
Xfinity Mobile, Spectrum Mobile, Altice Mobile MVNO wireless
Comcast was the first with Xfinity Mobile. The next year Charter started offering Spectrum Mobile. Then a couple of years later, Altice finally joined its cable TV brethren and started offering Altice Mobile.
This is a growing segment. All three added new lines during 3Q20. You may be surprised, however, by the different paces and who is leading.
Spectrum Mobile is signing up the most customers adding more than 360,000 this quarter. So far, they have added just over 2 million lines total. Spectrum Mobile started a year after Xfinity Mobile.
Xfinity Mobile added fewer new lines, with only 187,000 added during 3Q20. This gives the company total lines of 2.6 million. Why is it adding new lines much slower than Spectrum Mobile?
Altice Mobile only added about 18,000 lines during 3Q20. The company says that it has reached 3.5% of their customer base. Altice is the smaller of the big three cable TV companies, but still, this performance is not inspiring.
What marketing secrets is Spectrum Mobile using?
After looking at the performance of all three, the next question is why there is so much difference among them? What is Spectrum Mobile doing that the others can learn or imitate?
Xfinity Mobile was first to wireless. It is the largest cable TV provider. It has the largest customer base of 2.6 million. You would have thought its performance would be stronger.
Spectrum Mobile started a year later, so you would expect the total number of customers to be much less. While Spectrum's total wireless lines are in fact fewer than Xfinity Mobile's, they are not that much fewer. This means the pace of growth with new lines is faster. Spectrum is the second largest cable TV operator.
Altice Mobile is another story. Why is the third largest of this group struggling so much to catch up?
Why does Spectrum Mobile have the fastest growth rate?
What is the difference between leaders and followers? Does it depend when the company started selling wireless? Is it the quality of services they sell between Verizon Wireless and Sprint? Is it the size of the cable TV company? Is it the price of service?
Or is the difference just about quality of marketing exhibited by each?
Of course, all these factors play a role in determining why Spectrum Mobile is doing so much better than Xfinity Mobile and Altice Mobile.
The difference in Spectrum Mobile is marketing
I believe the major difference, however, is in the power of good marketing. Spectrum Mobile must be doing a much better job of marketing and creating a desirable market for its wireless services.
The power of marketing should be the focus of every company. Some companies do a much better job than others. These are the ones that typically do a much better job at winning market share.
These three cable TV companies are not competitors with each other on a national scale. They each offer their services in their region only. So, they don't feel the same kind of pressure to perform as AT&T Mobility, Verizon Wireless and T-Mobile US.
Cable TV competitive instincts are softer, not sharper
That lack of competitive threat has always kept the competitive instinct soft with regards to the cable TV industry.
Things have been changing in recent years. Not only are cable TV companies selling VoIP telephone and wireless services in addition to Internet and pay TV, but their competitors are doing the same.
AT&T, Verizon, T-Mobile and others are expanding their offerings. Consider AT&T and Verizon. They not only offer the best wireless services and telephone services, but they also offer pay TV and Internet. T-Mobile is just launching its TVision service.
AT&T, Verizon, T-Mobile are the standard in wireless
Here is something you may not know. The largest two pay TV providers in the United States today are Comcast and AT&T. AT&T TV and Comcast Xfinity lead the way. Imagine that.
Things are changing and they will continue to change. Consider AT&T's acquisition of Warner Media, Warner Brothers Studio, CNN and more.
The world is changing and to win, companies must be youthful and vigorous in their ability to move quickly and be where the customers want them, before they want them.
This is where AT&T, Verizon and T-Mobile seem to have an edge in the wireless world. They operate advanced wireless voice and data networks and keep upping the ante, making it more difficult for competitors to arise and grow.
They are the nation's wireless backbone. Many MVNO resellers like the cable TV companies resell their wireless services.
Bottom line, the cable TV providers Comcast, Charter and Altice never had to compete, and while they are better today than they have ever been, they still do not have the killer instinct they need.
This could change. Especially with the good performance to date of Spectrum Mobile. All three cable TV companies, however, should have a stronger growth curve than they have right now. Stay tuned.
Jeff Kagan is an Equities.com columnist. Kagan is a Wireless Analyst who follows Telecom, Pay TV, Cloud, AI, IoT, Tele Health, Healthcare, Automotive, Self-Driving cars and more. Email him at [email protected] His web site is www.jeffKAGAN.com. Follow him on Twitter @jeffkagan and LinkedIn www.linkedin.com/in/jeff-kagan/
_____
Equities Columnist: Jeff Kagan
Source: Equities News