The information used by most insurance underwriters to assess risk is often a blunt instrument: sex, age, and marital status. While many unmarried 23-year-old men may be relatively risky drivers, many are safe, and are penalized for falling into an actuarial category that doesn't correctly identify their habits. Those days may be ending, with highly disruptive consequences for incumbents in the insurance industry and opportunities for the disruptors.
The force driving this disruption is a familiar one, related to many of the technological themes we follow: big data, smart devices, the cloud, and the internet of things. Some auto insurers -- Progressive was the first -- are offering to tie rates to driving behaviors recorded by a monitoring device. Health insurers have begun offering discounts to customers who will use a device such as a FitBit to track their exercise habits.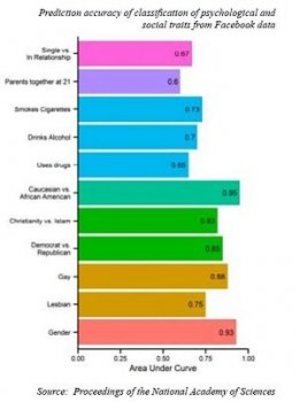 However, that's just the beginning. In 2013, researchers at Cambridge University published a study in the Proceedings of the National Academy of Sciences in which they applied computer algorithms to analyze partial Facebook data sets of 58,000 volunteers. (Interested readers can find the study here). That analysis gave astonishingly accurate characterizations of a variety of variables, many relevant to insurers -- and even matched independently conducted analyses of psychological traits. (Liking The Lord of the Rings and the sound of Morgan Freeman's voice are correlated with high IQ; those who like Prada, Sun Tzu, and Julius Caesar are more likely to be competitive.)
Note also -- that's the accuracy of algorithmic analysis of partial data sets. With access to all the data that Facebook has about users' activities, the accuracy would almost certainly become even more robust.
Facebook (FB) might have the most extensive collection of such data that has ever been collected -- but of course other Silicon Valley incumbents, notably Google (GOOG) also have similar data vaults. The Economist recently quoted the director of a large European insurance firm as saying, "I'm far more concerned about the Silicon giants than about [competitors within the industry]."
Insurance incumbents will try to keep up -- but eventually, they may be severely challenged by GOOG or FB or third parties to whom they may license their data.
With $30 trillion under management by the insurance industry globally, and $338 billion in profits in 2014, the stakes are high, and the opportunity for disruptors is tempting. We would not be surprised if this topic is a hot one in the inner circles of management in many of the tech giants. With unprecedented data relevant to such a large industry, we simply ask: is the value of the data being properly accounted for in Wall Street's valuations of the companies that own it?
There will certainly be a vigorous debate about the use of big data for actuarial purposes, but we believe the benefits will ultimately dampen that debate. Consumers will pay less for insurance -- and those who "behave badly" will begin to mitigate that bad behavior (as industry experience with monitoring of driving habits has already begun to show). There are actually positive public health consequences of this process.
Investment implications: Big data analytics will transform the insurance industry. We believe economic and social forces will push consumers towards acceptance of the use of these data. The implications for the value of the data troves of many big data incumbents, especially GOOG and FB, could be dramatic, given the size of the global insurance industry.
DISCLOSURE: The views and opinions expressed in this article are those of the authors, and do not represent the views of equities.com. Readers should not consider statements made by the author as formal recommendations and should consult their financial advisor before making any investment decisions. To read our full disclosure, please go to: http://www.equities.com/disclaimer