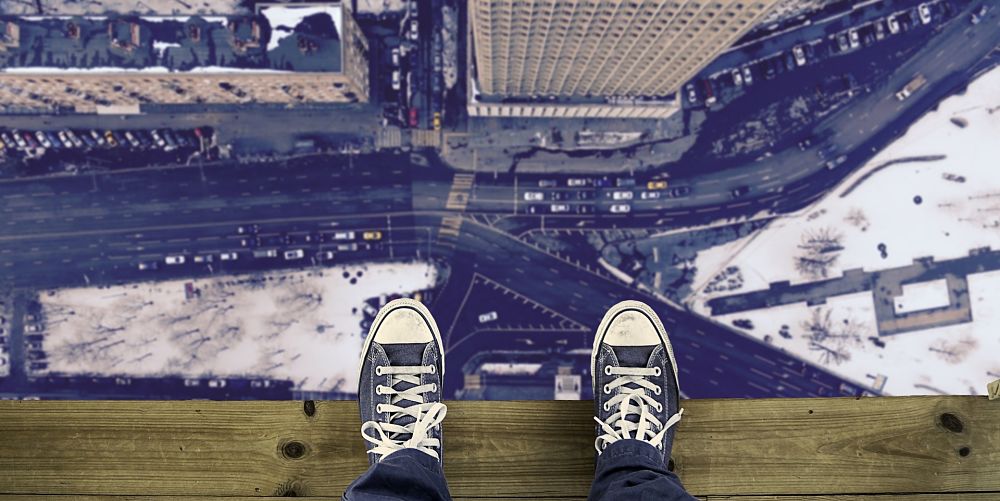 When will the next recession start?
In search of the answer, I kept asking speakers on-stage and off-stage at the Strategic Investment Conference 2018. I also asked really smart people that are well-versed in economics and economic cycles.
Their consensus seemed to be 2019 or possibly as late as 2020. We have just stretched the rubber band too tightly, and it's fraying. Consumer spending, the driver of the economy, is beginning to slow.
On top of that, consumers have accumulated about as much debt as they can tolerate. Savings are at a ridiculous low.
This is from Telmatica Research:
While Friday's job report got the markets all excited, perhaps the reason that enthusiasm has cooled is folks are realizing that the 50k gain in retail jobs isn't syncing up with the -4.4% SAAR decline in retail sales over the past three months. Then there is what we are hearing from the horses' mouth. Walmart (WMT) and Target (TGT) both issued weak guidance, as did Kroger (KR) which also suffered from shrinking margins. A tight and tightening job market is unlikely to help with that. Costco (COST) missed on EPS, as did Dollar Tree (DLTR), which also missed on EPS and gave weaker guidance. Big Lots (BIG) saw a decline in same store sales. At the other end of the spectrum, the 70k gain in construction is in conflict with rising mortgage rates, traffic and declining pending home sales, while the 31k gain in manufacturing has to face a dollar that is no longer declining, high costs on tariff-related goods, and potentially some sort of trade war.
And do you think automobile manufacturers will be able to maintain their current high production when literally tens of millions of high-quality leased cars come off their leases in the next few years?
Not to mention the hit they'll take from steel tariffs…
I know that many Americans support the steel tariffs. But it will come at a cost, which is a move to protectionism and trade wars. That would pretty much end economic progress as we know it and usher in a period similar to the Great Depression.
GDP Is Slowing Down
No one actually knows when a recession will start. People have opinions based on past performance and personal experience. The problem is that past performance is worthless in today's world.
One thing I do know is that the Atlanta Fed's GDPNow metric, which tries to predict GDP for the current quarter, has notably dropped in the last 45 days. Its Q1 GDP estimate has plunged from 5.4% growth to 1.8%.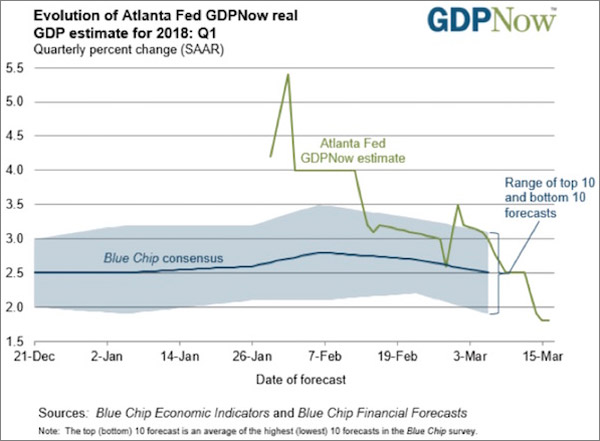 Source: GDPNow
Even my great friend Steve Moore admits that it will take multiple years of 3+% growth to get rid of the current deficit.
Corporate Tax Cuts Won't Save Us Either
We are not seeing a monster increase in capital spending from these tax cuts, at least so far.
Worse, executives seem to be saying that they're going to increase stock buybacks and dividends. And while I'm all for dividends, those typically don't create jobs… and jobs are what we need.
I came away from my conference with my recession antenna up. Recessions don't happen overnight. Things start slowing down and then they roll over.
Some of the attendees think the next recession will not be all that bad, while others think it will be worse than the Great Recession.
I think the outcome depends on the timing of the next recession and the political reaction.
Get one of the world's most widely read investment newsletters… free
Sharp macroeconomic analysis, big market calls, and shrewd predictions are all in a week's work for visionary thinker and acclaimed financial expert John Mauldin. Since 2001, investors have turned to his Thoughts from the Frontline to be informed about what's really going on in the economy. Join hundreds of thousands of readers, and get it free in your inbox every week.