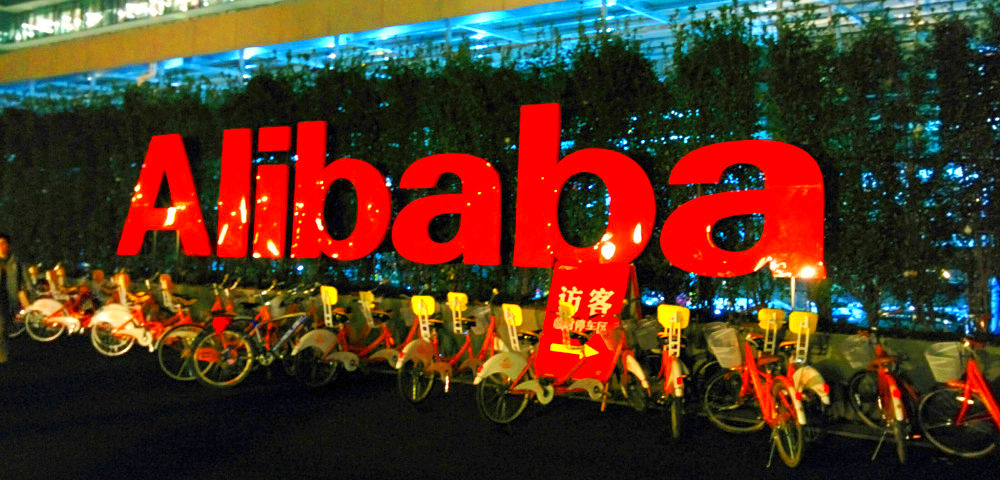 Image via leighklotz/Flickr CC
I'm not arguing whether investors should buy Alibaba BABA and avoid other large players. They will all be winners. They should all be bought into any material weakness. The potential market is that large. It's about access, writes Jon Markman.
Everything is upside down.
Google is becoming more like Amazon.com AMZN. Meanwhile, the online retailer — which is Google's GOOGL biggest ad buyer — is embracing an advertising model. That's according to a leading internet analyst.
Every year, investors eagerly await Mary Meeker's Internet Trends presentation. She's a partner at Silicon Valley venture capital firm Kleiner Perkins. Many say she is the top expert in this field.
Meeker's longevity is impressive; she's been at this since at least the early 1990s.
So when she made this surprising statement about Google and Amazon, investors raised their eyebrows. But they also listened hard.
Here's why you should, too …
For investors, the knee-jerk reaction is to think in terms of winners and losers. Yet, Amazon.com and Google have been codependent for two decades. Their respective ad businesses were destined to intersect.
As recently as 2013, Ad Age reported the Seattle retailer spent $157 million on Google advertising. That was twice as much as the next-biggest spender, Booking.com (BKNG).
Also, Jeff Bezos, founder of Amazon.com, was one of the first investors in Google. In 1998, he ponied up $250,000, giving him 3.3 million shares — now worth $3.6 billion.
Even back then, Bezos understood the critical role that search would play in ecommerce.
Today, Amazon.com is where most product searches begin. According to Meeker, 49% of online shoppers choose the online megastore. Only 36% chose a search engine.
While this might seem like a big deal, it's not. Most internet searches are still about adult entertainment, translation, weather, maps, news and YouTube. Google has all of these topics well-covered.
And let's be honest, Google won search long ago. By comparison, Amazon.com's fledgling search business is a rounding error.
The real competition is not search. It's artificial intelligence. It's data.
Bezos and Larry Page, his counterpart at Google, laced up for the AI race long ago. Their customer-facing products are about feeding data-hungry algorithms.
Bezos and Paige know AI is a market worth trillions. It's coming to commerce as a platform. It's coming to the masses in the form of digital assistants.
Smart speakers like Alexa and Google Home are a perfect example …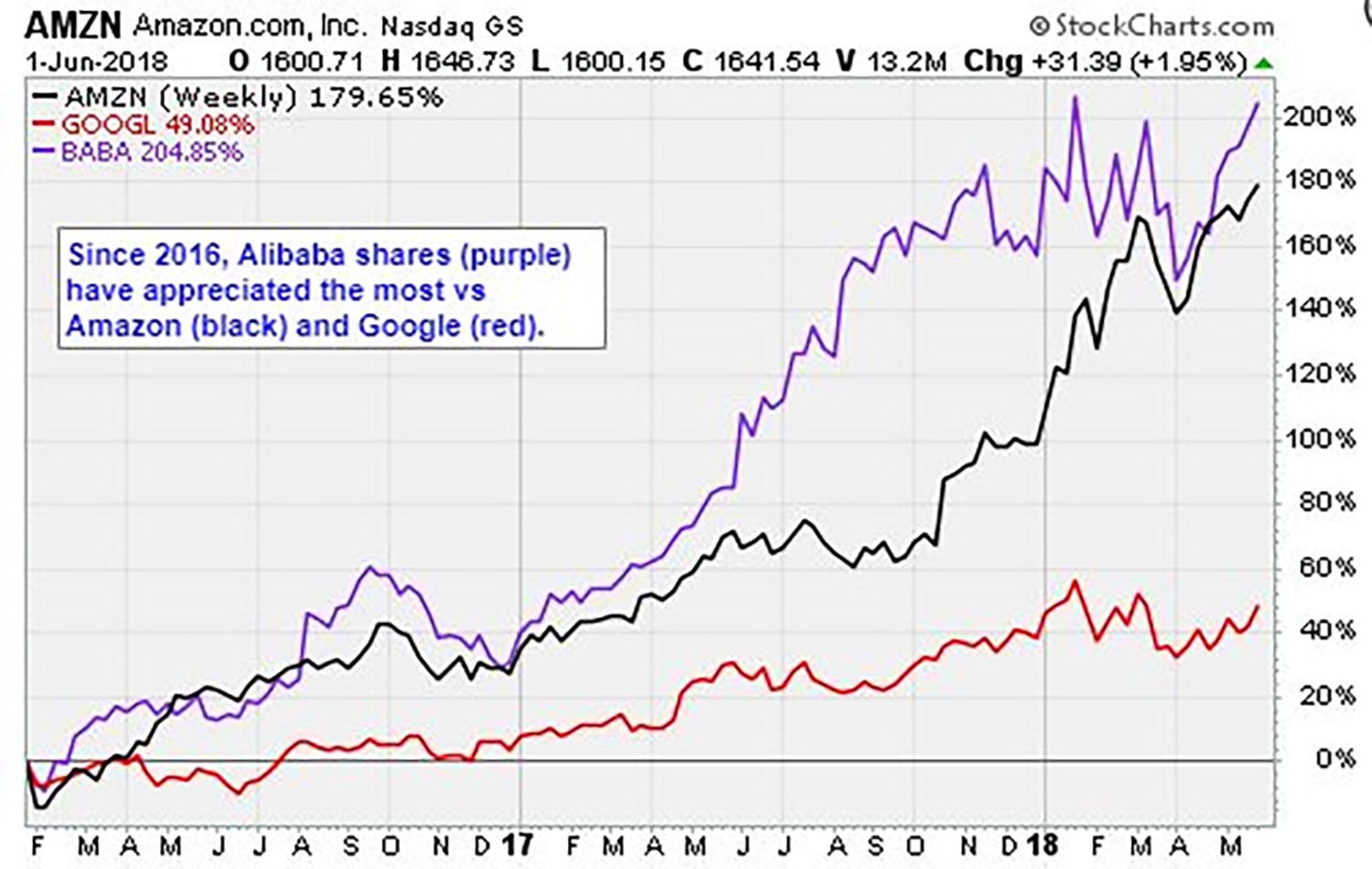 The businesses are ecosystem loss leaders. They exist to lure developers and millions of human beta-testers.
With each input, the algorithms improve. That's well-worth the steady flow of operational red ink.
One day, everyone will have bespoke personal digital assistants powered by AI. These bits of code will know everything about us. They will anticipate our needs and augment our mental frailties.
It's not hard to see why the market is potentially worth more than Google and Amazon combined, times 10.
Only a handful of companies have the network scale, engineering talent and corporate ethos to meet that challenge …
Amazon.com and Google are logical candidates. But investors should not look past Samsung SSNLF, Facebook and Alibaba.
Alibaba is especially intriguing.
Jack Ma, the chief executive officer, is building a business in the image of Amazon.com. The company has a dominant Chinese ecommerce platform. It also has unfettered access to the fastest-growing digital data market in the world.
For perspective, in December 2017, China's 1.412 billion residents had 663 million smartphones. That is two times more than the entire U.S. population. Not only are all of those devices being tracked, but Chinese residents are far more willing to surrender personal data.
Right now, Alibaba owns the Chinese equivalent of Amazon.com, YouTube, Yelp YELP, Open Table and PayPal PYPL. And it is using a constant stream of digital information from all of these sources to build out its AI ambitions.
I'm not arguing whether investors should buy Alibaba and avoid other large players. They will all be winners. They should all be bought into any material weakness. The potential market is that large.
Investors should be looking past headlines about business plan convergence.
It's not surprising that Amazon.com wants to sell more ads. This will defray costs. It's also not surprising Google wants to work with partners to do more in ecommerce. The shadow cast by Amazon.com online has left many brick-and-mortar retailers in darkness. They need a partner. Google fits the bill with its massive Android franchise, growing smart speaker ecosystem and engineering talent.
The bottom line is everything has always been about data. Winners are being defined by access. They are building insurmountable leads. Choose wisely.

Best wishes,
Jon D. Markman

Subscribe to Jon Markman's Power Elite newsletter here
Subscribe to Jon Markman's Tech Trend Trader here
Subscribe to Jon Markman's Strategic Advantage here

Jon Markman is a veteran money manager, journalist and editor of Tech Trend Trader.

About MoneyShow.com: Founded in 1981, MoneyShow is a privately held financial media company headquartered in Sarasota, Florida. As a global network of investing and trading education, MoneyShow presents an extensive agenda of live and online events that attract over 75,000 investors, traders and financial advisors around the world.