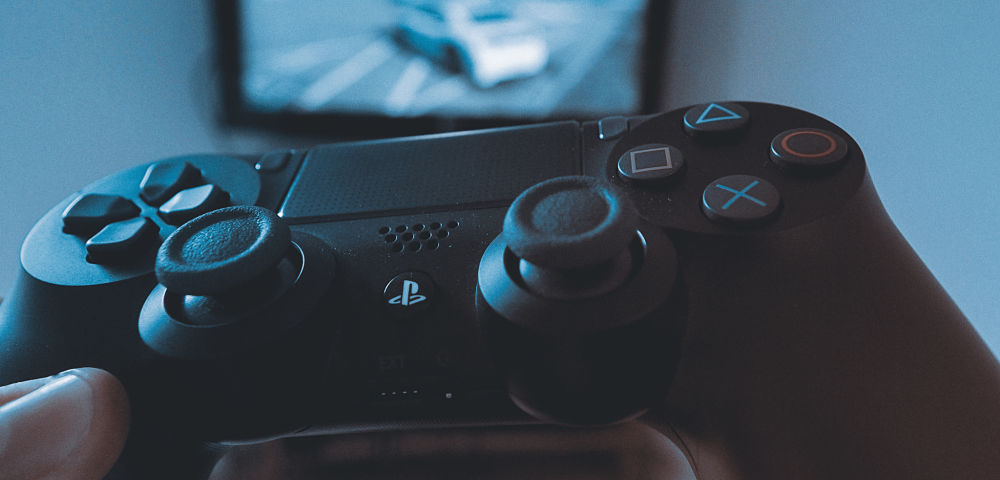 Activision shares are up 24.2% in 2018, and 30% over the past 12 months. As I have been saying for years, the stock is a Buy into any weakness, writes Jon Markman.
Gaming is a lot bigger than you think. No, I'm not talking about slot machines and blackjack. Video gaming. And thanks to a partnership between Activision Blizzard ATVI and Disney DIS, it's coming to a television near you.
On July 13, Activision shares surged to a record high on news that Disney will air its Overwatch League on ESPN, ABC and Disney XD television stations, in prime time.
Think about that for a moment. Exploring alternative virtual worlds, and watching others play, is replacing TV viewing.
The terms of the deal were not disclosed, but it extends into 2019. Goldman Sachs expects the eSports industry to generate close to $3 billion in revenues by 2022. So, if you want to get in on this game, it's time to virtually suit up.
Why We're Watching Overwatch

The Overwatch League is a professional gaming league built in the mold of traditional professional sports teams.
Overwatch franchises are tied to a major city. They have owners, a regular season and "athletes" who get a salary, benefits and performance-based perks.
It's a big operation. A team of nearly 100 people manage the broadcast and the games. There's even a Blizzard Arena in Burbank, Calif., and an Overwatch World Cup.
But there's a twist …
Players are grouped into six-member teams playing "Overwatch," Activision's popular first-person shooter online game.
Old Media, New Tricks
Why is the House of Mouse taking a chance on airing live competitive video-gaming events during peak TV-watching hours?
That's because it knows the industry has been hemorrhaging valuable millennials to digital formats faster than Kylie Jenner signs endorsement deals.
The usual suspects — YouTube, owned by Alphabet GOOGL; Instagram, owned by Facebook FB; and Netflix NFLX — weigh heavily on the paradoxically valuable time-wasting scale.
Video gaming is catching up, quickly. It is also hitting all the right advertising demographics.
According to MarketWatch reporting, the average age of male gamers is 36. Females check in at 36, too. That is the apex of the prime advertising market.
And don't fall into the trap of branding every gamer as unemployed slackers who munch Cheetos in their parents' basements. In June, Business Insider reported that Americans spent $36 billion on video games and gear in 2017.
It's no wonder that even the NBA wants to get in on the action. It held a draft in April to launch its own eSports league. The NHL has conveyed that it wants to ramp up interest in hockey through video games. And Major League Soccer, in partnership with EA Sports, wants people to play in its FIFA eWorld Cup.
The Disney/Activision deal is old media desperately trying to grab hold of the future.
The widespread appeal … and ramping prospects of video gaming as a spectator sport … has attracted technology industry titans and leading professional sports ownership groups. Just look at the names behind some of the 12 Overwatch teams …
NetEase (NTES), a Chinese internet company, owns the Shanghai Dragons.
The San Francisco Shock is owned by NRG Sports. Its investors include the owners of the NBA Sacramento Kings and Shaquille O'Neal.
The Kraft Group, of New England Patriots fame, runs the Boston franchise.
And the Los Angles Gladiators team is owned by Kroenke Sports, the company behind the L.A. Rams, the Denver Nuggets and Arsenal Football Club.
They all see big money in live-streaming video gaming. They are not alone.
In 2015, Amazon AMZN got into a bidding war for the rights to Twitch, a wildly popular online streaming site. The online retail giant eventually paid $970 million for a website where people congregate to watch others play video games. By January 2018, Twitch had more average viewers than CNN.
Felix Kjellberg, a.k.a. PewDiePie, is a 28-year-old Swede. He also owns the most-popular channel on YouTube. Kjellberg's gig is color commentating as he streams video gameplay to his 64 million subscribers. The channel has 18.2 billion views.
The Overwatch League is the perfect vehicle to ride the rising viewership trend.
ESPN noted that, on its opening day in January, the Overwatch League outperformed NFL "Thursday Night Football." Overwatch reached 10 million viewers on Twitch and other platforms.
Activision shares are an obvious choice for longer-term investors. In addition to the momentum that's building for the Overwatch League, the company has transformed its consumer business from shrink-wrapped software to engagement monetization.
This means the initial sale is now only the beginning of the monetization process.
Activision managers know the real money will come from selling new characters, game expansions, extra lives and digital trinkets (like virtual outfits) inside the game. These bits of software expand overall profit margins, and that drives up organic growth rates.
Then, of course, there are potential movie spin-offs. But the company is doing just fine in the meantime.
Activision Profits Are "Candy Crush"-ing It
In 2017, margins moved up 3% to 39%, without new titles. Sales were up 6.2% to $7 billion.
Activision has a huge portfolio of games across multiple platforms. From "Crash Bandicoot" and "Candy Crush" on mobile, to "Call of Duty" on consoles and "Overwatch" online, the company is focusing on the sale of in-game purchases and engagement.
This is a trend that is working through the entire video gaming industry.
It's why gaming is far bigger than most non-gamers understand. Players are engaged. They are vested in storylines and outcomes. They are even willing to watch more-skilled players online.
Best wishes,
Jon D. Markman
P.S. Activision is based in Santa Monica. But that's not the only good thing happening in California. There's also the San Francisco Money Show, which takes place Aug. 23-25. You can catch me there. To get more ideas like this one, sign up for this FREE event here.
Subscribe to Jon Markman's Power Elite newsletter here
Subscribe to Jon Markman's Tech Trend Trader here
Subscribe to Jon Markman's Strategic Advantage here
This article was originally published by MoneyShow.com: Founded in 1981, MoneyShow is a privately held financial media company headquartered in Sarasota, Florida. As a global network of investing and trading education, MoneyShow presents an extensive agenda of live and online events that attract over 75,000 investors, traders and financial advisors around the world.