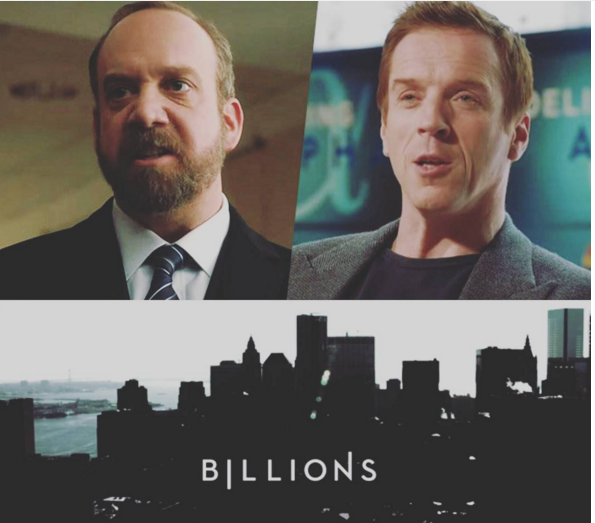 For years, Wall Street and Hollywood seemed like the near-perfect match that just couldn't make things work–like Khloe and Lamar, but with (slightly) more strippers and drug binges. After all, on the one hand, Wall Street is rife with the melodrama, backstabbing and greed that is the bread and butter of Hollywood storytelling. But on the other, the industry is also filled with middle-aged white guys staring endlessly at numbers on computer screens. Somewhat less compelling fare.
In recent years, though, L.A. has seemed to be getting a better handle on how to capture the drama of highwire finance while glossing over the intricacies of hedge funds, IPOs, asset amortization, and – Zzzzz…
Oh, right, this is an article about a slick and sexy Showtime series. Billions is the premium network's latest bid to be taken seriously as a rival to the more prestigious and popular HBO, and for the most part, it seems to have been successful in that regard:
A cast featuring Homeland alum Damian Lewis, Sideways standout Paul Giamatti and Watchmen star Malin Akerman, as well as a production team whose credits include Rounders and Too Big To Fail certainly bring an impressive film and television pedigree. That said, it's made clear pretty early within the first few moments that this is less of an artful and relatively grounded drama in the vein of "Breaking Bad" and more of pulpy soap opera, ala House of Cards.
Unlike the often dour Netflix flagship, though, Billions seems more willing to embrace the inherent silliness of its cat-and-mouse game, with Lewis' slimy hedge fund billionaire Bobby Axelrod and Paul Giamatti's perennially rumpled US Attorney Chuck Rhoades given ample opportunities to chew scenery and goad each other on.
That said, if you're looking for a nuts-and-bolts breakdown of the inner workings of Wall Street and hedge fund deals, you're not going to find it here. In Billions, the trappings of Wall Street are all just window dressing for the drama of egos clashing. In fact, it's not entirely clear what Axelrod is doing that's so terrible, as we never see him get his hands particularly dirty in the pilot episode. So, if you're the type who can't stand to see Hollywood dumb down and sex up your industry, you'll probably want to stick to dramatized version of actual events like Too Big to Fail, or even the recent Oscar nominee The Big Short, which is much more willing to dive into the more complex aspects of banking.
What are other critics saying about Billions? Here are a few excerpts from both TV critics and business writers:
"Now, Billions isn't a terrible drama. It has solid craftsmanship, and a collection of excellent actors, even if they're not always used to their best. Yet the best argument for its continued existence is the fact that it already exists. Stick around for a bit — and this cast alone invites that — and there's just enough story to keep pulling you along, even if I couldn't tell you after six hours why Axe is supposed to be the worst of all these filthy rich dudebros, nor what the stakes are if Chuck (who has his eye on higher office) fails to bag him."
-Hitfix writer Alan Sepinwall
"...the 12-episode Wall Street-set soapy series created by Brian Koppelman, David Levien and the New York Times' Andrew Ross Sorkin presents a very nice way to spend your winter Sundays with pivotal performances from Maggie Siff and Malin Akerman...
-Deadline Hollywood writer Dominic Patten
"Billions, Showtime's new big-money drama starring Damian Lewis and Paul Giamatti, could have been brainy and Wall Street Journal-y, like The Big Short and Too Big to Fail. It could have gone deep, with lots of numbers trailed by lots of zeroes, on the morally secular gamesmanship that is high finance. It could have been a wonky procedural hinging on money-nerd talk about hedge funds, insider trading, shorts, and long cons.
But Billions just wants to have fun, and that's a good thing."
-Boston Globe writer Matthew Gilbert
"Hollywood has long considered the financial world to be fatally boring—which, considering the vast sums of money, drama, and corruption coursing through it, represents a major creative failing. With the movies The Wolf of Wall Street, Margin Call, and The Big Short, and now the series Billions, premiering Jan. 17, the entertainment industry looks to finish the job. But if anything, it undersells how insane things can really get."
-Bloomberg writer Sheelah Kolhatkar
You can see the pilot episode for Billions right now for free on Showtime's website.
DISCLOSURE: The views and opinions expressed in this article are those of the authors, and do not represent the views of equities.com. Readers should not consider statements made by the author as formal recommendations and should consult their financial advisor before making any investment decisions. To read our full disclosure, please go to: http://www.equities.com/disclaimer