Per Sam Stovall, formerly of S&P Capital IQ, every recession since 1960 has been preceded by y/y double-digit decline in housing starts. The average is -25%. The smallest (-10%) occurred ahead of the shallowest economic contraction while the biggest (-37%) occurred before deepest recession.
"Year-over-year" is a long time. It implies tops take time to form, but this doesn't mean we can't look for early warning signs.
Here's a rundown of the housing group, mostly in terms of the companies that make the various aspects of a house.
Mohawk (MHK) does flooring – carpet, ceramic tile, laminate, wood, stone, vinyl and rugs.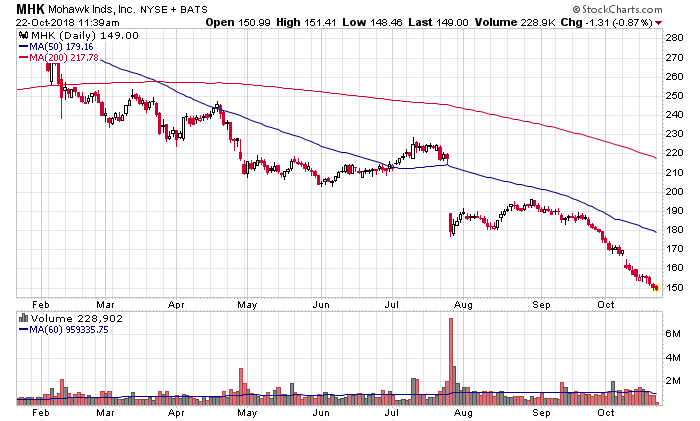 Jeld-Wen (JELD) does interior and exterior doors and wood, vinyl and aluminum windows.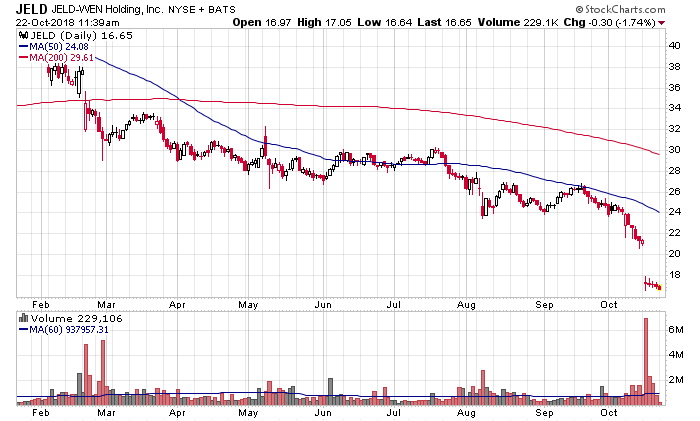 Masonite Worldwide (DOOR) makes interior and exterior doors.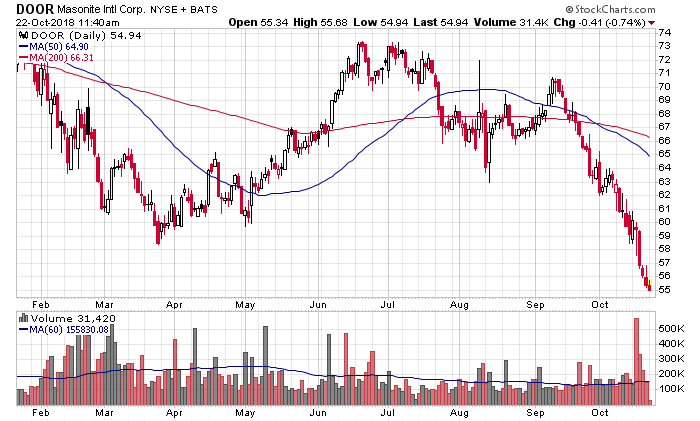 Sherwin Williams (SHW) does paint and other coating products.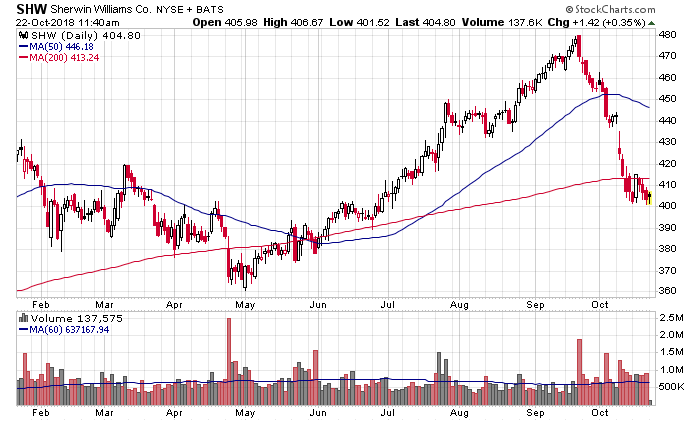 Scotts Miracle-Gro (SMG) does lawn and garden care.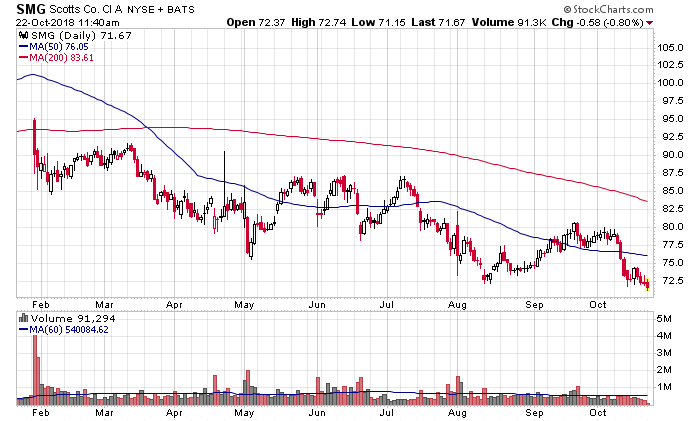 Fortune Brands Home & Security (FBHS) does cabinets, doors, windows, tool storage, garage organization and safety devices.
Amer Woodmark (AMWD) makes kitchen and bath cabinets.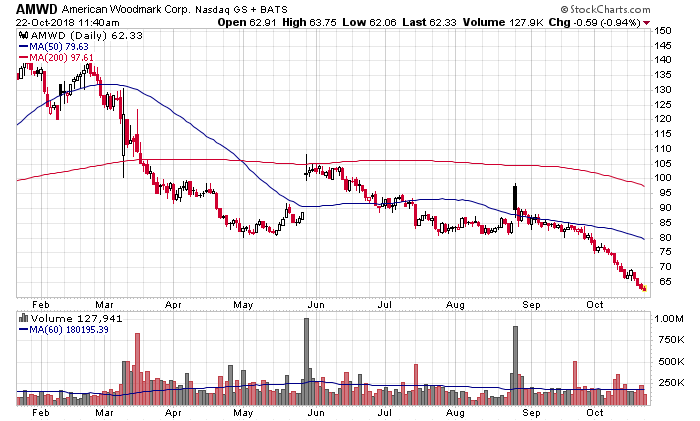 Home Depot (HD) and Lowe's (LOW) sell a wide range of building materials, home improvement products and lawn and garden products.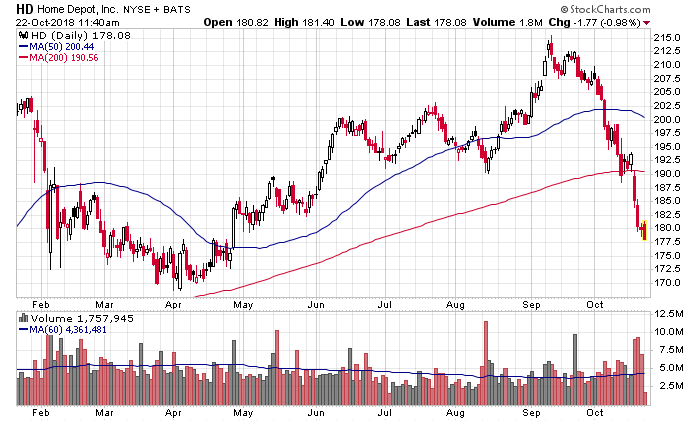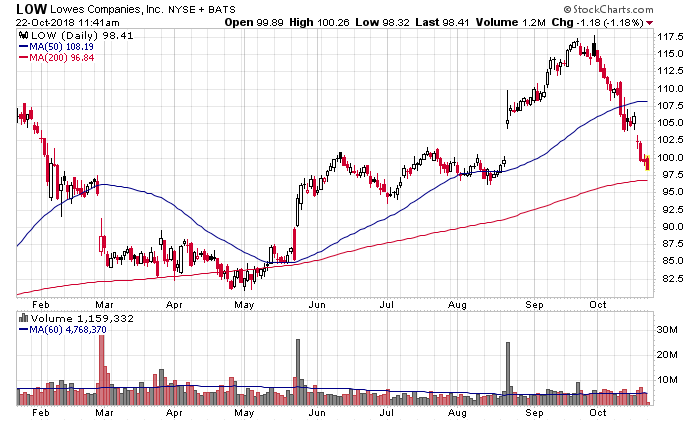 XHB and ITB are residential construction ETFs.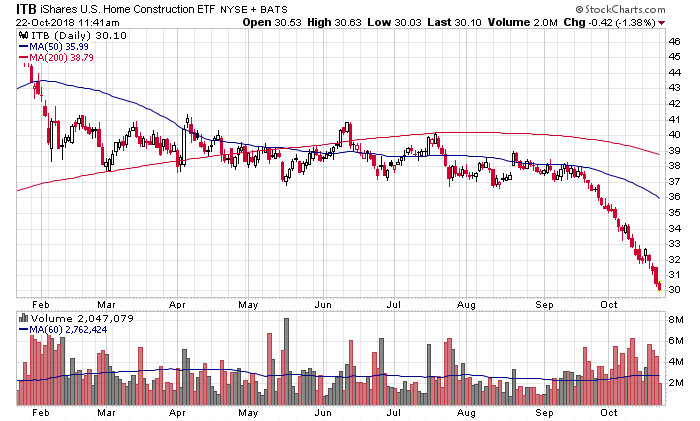 These charts speak for themselves. There's no question housing is weakening – there are headlines highlighting various metrics dropping in key markets almost every day. And if a negative wealth effect takes place and consumers pull back on their spending just a little bit, the economy, which is 70% consumption based, will take a hit.
These charts are our warnings signs. We don't have to wait for a y/y drop in housing starts to read what's in the pipeline.
A market top is forming. It'll take some time – possibly well into 2019 – but it's still forming, so have a plan in place to navigate it.