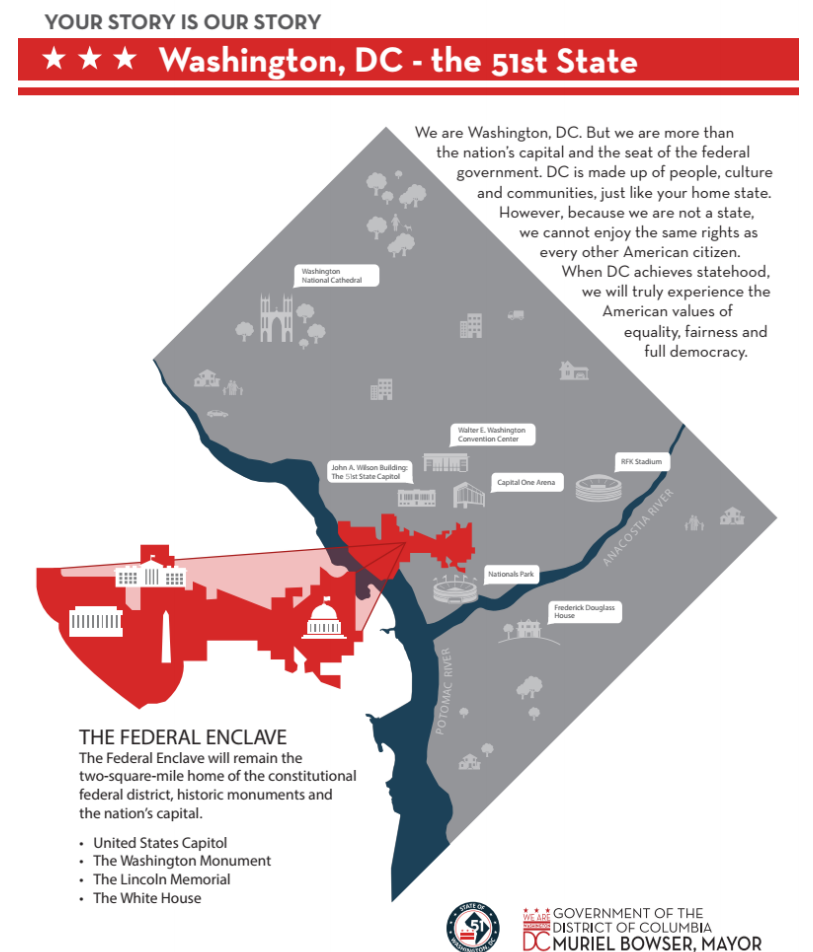 Image source: statehood.dc.gov
The House Committee on Oversight and Reform approved legislation on Wednesday that seeks to make Washington, DC, a state, sending the measure to the House for a vote later this month.
The bill, titled HR 51, would turn the district of 66 square miles into a state called Washington, Douglass Commonwealth, named after abolitionist, author and longtime DC resident Frederick Douglass.
It would give DC two US senators and one voting representative in the House based on population, like every other state. Currently the District's 700,000 residents – which is larger than the populations of Vermont and Wyoming – have no voting representation in Congress and only a non-voting delegate, Democrat Eleanor Holmes Norton.
The bill would also cordon off the White House, Capitol and National Mall to remain under federal control as the seat of the US government.
Norton has long advocated for the District to become a state, arguing that the city's residents need proper representation in Congress and saying the bill has more support across the country than ever before.
"Congress can no longer exclude DC residents from the democratic process, forcing residents to watch from the sidelines as Congress votes on laws that affect the nation or votes even on the laws of the duly elected DC government," Norton said in her opening remarks to the Committee.
"Democracy requires much more. DC residents demand much more. DC residents deserve full voting representation in the Senate and the House and complete control over their local affairs. They deserve statehood," Norton added
She also said, "With Democrats controlling the House, the Senate and the White House, we have never been closer to statehood."
According to national poll conducted in March by Data for Progress and progressive advocacy coalition Democracy for All 2021 Action, 54% of likely voters think DC should be a state, a record high level of support.
The bill is expected to pass in the House, but will likely stall in the Senate, as many Republicans have expressed opposition to granting statehood to the nation's capital and have dismissed the measure as a Democrat power grab since the city generally leans left.
Rep. James Comer (R-KY), a ranking member on the House Oversight and Reform committee, spoke against the bill last month during a hearing, calling it "unconstitutional."
"D.C. statehood is a key part of the radical leftist agenda to reshape America, along with the Green New Deal, defunding the police and packing the U.S. Supreme Court," Comer said.
The House approved a statehood measure in a 232-180 vote last year, but it did not go to the floor of the Senate, which was then controlled by the GOP.
Democrats now hold a 50-seat majority in the Senate with Vice President Kamala Harris as the tiebreaking vote, but the bill is unlikely to gain support from ten Republicans to overcome a filibuster.
_____
Source: Equities News