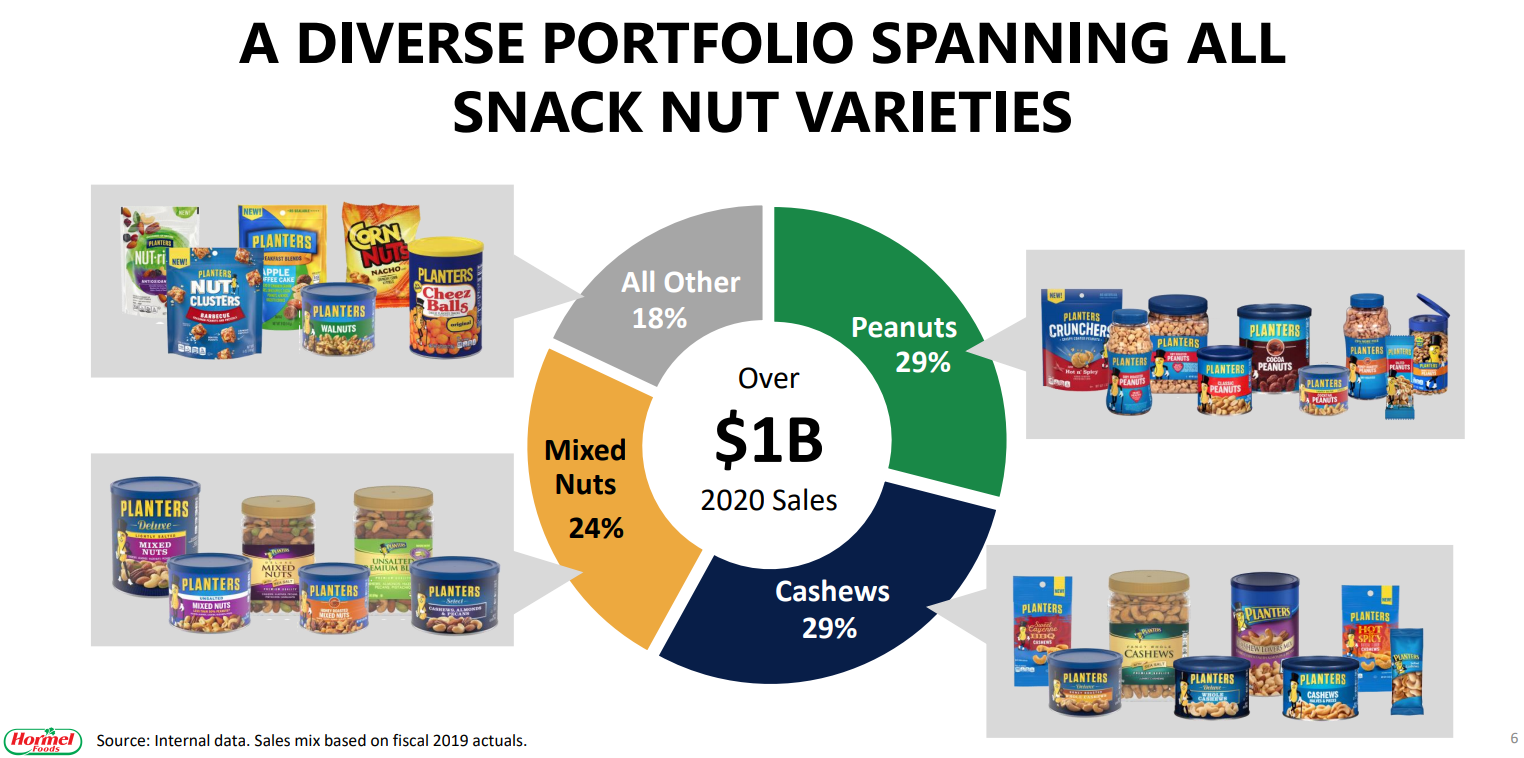 Image source: Hormel Foods investor presentation, Feb. 11, 2021
Hormel Foods Corporation (NYSE: HRL) announced Thursday that it has agreed to buy the Planters nut business from the Kraft Heinz Company (Nasdaq: KHZ) for $3.35 billion in cash.
The Minnesota-based company, which is best known for its meat brands like Spam and Applegate, said the transaction will provide a tax benefit valued at about $560 million, which lowers the effective purchase price to $2.79 billion, the company said.
The transaction, expected to close during the first half of this year, includes most products under the Planters brand, including single variety and mixed nuts, trail mix, Cheez Balls, Cheez Curls and Nut-rition products. It also includes the Corn Nuts brand.
Hormel chairman of the board, president and chief executive officer Jim Snee said the deal could pave the way "for future acquisitions."
In a press release, Snee said, "The acquisition of the Planters business adds another $1 billion brand to our portfolio and significantly expands our presence in the growing snack space."
"The Planters brand enhances our portfolio built for individual and social snacking occasions and perfectly complements our snacking brands such as Hormel Gatherings, Columbus, Justin's, Skippy, Herdez and Wholly," Snee said.
Under the proposed deal, Kraft Heinz will sell its production facilities in California, Arkansas and Virginia to Hormel. Those facilities and its employees will continue to operate normally, Hormel said.
Kraft Heinz chief executive officer Miguel Patricio said the Planters sale enables the company to focus on its other snack brands, including P3 protein packs and Lunchables.
"This is another momentous step in our rapid transformation of Kraft Heinz," said Patricio, who became CEO in July 2019. "It will enable us to sharpen our focus on areas with greater growth prospects and competitive advantage for our powerhouse brands."
After being formed in a 2015 merger, Kraft Heinz has been struggling as consumers increasingly seek out fresh, minimally processed foods. As part of a multiyear turnaround effort, the packaged-foods company has been reviewing its portfolio, reinvesting in products that have more growth opportunities and trimming less-popular brands from its lineup, CNBC reported.
It sold part of its cheese business in September 2020 to French dairy company Lactalis Group for $3.2 billion, using proceeds from the sale to pay down debt.
In 2019, it slashed the value of its Kraft and Oscar Meyer brands and took an impairment charge due to the falling value of names like Maxwell House and Velveeta.
On Thursday, Kraft Heinz also beat Wall Street's expectations for fourth-quarter revenue as people under pandemic-related lockdowns during the holiday season purchased more packaged products, like macaroni and cheese, ketchup and meat slices.
Sales grew 6.2% to $6.94 billion for the final three months of 2020, and net income totaled $1.03 billion. On an adjusted basis, Kraft Heinz earnings rose to $0.80 per share from $0.72 cents per share a year earlier, beating analyst estimates of $0.74.
For the year, Kraft Heinz reported $26.2 billion in revenue and $356 million in profit.
Hormel reports its fiscal first-quarter results next week. For the fiscal year ended October 25, 2020, it posted a 1% sales increase to $9.6 billion.
_____
Source: Equities News