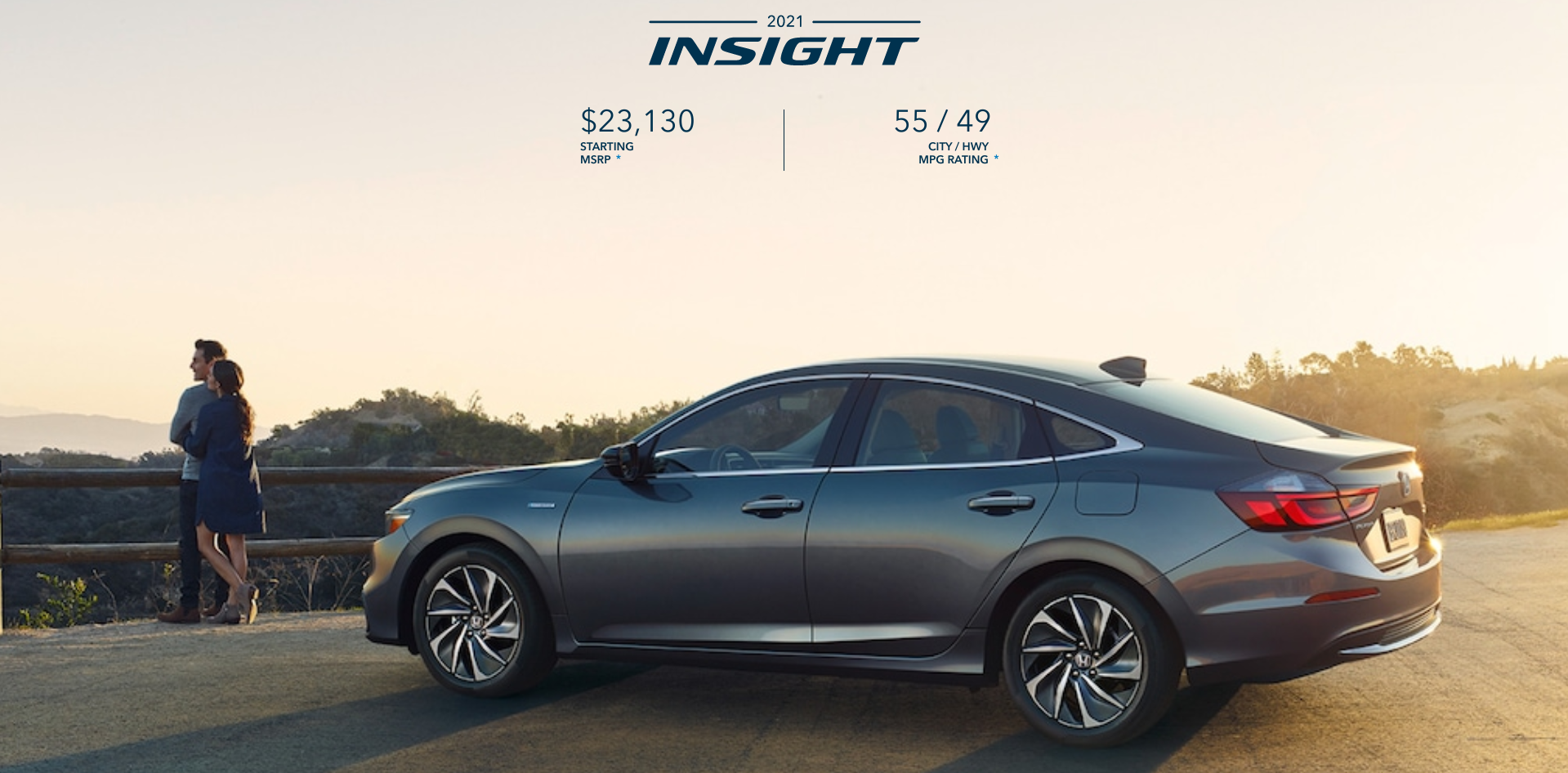 Image: Honda Insight. Source: American Honda Motor Co.
American Honda Motor Co will start selling two all-electric sport utility vehicles starting with the 2024 model year.
Head of sales Dave Gardner told The Associated Press that the North American subsidiary of the Honda Motor Co Ltd (NYSE: HMC ) will introduce one SUV under the Honda nameplate and the other under Acura.
The new vehicles will be built in partnership with the General Motors Corporation (NYSE: GM ), with which Honda paired up last April to jointly develop two electric cars.
The Associated Press reported that GM will build the vehicle platforms, while Honda will handle design and driving characteristic.
In January, Honda declined to comment on an Automotive News report that GM will be building two electric cars for Honda. The outlet had reported that the new Honda EV would be produced at GM's factory in Ramos Arizpe, Mexico and the Acura EV at GM's Spring Hill, Tennessee, plant.
At the time, Honda said it "looks forward to sharing new information on our North American electrification strategy later this year."
Gardner on Thursday did not offer any further details on the new EVs but said more information would be released in coming months.
He also told The Associated Press that Honda plans to start offering hybrid gas-electric versions of "one or two" of its top-selling models but did not identify which ones or provide a timeline for when those vehicles would be available.
Currently, Honda has one dedicated hybrid model, the Insight, as well as two partially electrified versions of the popular Accord and CR-V.
The automaker has work to do in order to comply with emissions reduction targets that will be coming soon from the White House, as well as with California's ban on the sale of new internal-combustion vehicles by 2035, Gardner said.
Right now, he said, Honda needs to focus its energies on meeting its goal of being carbon-neutral by 2050. The Japanese automaker also aims to have two-thirds of its output as new-energy vehicles by 2030.
"We're really good at a couple of things that seem to be going out of vogue today, so there's no doubt that we have work to start moving quickly in the zero-emission direction," said Gardner.
In October, Honda announced it will pull out of Formula One racing at the end of the 2021 season in order to free up funding to develop zero-emissions vehicles. Corporate resources that were being funneled into F1 engine development would be shifted to research and development in the areas of battery-electric powertrains and hydrogen fuel cell development, Honda said.
"As the automobile industry undergoes a once-in-one-hundred-years period of great transformation, Honda has decided to strive for the 'realization of carbon neutrality by 2050.' This goal will be pursued as part of Honda's environmental initiatives which is one of the top priorities of Honda as a mobility manufacturer," the company said.
_____
Source: Equities News