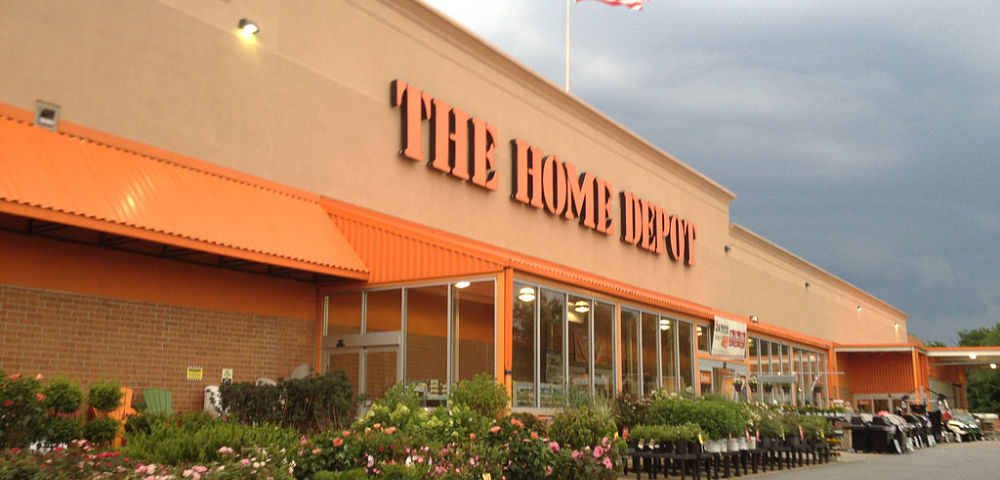 Image via Mike Kalasnik/Flickr CC
Retail giant Home Depot (HD) has been swept lower by the recent bout of broad-market volatility, but the stock's chart is suggesting that a bottom — and a possible buying opportunity — may soon be in place for the blue chip, says Elizabeth Harrow of Schaeffer's Research.
Thanks to the confluence of a significantly supportive moving average, a bullish continuation pattern, and a psychological boost from some key round-number returns, HD may soon be due to resume its longer-term uptrend.
First, we have the stock's 200-day moving average, currently located around $170.69.
Data from Schaeffer's Senior Quantitative Analyst Rocky White shows that on the seven prior occasions where HD has staged comparable pullbacks to this trendline in the course of a broader uptrend, the stock has been higher 71% of the time five days later, and 67% of the time after a month. The equity's average returns over those time frames following a 200-day test are 1.70% and 3.11%, respectively.
The positive slant of HD's previous 200-day tests is further reinforced by the fact that a separate study by White showed that this widely followed moving average has been one of the most effective technical indicators over the past 12 months. Based on signals from S&P 500 component stocks, the 200-day moving average has delivered some of the strongest average and median returns over the following month (second only to the 50-day trendline).
Plus, HD appears to be nearing the apex of a falling wedge pattern, which often precedes a continuation of the prevailing uptrend.
Traders looking for confirmation that the stock is set for another leg higher will want to watch for a daily close above the upper rail of this chart formation, which is currently situated around $176 — just above $175.91, which marks a 50% retracement of the rally from the July 2017 closing low to the late-January closing high.
Even if we do see continued day-to-day volatility in the short term — which could potentially hinder what appears to be an imminent technical breakout from this Dow component — strong support appears to be in place around the $170.50 region.
This area marked intraday lows on April 2 and April 4, and it roughly coincides with a 10% year-to-date decline for HD. The site of this "round-number return" could continue to hold up a floor going forward, which could create opportunities for traders to capitalize on the combination of strong technical support and heightened volatility by selling short put spreads.

Elizabeth Harrow is director of Digital Content at Schaeffer's Investment Research.

View Schaeffer's Investment Research for stock and options ideas, options education, and market commentary here

About MoneyShow.com: Founded in 1981, MoneyShow is a privately held financial media company headquartered in Sarasota, Florida. As a global network of investing and trading education, MoneyShow presents an extensive agenda of live and online events that attract over 75,000 investors, traders and financial advisors around the world.