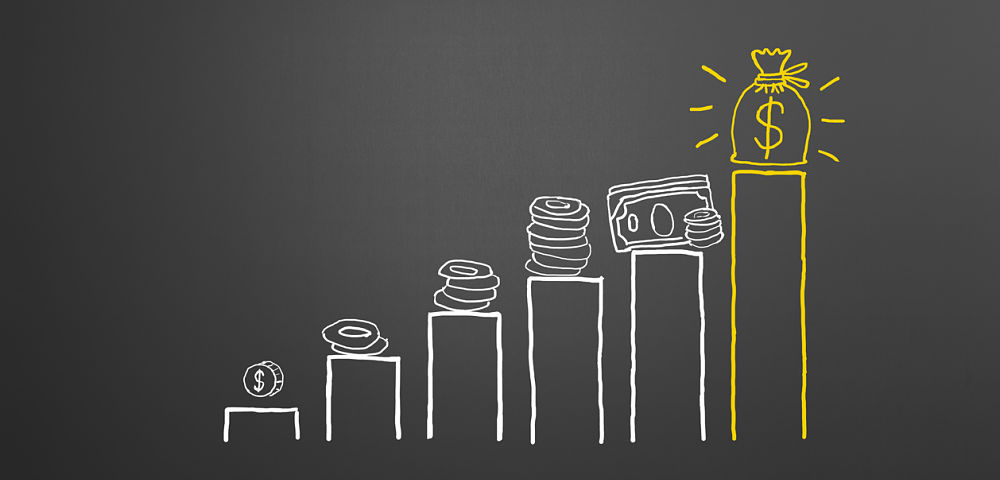 HNDL: First-of-Its-Kind 7% Target Distribution Fund Solves Yield Dilemma for Investors
In a market environment where interest rates are so low that investors can't afford to live off the 1% received in savings accounts or the 2-3% yield generated by U.S. Treasuries, many people are looking for fresh alternatives to solve the dilemma.
A new exchange-traded fund, the Strategy Shares Nasdaq 7HANDL Index ETF HNDL, offers innovative solutions to these problems. HNDL strives to produce results that correlate to the performance of a sub-index within the recently-developed Target Distribution Indexes category —and is designed to support an elevated annual distribution rate of 7%.
The fund is the first of its kind, and its consistent monthly distribution offers a novel approach to overcome the challenges investors face when they are seeking reliable sources of income in low-yield market environments.
Broadly Diversified Investment Strategies

The Strategy Shares Nasdaq 7HANDL Index Fund's investment strategy is designed to track interior performances in the Nasdaq 7HANDL Index, which consists of a broadly diversified portfolio of low-cost ETFs with exposure to bonds, equities, and alternatives. The Index is divided into two categories (a Dorsey Wright Explore Portfolio and a Core Portfolio) with the goal of delivering consistent income that is sufficient to meet the needs of investors in all walks of life.
The Dorsey Wright Explore Portfolio incorporates risk, yield, and momentum as elements in a tactical strategy devoted to high-income ETFs in 12 categories: preferred dividend stocks, master limited partnerships (MLPs), growth & income equities, high-yield bonds, covered calls, real estate investment trusts (REITs), utility stocks, Build America Bonds (taxable muni), mortgage-backed securities, active fixed income, dividend equities, and intermediate-term corporate bonds. The long-term Core Portfolio consists of a 30% allocation to large-cap U.S. equity ETFs and a 70% allocation to fixed-income ETFs.
The systematic nature of this approach tends to create a stabilizing effect on net asset value, which enhances the fund's ability to generate above-average distributions for shareholders. Both indexes undergo monthly rebalancing and HNDL doesn't encounter the discount/premium volatility that typically surrounds the net asset value of closed-end funds.
Distributions Maximize Risk-Adjusted Returns

Initially developed in 1966, the Sharpe ratio measures potential returns per unit of accepted risk. For income investors, those risks tend to increase when yield is sought through concentrated asset pools. In contrast, investors can often see the best results in risk-adjusted returns when the focus in placed on broadly diversified asset portfolios with a Sharpe ratio of 70-30. This time-tested approach has been adopted by the managers of the Strategy Shares Nasdaq 7HANDL Index ETF and it has already guided HNDL toward stable returns in 2019.
But what's most unique about the HNDL is its enhanced target distribution. The fund pays monthly distributions at an annualized rate of roughly 7% of its per-share net asset value. Rather than simply owning a portfolio of diversified assets, investors are not forced to sell portions of their holdings to generate the same returns they would receive from these elevated distribution payouts.
Of course, it should also be remembered that this distribution is not a dividend. It's a consistent payout that investors can rely on when the broader market is starved for yield. Such funds can be highly useful additions to a portfolio, acting almost like a yield seeking missile that is capable of finding its target in even the most difficult market environments.
Comparative Expense Ratios

Other ETFs offer yields that are roughly equal to 7%. But their exposure is usually concentrated in a single asset class and they are not able to establish clear ranges for their distribution rates. Coming up with an instrument that is similar in scope to what is offered by the Strategy Shares Nasdaq 7HANDL Index Fund is not an easy an easy task. But if we use the PowerShares CEF Income Composite Portfolio PCEF as an example of an instrument that holds closed-end funds, we can see that many investors will quickly be turned off by its 2.07% expense ratio. In stark contrast, the Strategy Shares Nasdaq 7HANDL Index Fund's expense ratio is less than half of this figure at 0.95%.
Capitalizing on Innovative Fund Designs

In order to create a portfolio that gives both long-term growth and stability, the Strategy Shares Nasdaq 7HANDL Index Fund has combined time-tested investment approaches that are capable of meeting the needs of investors from all walks of life. Representing what is essentially a new category of indexes, the Strategy Shares Nasdaq 7HANDL Index Fund is the first of its kind, and a strong addition to Strategy Shares' group of alternative-focused ETFs.
HNDL is the only fund currently available in the market which provides investors with access to the Nasdaq 7HANDL Index, giving it strengths that are characterized by diversified risk levels, favorable liquidity, and steadily-targeted distributions. This sets HNDL apart from the rest of the pack and we expect to see this evolving income strategy open the market to new avenues in the creation of fixed-income alternatives in the years ahead.
This article was contributed by Dividend Investments