Hitting Your Spots
Chris Lahiji Follow |
Dear Patrons,
One of the more popular questions people ask me is what I typically do to decompress after a big event. Vacation? Food binge? Spa? All of the above?
All indices closed within 1% of where they started the week, for the second week in a row. Trade war rhetoric provided a little in an otherwise unremarkable week.
The answer may surprise you.
I stare at the ceiling for a few days. Literally. No computer, no television, no WWE Monday Night Raw. Straight up. It allows me to not think about anything, which is a feeling that is beyond pleasurable. I also go to a secret place in the Central Valley, and pay respects to the man that shaped most of my adult life. He altered my mind set, the way people should be treated, what to do in certain scenarios, and most importantly, how to live while you are on Earth. He was Mr. Miyagi to my Daniel-son.
Once I "connect" with him, I then watch the Union Pacific trains go by, while I chill on the hood of my car. To me, this is the best form of therapy that does not cost $350 bucks an hour. :-) In summer months in the Central Valley of California, "chilling" on the hood of your car is a little more difficult because it feels like 150 degrees in the sweltering sun.
This last conference was significant for many reasons. We set records on every metric internally covered, and the "flow" was remarkable because of some of the changes we have made internally over the past six months. While we have two small private gatherings to structure in September, I have zero doubt that the 11th annual Main Event (December 4-6) will be the most important conference in micro-cap this calendar year.
It took me eleven years to have the courage to write this. Now we have to prove it.
As for the Invitational, over 230 companies attended and presented. Naturally, you have names that stand out and companies that generate "buzz" among participants during the festivities. The two names that I heard being discussed most often both hail from another country that we share a border with, and whom our President loves at the moment. Yes, you guessed it, Canada.
Besides the Presidential "beef," Canada has had some big winners on the micro-cap side over the past five years.
The first one is a company that we have had the pleasure of working with over the years, QuoteMedia ( (QMCI)). QuoteMedia is a name that is very well known in financial circles because of their product offerings. We rely on them every single day for market data, and they rarely present at conferences. The gentleman who presented on behalf of the company, Mr. Dave Shworan, is also an excellent and affable presenter.
A good combo for buzz is to be a name that everyone recognizes, but have never actually seen. Like most of our country's politicians.
We really do not know what the reason was behind the 30% move on Friday with 10x average volume, but the company was profitable last quarter and looking to grow their business in the coming years.
Another Canadian name that made an impact was also in the financial sector. Mogo Finance Technology ( (MOGO)) is about the future of how money gets transferred, and is extremely popular with people my age when it comes to managing and improving their financial health. What makes these guys unique is their app which allows the user to have free credit score monitoring, akin to Credit Karma in the US, identity fraud protection (we have to pay for that privilege here in the USA), and something called MogoCrypto, (similar to Robinhood) which enables the most convenient buying and selling of Bitcoin in Canada.
What is also interesting to note is that Canada (as of last year) only has 18% fintech adoption, compared to 33% in the US and 69% in China. The market opportunity here is also in the early stages.
For full disclosure, both companies paid to attend the Invitational recently.
Finally, it would be irresponsible of me not to discuss what is going on in the world of sport.
It has been a midsummer night's dream for sports fans over the past month. From the US Open in golf, the French Open and Wimbledon in tennis, the World Cup, and most importantly, the ACO World Championships of Cornhole, it is truly a magical time to be alive.
This is the best seven minutes you will ever spend in your life.
Sincerely,
Chris Lahiji
ACQUISITION: Central Steel & Wire ($CSTW) to be Acquired by Ryerson ($RYI) - enterprise value of $140m
Lovesac aims to raise $46 million with IPO via Furniture Today (our favorite publication after Country Home)
MERGER: Naked Brand Group ($NAKD) and Bendon Limited Successfully Complete Merger
High Times, Pot's Most Established Brand, is Going Public - congrats to Adam and crew
Crosswinds ($CWI.TO) Provides Update on Strategic Review - will distribute all cash and dissolve the company
Doctor and Journalist Atul Gawande Picked for Dimon-Bezos-Buffett Health Firm
Canada legalises recreational cannabis use
✅✅✅✅✅
Fusion (FSNN) Completes Acquisition of MegaPath - total price of $71.5m
Astrotech ($ASTC) was up big as subsidiary 1st Detect Announces TRACER 1000 Accepted into European Evaluation Process for Security Screening in Airports
Neptune (NEPT) was up after announcing Multi-year Agreement with Canopy Growth (CGC) to Provide Extracted Cannabis Products
WidePoint (WYY) Awarded More than $8.3 Million in Federal Government Contracts
ADOMANI(R) (ADOM) Enters U.S. Electric Truck Market; Expects to Receive Four Units in July and to Accept Orders in Q4 2018
GreenSpace Brands Inc. (JTR.V, produces food...not weed) Reports a 47% YOY Revenue Increase, 17% Quarterly Sequential Revenue Increase with Annualized Run Rate Revenue approaching $80 million
S&P Global (SPGI) to Acquire RateWatch from TheStreet (TST) for $33.5m in cash
Processa Pharmaceuticals ($PCSA) Receives Orphan Designation Status For PCS499 In Necrobiosis Lipoidica From The Food And Drug Administration (FDA)
Goldmoney Inc. (XAU.TO) Reports Record Quarterly Revenue, First-Ever Annual Profit, and 90% Growth in Tangible Capital at Year End Fiscal 2018
♂️♂️♂️♂️♂️
Atlas Cloud (AKE.CN), down big time, Resumes Trading as Shareholders Approve Change of Business...blockchain something or other
Five -Time Major Golf Champion Phil Mickelson and Agent Steve Loy Join Forces With Robotic Tech Leader Reis & Irvy's (VEND) to Disrupt Food Retail
Crack open a Miller Light...Intelligent Product Solutions (subsidiary of FORD) Partners with ZX Ventures/AB InBev to Develop First Internet-Connected Beer Vending Machine Dispensing Opened Cans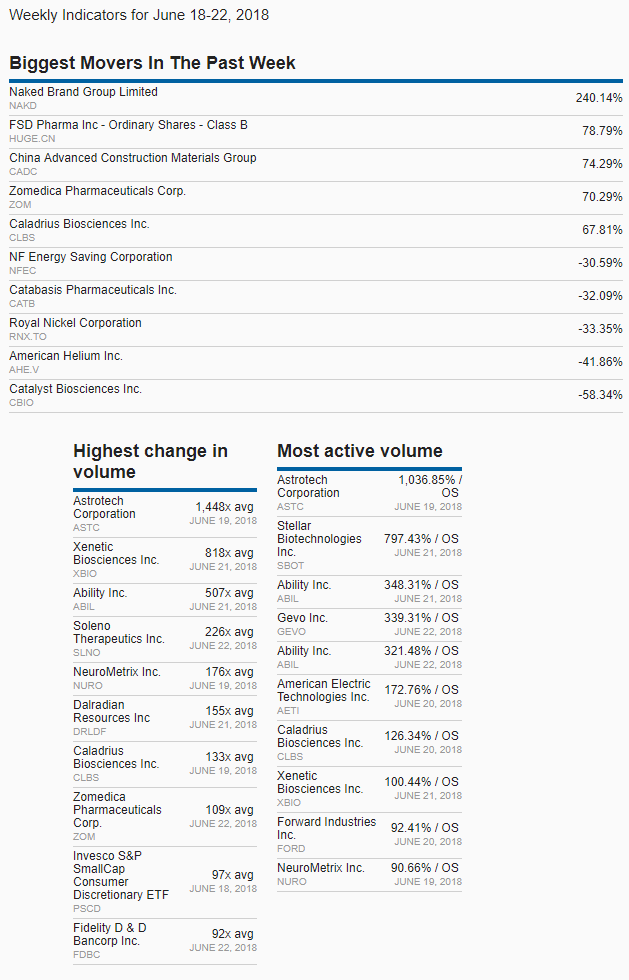 DISCLOSURE: The views and opinions expressed in this article are those of the authors, and do not represent the views of equities.com. Readers should not consider statements made by the author as formal recommendations and should consult their financial advisor before making any investment decisions. To read our full disclosure, please go to: http://www.equities.com/disclaimer