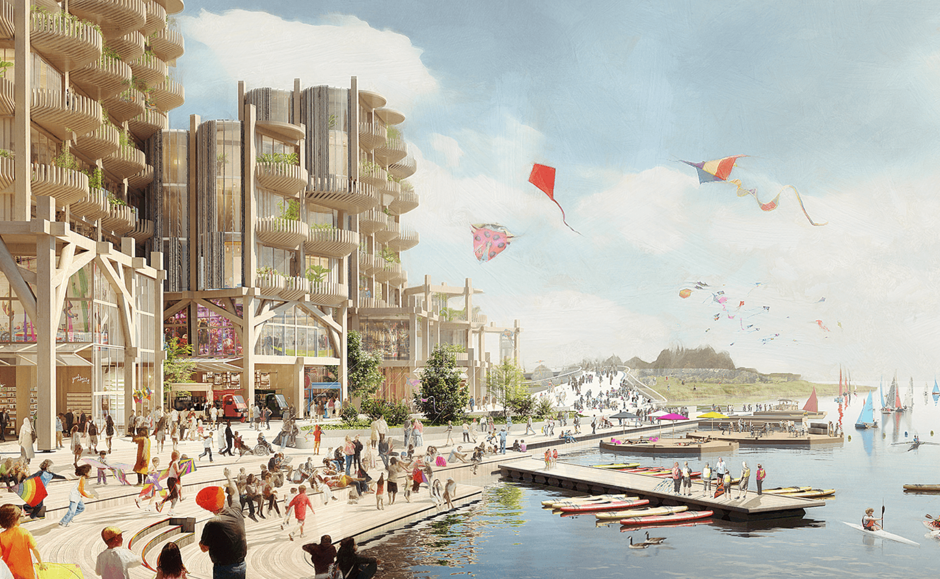 Image via Sidewalk Labs' Project Description
In an attempt to persuade the city of Toronto and its suspicious residents, Alphabet's Sidewalk Labs released a 1,524 page plan to transform 12-acres of industrial waterfront east of the city center into the "most innovative district in the world."
Before diving into the project outline, it is necessary to understand the controversy surrounding this project. Toronto has been wary of the plan since its inception in 2017 as residents and city leaders have ultimately dismissed Sidewalk Lab's plans as a power grab by a tech giant. Furthermore, local developers have lobbied hard to keep Google, an outsider, from having its own private sandbox along Lake Ontario.
"This is about Google trying to get access to hundreds of acres of Toronto's prime waterfront public land," the opposition group called Block Sidewalk stated following the master plan's release. "This is as much about privatization and corporate control as it is about privacy."
The contentious plan at the Quayside lot only increased after the Toronto Star published a report from leaked documents showing Google's GOOG ambition to increase their development plans from 12 acres to a larger 350-acres parcel. This parcel did show up in the master plan unveiled this week as the IDEA district, which caused Waterfront Toronto Chairman, Stephen Diamond, to distance his group from those aspects of the proposal. This is a key development to watch as Waterfront Toronto is the non-profit, government-appointed partner on the project.
In addition, there are more targeted critiques about giving Sidewalk Lab governing power over city services like transportation. In another article by The Toronto Star, Alphabet's hypothetical transportation agency, the Waterfront Transportation Management Association, drew the ire of local elected officials for eroding the rights of citizens to make decisions about their own transportation. In the master plan, Sidewalk called the city's current transportation department as "piecemeal … one entity oversees parking, another manages traffic signals, and yet another sets the price of transit rides."
Now, with all this in mind, here are some interesting highlights from Google's Toronto tome.
Jobs
Sidewalk Labs (via third-party analysis) says in the proposal that up to 93,000 jobs could be generated, with 44,000 permanent, direct jobs by 2040. Of course, one caveat to creating that many jobs is that Toronto must buy-in to the full scope of Google's project as these new careers comes from the full extension of the IDEA district including the implementation of the Waterfront Light Rail Transit extension. Out of the 44,000 jobs, a little over half are said to be in manufacturing and cultural work, around a quarter in administrative support, retail and transit, and 10,000 in finance, real estate and management.
Sidewalk Labs' report states:
"In its analysis, urbanMetrics estimates that, by 2040, the IDEA District would contribute nearly seven times the value to Canadian GDP annually than would result from existing proposals for the eastern waterfront."
Affordable Housing
Toronto has an affordable housing problem that could inhibit economic prosperity. A recent report highlighted how bad things are right now. Researchers found Toronto's population will hit 3.5 million people by 2031 and nearly four million a decade later. Similarly, the number of households on the social housing wait list will spike as well. The report also suggests the rental market hasn't kept pace with the rising need, with most of the city's purpose-built rental housing, including social housing, constructed during the "postwar rental apartment boom" of the 1960s and 1970s — and more than 90 per cent of all available units built before 1980.
Google plans on building half of the houses are "purpose-built" rental units, with additional affordable housing and middle-income housing units. In addition, Sidewalk Labs' housing believes 40% of these units will be below market rate.
These "adaptable" buildings will be usable for residential or non-residential uses thanks to flexible wall systems that could reduce vacancies and adapt to market conditions. Sidewalk Labs is also building units to accommodate urban living situations where many aspects of the family live in the same home, plus they are building "shared equity" units to help those who can't afford a large mortgage down payment.
The report concludes this on their $3.9 billion housing vision:
"In Quayside, Sidewalk Labs estimates that factory-based construction techniques could demonstrate that it is possible to reduce construction timelines by as much as 35 percent, 7 while creating the world's first neighbourhood made entirely of sustainable mass timber."
Mass Timber
Sidewalk Labs has proposed building structures from mass timber, a fire-resistant 5-ply cross-laminated timber. The wood has been shown to be as strong as concrete, but 1/5th of the weight and sustainable, which is one of the main reasons Google has decided to build exclusively with the material (along with Shikkui plaster, which is made from eggshells and seaweed), and even have proposed investing significantly in a mass timber factory creating an additional 2,500 jobs by 2040.
In total, Quayside would emit 85% fewer greenhouse gas emissions compared to downtown Toronto, with the full-scale development at 89% fewer emissions. Projects like energy efficient housing, a facility that converts organic food waste into biogas and a clean thermal grid for heating and cooling are also outlined in the report.
Mobility
Another interesting aspect of Sidewalk Labs' plan for Toronto is the reduced need for a vehicle within the district. Obviously, the expansion of green and efficient public transit and a dense urban environment where walking is easy helps reduce carbon emissions and also connects people into a public sphere more intimately. If citizens do need to utilize a car, the residents of Quayside will have ride-hail options with self-driving technology and sharing services for reduced cost. The city itself would offer a mobility subscription package with bike sharing and public transit passes that could potentially save families $4,000 a year.
It is these ideas that led Prime Minister Trudeau to say:
"Today's announcement is about creating a new type of neighbourhood that puts people first. Sidewalk Toronto will transform Quayside into a thriving hub for innovation and a community for tens of thousands of people to live, work, and play."
Equities Contributor: Stephen L. Kanaval
Source: Equities News