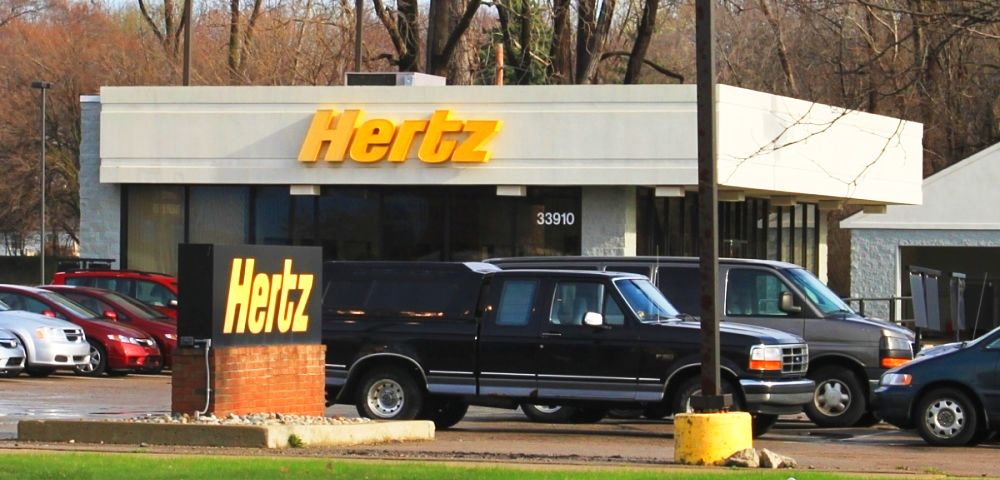 Image via Dwight Burdette/Wikimedia
Options traders hoping to play Hertz Global's short-term trajectory are in luck. Despite increased volatility, HTZ has a Schaeffer's Volatility Index of 71% — above just 27% of all other readings in the past year, writes Andrea Kramer ofSchaeffer's Research.
Very few stocks have avoided the market headwinds of late. However, a handful of securities could be on sale at current levels, if history repeats. While these stocks tend to rally after major stock market dips, car rental concern Hertz Global Holdings, Inc (HTZ) could also be flashing a short-term Buy signal right now, if historical technical trends prevail.
Below, we take a look at HTZ stock's recent performance on the charts, and why near-term options traders may want to take notes.
Hertz stock recently came within one standard deviation of its 160-day moving average, after a lengthy spell above this trendline. After the last and only other similar pullback, HTZ stock skyrocketed more than 20% in the subsequent month, according to Schaeffer's Senior Quantitative Analyst Rocky White.
In afternoon trading, the shares are lower with the broader equities market, down 3.5% at $20.79 recently. Another 20.79% surge over the next month, though, would place HTZ stock just above $25 — a level that contained the security's upward momentum in January. From a longer-term perspective, Hertz shares have more than doubled since their June lows, and have recently tested round-number support at $20.
Should the stock resume its long-term uptrend, a short squeeze could add fuel to the proverbial fire. Short interest accounts for a whopping 25.4% of HTZ's total available float, representing nearly two weeks' worth of pent-up buying demand, at the security's average pace of trading.
What's more, options traders hoping to play Hertz Global stock's short-term trajectory are in luck. Despite increased volatility across the board on Wall Street, HTZ sports a Schaeffer's Volatility Index (SVI) of 71% — above just 27% of all other readings from the past year. This indicates that near-term options are still pricing in relatively muted volatility expectations for HTZ, even with earnings expected later this month.
Likewise, the car stock's Schaeffer's Volatility Scorecard (SVS) stands at a lofty 97. This tells us that Hertz shares have handily exceeded options traders' volatility expectations during the past year.
HTZ's March 23 call is currently asked at $1.40, meaning buyers would need the shares to rally atop $24.40 (strike plus premium paid) by the close on Friday, March 16, before they'd start to see a profit. But again, if the last pullback to its 160-day trendline is any indicator, now could be the time to strike.
Andrea Kramer is associate editor of Schaeffer's Investment Research.
Subscribe to Schaeffer's Investment Research here
About MoneyShow.com: Founded in 1981, MoneyShow is a privately held financial media company headquartered in Sarasota, Florida. As a global network of investing and trading education, MoneyShow presents an extensive agenda of live and online events that attract over 75,000 investors, traders and financial advisors around the world.