In October 2017, doctors at the Mayo Clinic analyzed data from 7,651 patients whose common elective surgical procedures had been identified from American College of Surgeons National Surgical Quality Improvement Program data. The study found that 93.9% of these patients received opioid prescriptions at discharge and concluded that the majority of these patients were overprescribed.
According to Heron Therapeutics (HRTX), over 40 million patients are prescribed opioids for postoperative pain each year in the US, of which as many as 2.6 million may become persistent opioid users and 440,000 will become addicted. Heron is developing novel, patient-focused solutions that apply innovative science and technologies to already-approved pharmacological agents for patients suffering from cancer or pain. In doing so, the company hopes to be able to reduce the dependence on opioids on other drugs with more harmful side effects.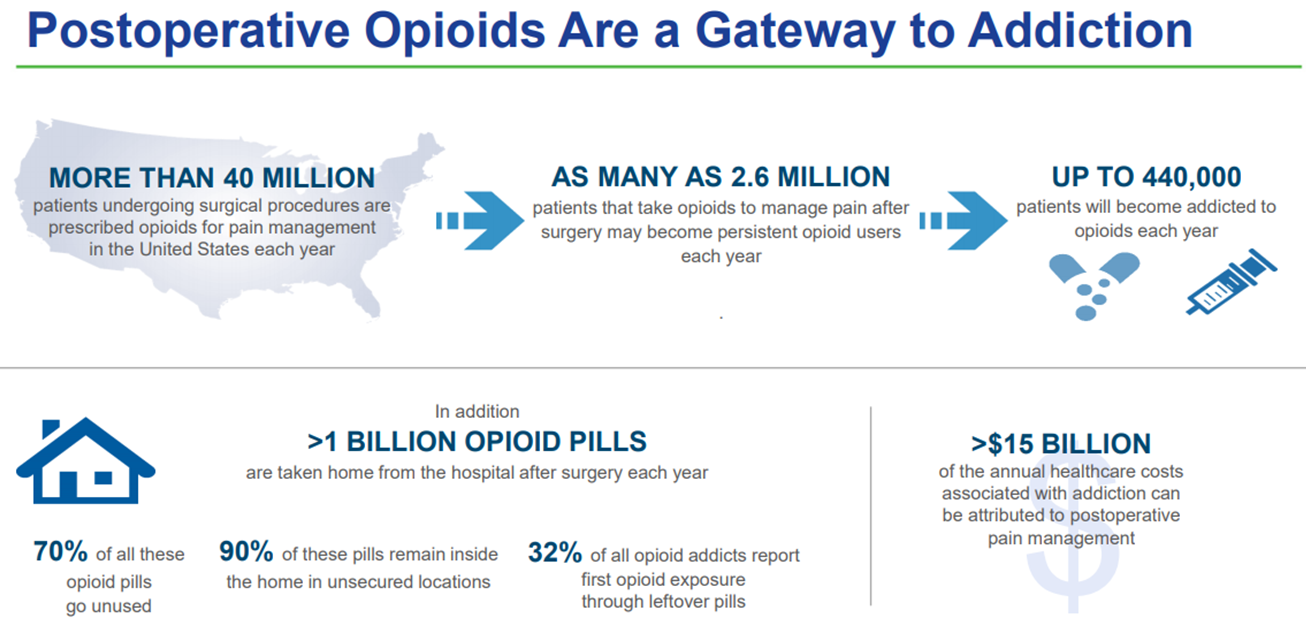 Source: Heron Therapeutics, June 21, 2018

Heron announced today positive topline results from two completed Phase 2b studies of HTX-011, a long-acting, extended release formulation of bupivacaine, a local anesthetic, in a fixed-dose combination with meloxicam, an anti-inflammatory drug, for the management of postoperative pain. One study was on 222 patients undergoing primary unilateral total knee arthroplasty, while another study was on 243 patients undergoing augmentation. In March 2018, we highlighted Heron's positive topline Phase 3 Results for HTX-011 in postoperative care for bunionectomies and hernia repair.
In total knee arthroplasty, HTX-011 achieved the primary endpoint of reduced pain intensity from zero to 48 hours post-surgery compared to placebo:
---
---
HTX-011 also met the key secondary endpoint of reduced pain intensity from zero to 72 hours post-surgery compared to placebo. Additionally, the HTX-011 with ropivacaine combination significantly reduced opioid use through 48 and 72 hours compared to placebo.
In breast augmentation, HTX-011 achieved the primary endpoint of reduced pain intensity from zero to 24 hours post-surgery compared to placebo:
The company also announced that HTX-011 has received Breakthrough Therapy designation from the FDA. This designation is reserved for drugs that are "intended to treat a serious or life threatening disease or condition" and that have preliminary clinical evidence that indicates that "the drug may demonstrate substantial improvement over existing therapies on one or more clinically significant endpoints."
The FDA will expedite the development and review of Breakthrough Therapy drugs.
With the results reported today, we have seen positive results across 7 controlled clinical studies and 5 diverse surgical models, including hernia repair, abdominoplasty, bunionectomy, total knee arthroplasty and breast augmentation. We look forward to submitting an NDA to the FDA for HTX-011 in the second half of 2018.
- Barry D. Quart, Pharm.D., CEO, Heron Therapeutics.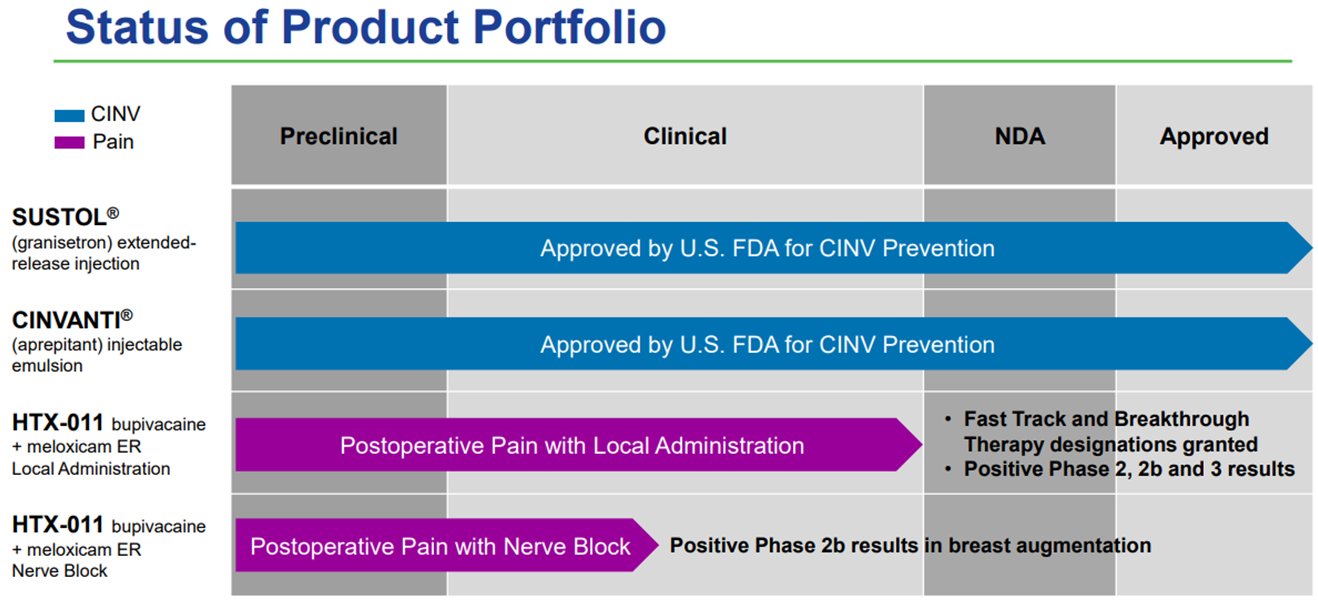 Source: Heron Therapeutics, June 21, 2018.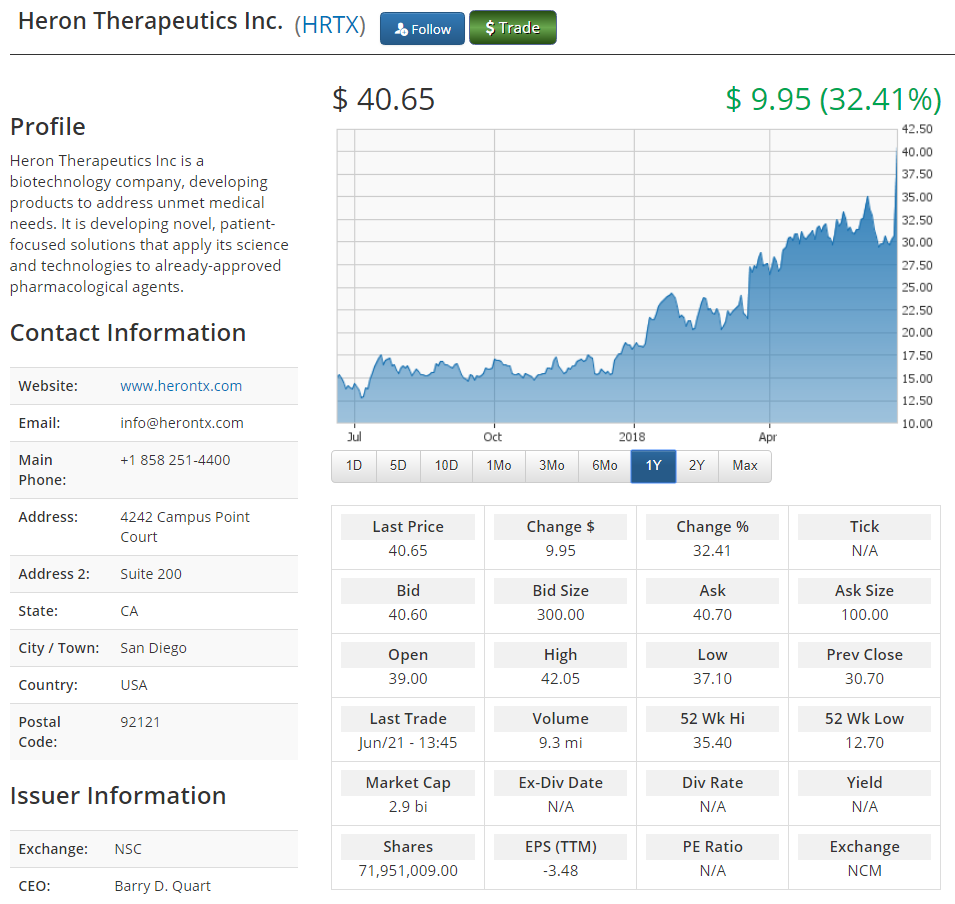 Please email us at content@equities.com to see our Case Studies and Testimonials.

Please click here for information on our new trading platform.
Please click here to see our weekly newsletter.
DISCLOSURE: The views and opinions expressed in this article are those of the authors, and do not represent the views of equities.com. Readers should not consider statements made by the author as formal recommendations and should consult their financial advisor before making any investment decisions. To read our full disclosure, please go to: http://www.equities.com/disclaimer