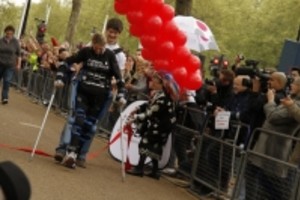 During a recent Los Angeles-based conference, I saw an interesting presentation for a developing product with a great human interest story. ReWalk Robotics ($RWLK) is a medical device company that designs, develops, and commercializes exoskeletons for wheelchair-bound individuals.
The company offers ReWalk Personal for everyday use to individuals at home and in their communities; and ReWalk Rehabilitation for exercise and therapy to individuals with lower limb disabilities in the clinical rehabilitation environment.
It is also developing ReWalk for individuals with quadriplegia. ReWalk Robotics markets and sells its products directly to institutions and individuals in Germany and the United States, as well as through third-party distributors in other markets. The company, formerly known as Argo Medical Technologies Ltd., was founded in 2001 and is headquartered in Yokneam Ilit, Israel.
One great part about the presentation was the testimonials from users – take a look for yourself here.
The company reports earnings on November 5th, and it will be interesting to see if they hit sales numbers. I had a chance to speak with Loren Wass, who gave an eloquent presentation at the Israel Conference at the Skirball Center, which focuses on expanding opportunities between Israeli and US investors. Loren and I had a chance to chat about the product line, his experiences selling the product and where he thought global sales could go.
"The key to sales traction is time," Wass said. He likened the burgeoning technology market for those with mobility issues to the product cycle for cell phones. Wass drew a parallel between current wheelchairs and mobility assistance to some of the early phones we had in our cars, explaining that the technology advances for those confined to wheelchairs was on the cusp of dramatic change.
When asked about his own experience selling the products, he talked about the importance of insurers covering the cost for patients, and the changes the industry was going through. What really struck me, though, was his belief in the importance of his work, and how rewarding he found it.
"It's like walking into Fenway Park and hearing your name called, and hearing the applause every time I see a mother or a father or a husband or daughter get out of the chair and walk for the first time in years," Wass said. "That feeling will never get old for me."
Wass' passion certainly resonated with me, and ReWalk is now certainly on my radar here at Equities.com, because I love great stories like this!
DISCLOSURE: The views and opinions expressed in this article are those of the authors, and do not represent the views of equities.com. Readers should not consider statements made by the author as formal recommendations and should consult their financial advisor before making any investment decisions. To read our full disclosure, please go to: http://www.equities.com/disclaimer