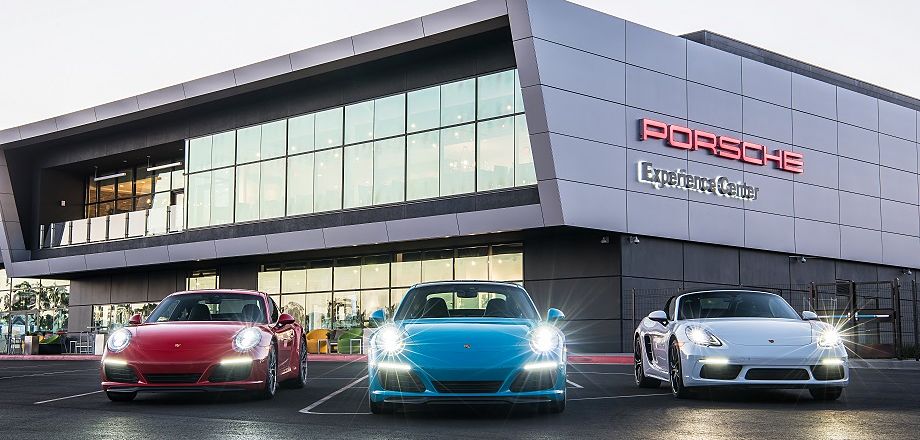 At this year's Equities.com Spring Wealth Conference, attendees got a taste of life in the fast lane. Held at the Porsche Experience Center in Los Angeles, institutional investors and presenting executives of emerging growth companies gathered for a full day of corporate presentations, thought-provoking panel discussions, productive networking and, of course, a sampling of high-end German engineering.
The event was very much geared toward identifying the most promising opportunities in innovative technologies and new market sectors today, set in an atmosphere infused by luxury and top-line performance that can only come from being surrounded by a fleet of Porsche's best offerings.
The morning sessions were dedicated to highlighting compelling companies paving new paths in their respective markets. Unsurprisingly, blockchain and cryptocurrencies were a big topic of discussion, but those were far from the only ones. Many other compelling businesses garnered investor interest as well, including the burgeoning legalized cannabis market, the future of wearables and the Internet of Things (IoT), redefining social media and geo-targeted marketing, as well as an alcohol enhancing tabletop device for consumers.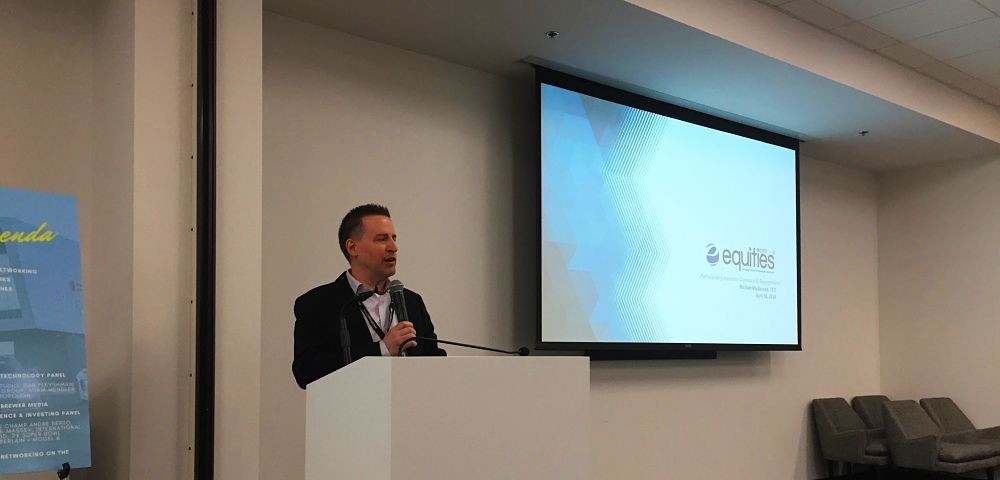 Equities.com CEO Michael MacDonald provided opening remarks.
The presenting companies were:
SinglePoint, Inc. (SING): SinglePoint has transformed from a full-service mobile technology provider to a publicly-traded holding company. Through diversification into horizontal markets, SinglePoint builds its portfolio by acquiring an interest in undervalued subsidiaries, thereby providing a rich, diversified holding base. At SinglePoint, they research opportunities where they can be active within the company and influence strategy and direction. Target companies are undervalued, cash-flow positive, with high potential and verified assets. SinglePoint acquires and works with key company management to grow successful candidate companies. See SinglePoint's presentation deck here.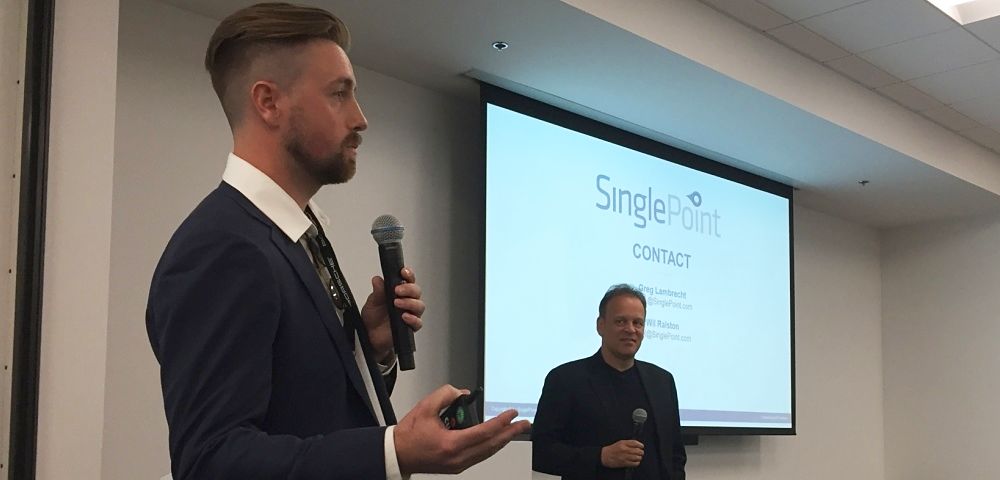 SinglePoint's Greg Lambrecht and Wil Ralston
WRIT Media Group (WRIT): WRIT is a diversified media and software company whose operations include digital currency software development, including trading platforms and blockchain solutions, content production and distribution and video game distribution via mobile platforms. WRIT's Pelecoin ("PLCN") is a token which is emitted based on the Pelecoin software platform that enables the "mining" of a basket of select crypto-currencies combined with a trading algorithm that liquidates the most profitable coins and/or trades between them, thereby increasing the value of the basket. WRIT is investigating acquisition targets across all businesses and geographies that will benefit from its crypto-currency platform, including large, established organizations as well as emerging growth companies. See WRIT Media's presentation deck here.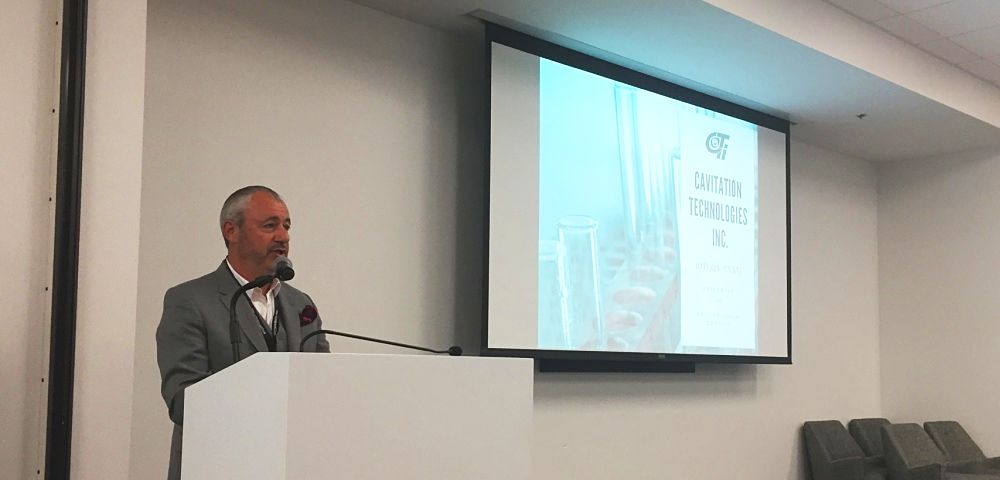 Neil Voloshin of Cavitation Technologies, Inc.
Cavitation Technologies, Inc. (CVAT): Founded in 2007, the company designs and manufactures innovative flow-through devices and systems, as well as develops processing technologies for use in edible oil refining, renewable fuel production, water treatment and alcoholic beverage enhancement. The company's patented Nano Reactor® systems and various technologies have more than 30 patents issued and filed both domestically and abroad. Cavitation Technologies recently announced the development of an appliance that greatly enhances taste in spirits and wine while reducing harmful impurities attributed to hangovers. By restructuring the molecular composition of spirits and wine, the technology improves the taste without the need for filters or chemical reagents. It will cater to a wide range of consumers, with connoisseurs and bargain-hunters alike taking interest in the appliance's benefits, as well as optimal spirit pricing. See Cavitation Technologies, Inc,'s presentation slide here.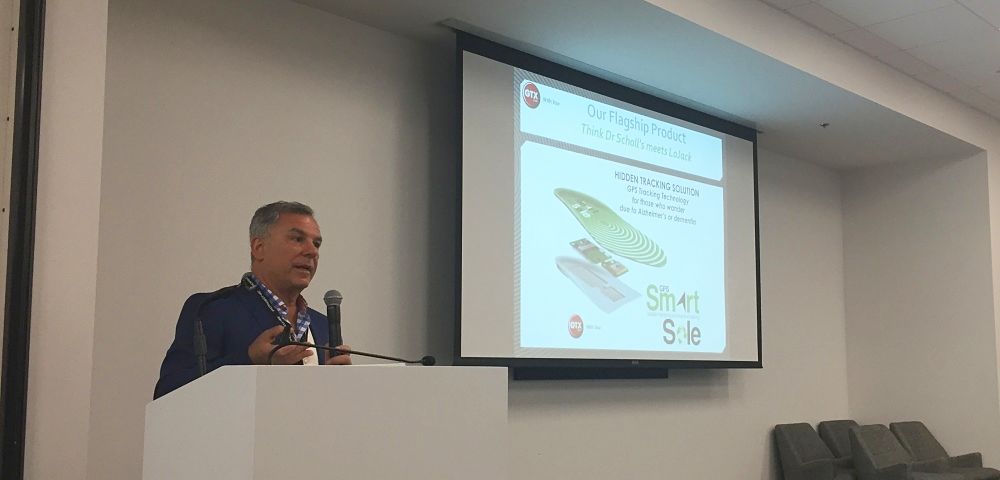 Patrick Bertagna of GTX Corp
GTX Corp (GTXO): At GTX Corp, they keep you connected to who and what matters most with a suite of GPS tracking location-based services. Their Internet of Things (IoT) Personal Location Services (PLS) platform provides solutions ranging from smart, wearable GPS technology, two-way GPS tracking devices and mobile smartphone tracking apps. Each of their patented tracking methods provides continuous, real-time location coordinates rendered on a map on their customized portal. Whether you are looking for an app to track your teenager, a GPS SmartSole® – think Dr. Scholl's meets LoJack – to track a wandering loved one, or a custom tracking system, their proprietary global IoT Machine to Machine (M2M) monitoring platform of hardware, software and connectivity is your one-stop shop for knowing where is. See GTX Corp's presentation slides here.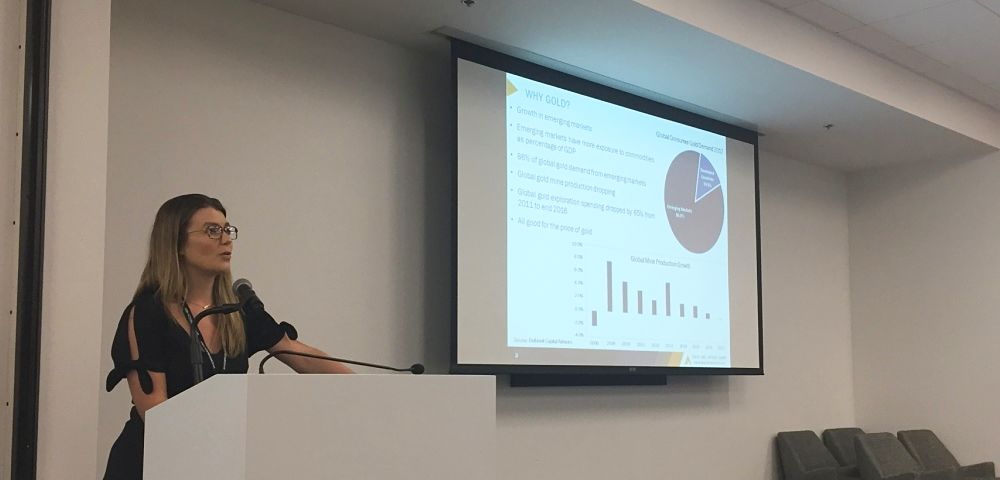 Kelly Earle of Skeena Resources
Skeena Resources Limited (SKE:CA): Skeena Resources Limited is a junior Canadian mining exploration company focused on developing prospective precious and base metal properties in the Golden Triangle of northwest British Columbia, Canada. The company's primary activities are the exploration and development of the past-producing Snip gold mine and the recently optioned Eskay Creek gold-silver mine, both acquired from Barrick. In addition, the company is performing preliminary exploration on the past-producing Porter Idaho silver mine and has completed a Preliminary Economic Assessment on the GJ copper-gold porphyry project. Skeena's management includes a highly experienced team of mine-finders, including Ron Netolitzky, Chairman of the Board. See Skeena Resources' presentation slides here.
Jose Montero and Christen Montero of Blue
Blue (Private): Blue is the first peer-to-peer Bluetooth ambient social network. It strives to develop a new way to encourage and preserve authentic social interactions by bridging the gap between the online and physical social worlds we have today. They have developed a new technology called Auto-Networking which enables users to spend more time connecting in-person by effortlessly exchanging their Blue virtual name tags (Blue VNT). Blue is a social app that introduces you to people you cross paths with in real life and is as simple as slapping on a name tag and forgetting about it. Users create virtual name tags with a bio and links to their social networks, personal websites, blogs and any other online social platforms. Blue's Auto-Networking will facilitate initial introductions, helping you to break the ice with people that want to network or be social with you. Simply turn on Blue, slide your phone in your pocket and let Blue introduce you to other users that come across your path. Blue will virtually connect you both and let you decide how you want to stay connected in a digitally social world. See Blue's presentation slides here.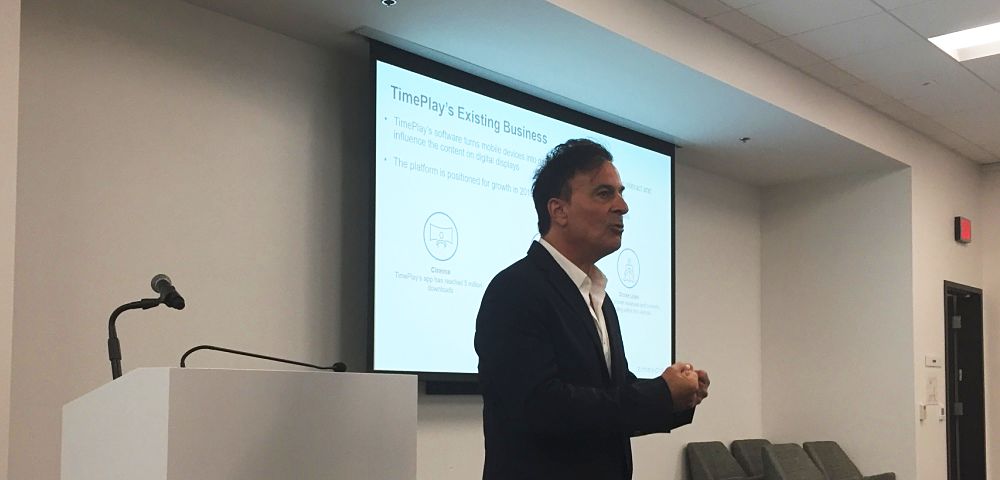 Jon Hussman of TimePlay
TimePlay (Private): TimePlay is a world leader in the multi-player interactive industry. The TimePlay platform allows moviegoers to use their smartphones and tablets to interact with and control outcomes on the big screen in real time, while providing a targeted portal for offer delivery, e-commerce and social networking. The globally patented technology enables exhibitors, advertisers, studios and other partners to entertain, inform and engage directly with moviegoers before or after a show. TimePlay's two-way interactive platform drives high participation levels and is delivering significantly elevated engagement and activation for its partners compared with traditional media campaigns. TimePlay is currently deployed at several exhibitors including Cineplex Inc., Carmike Cinemas, Emagine Entertainment and Bow Tie Cinemas. Many brands have created interactive TimePlay ads including McDonald's, Mazda, Samsung, Revlon, Shell and Heineken. TimePlay has offices in Los Angeles and Toronto.
Investing in the Modern Economy: Entertainment, Technology, Impact and Influence
The afternoon session featured two engaging panels which highlighted the increasingly pivotal role of influencers and new technology in today's evolving landscape for investors and entrepreneurs.
The Entertainment Technology Panel was moderated by Youngry's Ash Kumra and featured insights from serial entrepreneur Dan Fleyshman of Elevator.Studio, Adam Mendler of The Veloz Group and Darren Darnborough of WeRehearse.
Fleyshman shared some of his most effective social media marketing strategies, which have helped his businesses succeed. He also explained why he is so bullish on the future of cryptocurrencies.
Speaking at the "Porsche Experience Center" about how inexpensive it is to utilize Facebook ads and test things out on social media with little to no money.?? pic.twitter.com/t8H17PhmxL
— Dan Fleyshman (@DanFleyshman) April 20, 2018
"Crypto's not going away, no matter what the media tries to do," Fleyshman said. "The reason I throw these large crypto events and why I've invested so much in crypto the last few years is that the government can't stop it. The media is trying to stop it, but they can't stop it. So, it's frustrating to them. There is no CEO of bitcoin. There's no office that they can break down, there's no bank account they can seize…It just doesn't exist…What's happening is every single day we're getting so much negative press…So many people don't understand it and are fighting against it, but it's a fight that they can't win because crypto is literally unstoppable at this point. It's gotten so big, and throughout all the bad press that you're hearing every single day, Starbucks patented for crypto; Microsoft, IBM, Ford, Sony, Samsung and over 200 of the Fortune 500 companies have patents in the crypto space. And yet, nobody talks about it."
Mendler discussed the virtues of the Venture Studio Model over traditional venture capital—primarily in partnering with entrepreneurs and developing them with mentors rather than just cutting them a check. He also stressed the urgency for business leaders to understand and consider more thoroughly the potential impact of automation on the future of their industries and organizations.
Meanwhile, Darnborough commented on the similarities of Silicon Valley and Hollywood, specifically in that everyone thinks they have a million-dollar idea and are self-funding themselves to pursue their goals. But while entrepreneurs can build their own companies from the ground up, actors ultimately still depend on someone employing them in order to succeed. He also pointed out that, due to the lowered barriers of entry for these industries, the traditional curation methods (festivals, etc.) have gotten much noisier. So, while anyone can make anything these days, there does need to be better filtration to validate quality.
In the Impact, Influence & Investing Panel, former NFL player Jack Brewer of The Brewer Group led a discussion that featured celebrity influencers such as actors/musicians Chris and Kyle Massey, two-time Super Bowl Champion Byron Chamberlain and models Jenny Watwood and Marko Gojanovic.
The panel covered a wide range of topics, including each speaker's path to success and becoming an influencer and how they're now leveraging that initial success and celebrity to diversify their businesses and investments. The discussion also focused on their passion and inspiration toward impact investing and social causes, as well as how they're seeking to make a difference with their influence and dollars.
"If you want to talk about impact at the end of the day, I have a simple formula," Brewer said. "My formula is, making a profit plus making a difference equals making an impact. I preach this because for me personally, it's always about finding my purpose. I've always tried to encourage, no matter the athletes or entertainers that I work with, or a corporation or a brand, the first thing I always ask is, 'what is our purpose?' It can't just be making money because a lot of folks that make a whole lot of money are miserable. And it can't just be about making a difference because you'll just go broke if you don't make any money. So, there has to be a balance there, and what this panel is about is finding that balance."
Some of the projects that Brewer and the panelists have led include multiple visits to Haiti to raise awareness and help bring desperately needed resources to the country as part of The Brewer Foundation's Global Ambassadors Program. Brewer also discussed why he created an MBA program for athletes and artists to better understand their finances and businesses and has already graduated more than 80 members.
---
In the interest of full disclosure, we call the reader's attention to the fact that Equities.com, Inc. is compensated by the companies profiled in the Spotlight Companies section. The purpose of these profiles is to provide awareness of these companies to investors in the micro, small-cap and growth equity community and should not in any way be considered as a recommendation to buy, sell or hold these securities. Equities.com is not a registered broker dealer, investment advisor, financial analyst, investment banker or other investment professional. We are a publisher of original and third party news and information. All profiles are based on information that is available to the public. The information contained herein should not be considered to be complete and is not guaranteed by Equities.com to be free from misstatement or errors. The views expressed are our own and not intended to be the basis for any investment decision. Readers are reminded to do their own due diligence when researching any companies mentioned on this website. Always bear in mind that investing in early-stage companies is risky and you are encouraged to only invest an amount that you can afford to lose completely without any change in your lifestyle. Equities has been compensated with cash, common shares and/or warrants for market awareness services provided.