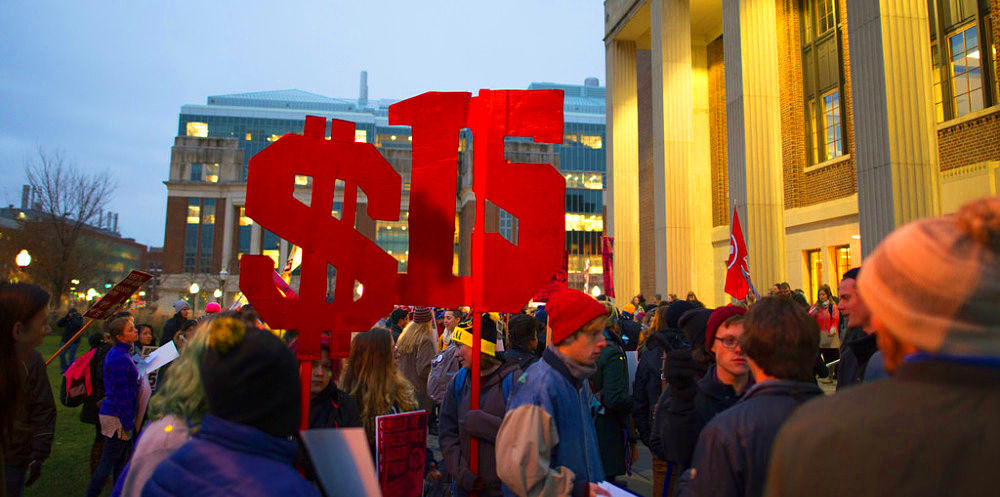 I think this year's top risk is a miscalculation by the Federal Reserve—specifically, that it will tighten monetary policy too much.
The Fed is hiking interest rates because its experts believe the economy is close to "full employment." And the Phillips Curve says wages should start rising any minute now.
But economists have been scratching their heads trying to understand why wages aren't already shooting higher. If qualified workers are so hard to find, why don't employers offer higher pay to attract more?
Labor Supply Is Bigger Than Data Suggests
One possibility: the untapped labor supply is more than the 4.1% jobless rate suggests.
Here's an interesting stat you may not have seen.
Most newly employed people weren't on the books as "unemployed" right before starting their jobs. They went straight from "out of the labor force" to "employed," because they were in school or military service—or otherwise neither employed nor seeking a job.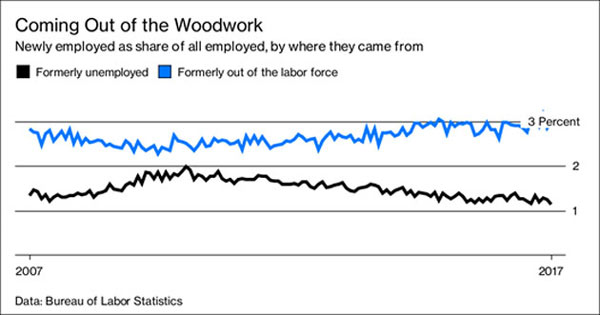 Chart: Bloomberg
That means if you're an employer, the available-worker pool from which you can draw is much bigger than the 4.1% of the labor force that is nominally "unemployed."
This suggests wage pressure might be farther off than we think.
Another measuring challenge is that we look at average hourly earnings. Total pay can go up even when hourly wages don't, if workers get more on-the-clock hours… which they have, slightly.
Average weekly earnings rose 2.8% in 2017 while average hourly earnings rose only 2.5%. Even a 2.8% wage gain wasn't much, though, once you subtract last year's 2.2% Consumer Price Index (CPI) inflation.
Regional Wage Differences
Like the employment rate, wages also have a lot of regional variation.
They're rising faster in cities that have below-average unemployment. You can see it in this chart, which shows that since 2008, wages rose much more in the Minneapolis and Ogden, Utah metro areas.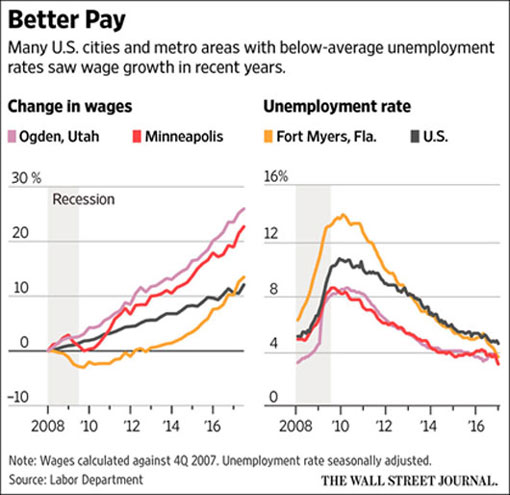 Chart: Wall Street Journal
Better yet, wages are catching up in Fort Myers, Florida, where they had lagged badly for years. We need the trends to spread elsewhere, but these are encouraging signs.
Another small but positive sign was the move by some large corporations to give employee bonuses after President Trump signed the tax cuts. Was it partly a publicity stunt?
Yes, but the money was real. Now we need to see those same companies and others raise regular wages and increase their headcount.
Minimum Wage Rising
A third change is that 18 states raised their minimum wages as of this month.
The Economic Policy Institute estimates the increases will mean $5 billion in additional wages to about 4.5 million workers.
Here's their full list.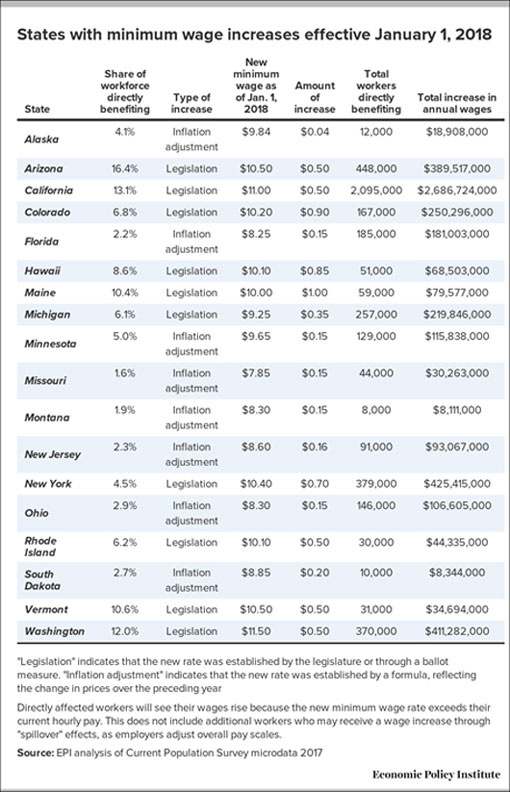 Source: Economic Policy Institute
Is that enough to affect the national inflation rates the Fed is watching? Maybe not. Further, paying those higher wages may force employers to cut other expenses, leaving the overall inflation rate unaffected.
However, there may also be a spillover effect. Higher entry-level wages can force employers to raise pay further up the ladder too, in order to keep "relative" earnings the same.
The numbers above don't include this.
Watch Wages Through the Fed's Eyes
For forecasting purposes, whatever you or I think about the wage situation is less important than what Federal Reserve officials think. The December FOMC minutes are our most recent look inside their heads.
A few participants judged that the tightness in labor markets was likely to translate into an acceleration in wages; however, another observed that the absence of broad-based upward wage pressures suggested that there might be scope for further improvement in labor market conditions.
Reading the tea leaves here, "a few" who thought wages will rise should outweigh the "another" who saw an absence of wage pressures. But is that a majority? We don't know. Plus, the Fed will be getting new faces this year with possibly different ideas.
As of last month, the dot plots showed three rate hikes coming this year. Futures markets imply it will be less than that, maybe only two.
If that's the plan when wage growth is at best uncertain, then it won't take much for the Fed to hike rates higher and faster than expected.
That, in turn, could quickly change the Goldilocks scenarios that project everything will go just right this year, letting stock prices move up steadily.
On the other hand, higher wages will put more money in workers' pockets and give them more spending power. That will be good for the economy, even if it's negative for stocks.
Pay Attention
All this suggests paying attention to wage data will be important this year. It's really the key to everything.
Stronger-than-expected wage growth will make the Fed see inflation, tighten policy more than presently expected, and probably send stock prices lower.
Conversely, continued flat wages will let the Fed stay on its present slow-hiking course. That would be bullish for stocks.
I'd like to see the first scenario, because I think it will be the best long-term outcome for everyone. However, I think the second scenario is closer to what we'll get.
Other factors are also in the mix. Energy prices have spiked, for instance. That could boost inflation prospects if it persists.
Like the Fed, I'm data-dependent. I've told my subscribers I'll watch the numbers and adjust accordingly. You should do the same.
Free Report: The New Asset Class Helping Investors Earn 7% Yields in a 2.5% World
While the Fed may be raising interest rates, the reality is we still live in a low-yield world. This report will show you how to start earning market-beating yields in as little as 30 days… and simultaneously reduce your portfolio's risk exposure.