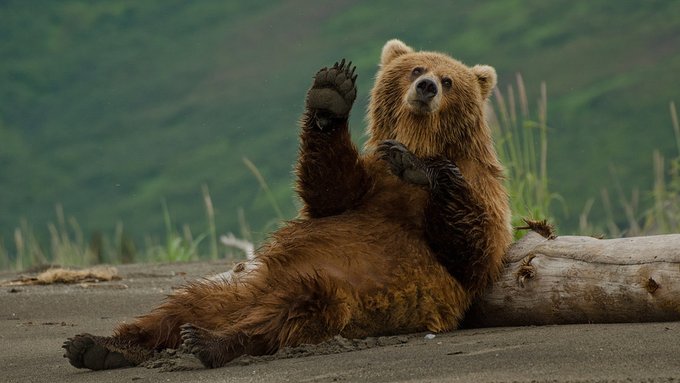 Pippa Stevens of CNBC reports on why the stock market is up even with historic job losses:
A record number of Americans just lost their job, and yet stocks are moving higher. This seems paradoxical given the economic toll — to say nothing of the emotional toll — on millions of people across the country without a job.
While some say this is further indication that the stock market has become decoupled from reality, others say there are clear reasons why stocks have rebounded, and can continue to move higher.
For one, the jobs data in and of itself is backward-looking. The April figures — which saw a record 20.5 million Americans lose their job — is from the height of the crisis. Since then, economies have begun to reopen. There is still a long way to go, of course, but the market is discounting what's going to happen six months from now, when most states will be getting back to business.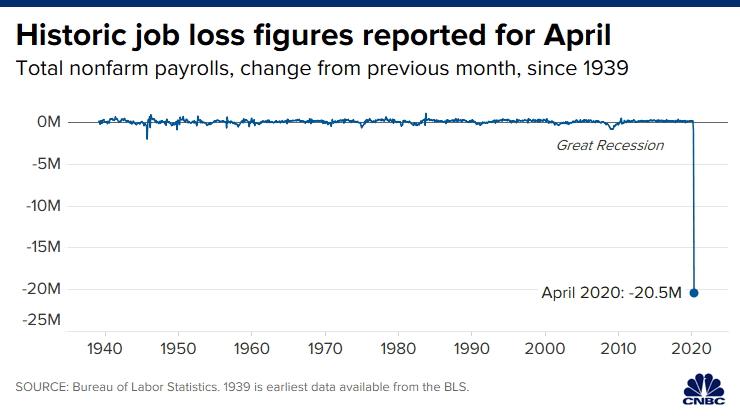 Strategists also point out that the losses have been somewhat concentrated in the leisure and hospitality sector, whose underperformance has overshadowed strength in other areas of the market. And with the government and federal reserve providing record stimulus measures, some argue that once businesses do get back up and running, the recovery will be swift.

The S&P 500, Dow Jones Industrial Average and Nasdaq Composite all opened higher on Friday, with the Dow surging more than 300 points. Since the March 23 low, all three averages have bounced more than 30%.
Worst over?
While the debate among health experts about how and when economies should reopen is ongoing, some states have already started easing shelter-in-place measures. A number of states including Florida began phase one reopenings on Monday. California became the latest state to lift some of its precautionary measures, with certain low-risk retailers allowed to open beginning Friday.
"The market knows that the job losses are self-inflicted due to the widespread shutdowns," Bleakley Advisory Group chief investment officer Peter Boockvar told CNBC. "Thus, now that we are beginning the reopening process the market assumes many of these people will hopefully get hired back over the coming months and quarters."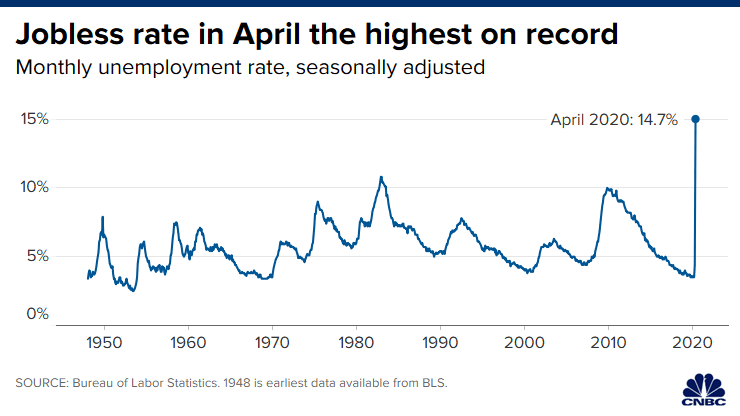 Additionally, 78% of those who lost their job in April said they were furloughed, meaning the unemployment in theory will be temporary. Goldman strategist Jan Hatzius said this is an important distinction to make, given that it suggests the recovery will be swifter.
"If job losses are concentrated in this segment [furlough], it would increase the scope for a more rapid labor market recovery when the economy eventually rebounds (because employees can be recalled to their previous jobs, as in several past recessions)," he wrote in a note to clients ahead of the report.
Pockets of strength?
At first the market sell-off was broad in nature as the uncertainty surrounding the coronavirus sent the major averages tumbling into a bear market at the fastest pace on record.
But since then, the divide between the winners and losers widened. Unsurprisingly stocks most exposed to the coronavirus threat — including hotels and airlines — have continued to trade lower. But other names are showing strength. On Thursday the Nasdaq went positive for the year, as names like Netflix and Amazon surged to all-time highs.
"Large companies have fallen much less than smaller companies. It is likely that as a result of this crisis the strong will get stronger … and so the stock market is reflecting that in its relative valuation," Peter Orszag, Financial Advisory CEO at Lazard and former OMB director under Obama, said on CNBC's "Squawk Box."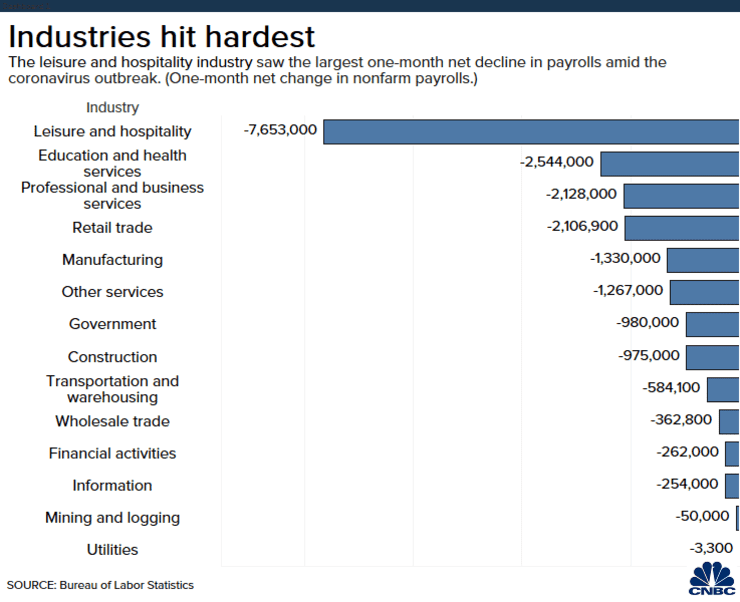 "The US consumer has proven to be the economic engine over the last decade, and investors who are buying heavily into this market believe that behavioral changes are unlikely to create a dislocation in demand longer than a couple of quarters," added Shannon Saccocia, chief investment officer at Boston Private Wealth.
That said, Saccocia said a more cautious tone is warranted, since she believes it's a "misconception" that demand for consumer services will return quickly once government edicts lift.
Ongoing stimulus?
As the coronavirus wreaked havoc on markets, governments and central banks around the world stepped in in an effort to prop up prices.
In March, President Donald Trump signed into law a record $2 trillion federal stimulus package known as the CARES Act, while the Federal Reserve announced that it would engage in unlimited asset purchases.
"While the collapse in economic activity is historic, so too is the global policy response to cushion the impact and support a recovery as containment measures are relaxed," JPMorgan strategist Marko Kolanovic said in a recent note to clients.

"We estimate the impact of Fed easing in both rates and credit more than compensate for the temporary hit to corporate earnings when valuing the US market via discounted earnings," he added.
Zero rates?
As part of its stimulus measures, the Federal Reserve in March slashed interest rates to near zero. At the central bank's most recent meeting at the end of April, it pledged to keep rates at historic lows until the economy recovers. This supports economic activity since it makes borrowing money cheaper.
"Interest rates are going to be extremely low — barely positive — for a very long period of time, so that does provide some support to equity prices," noted Orszag.
Looking forward
Amid the ongoing uncertainty, Kate Moore, head of thematic strategy for BlackRock's Global Allocation Team, said it's important for investors to look beyond the noise and determine who the winners on the other side will be.
She believes the market is moving higher due to three reasons: the slowing rate of infection, the gradual reopening of states' economies, and the improving relations between the U.S. and China.

"We need to continue to get government and policy support in order for the market to move forward, and for us to not just be reacting to some slightly incremental better newsflow, but to something that's more fundamentally driven," she said.
While many unknowns remain and the path forward is far from certain, famed investors are quick to note that the U.S. has bounced back before.
"Nothing can basically stop America," said Warren Buffett, chairman and CEO of Berkshire Hathaway, at the conglomerate's first virtual shareholder's meeting on Saturday. "The American miracle, the American magic has always prevailed and it will do so again."
What the Oracle of Omaha should have said is this: "Nothing can basically stop America as long as the Fed can print trillions out of thin air and lend it for free to the wolves of Wall Street to keep speculating and buying the dips, getting obscenely richer while the entire country falls into a coronavirus depression."
And let there be no illusion, the entire US economy is falling into a depression despite some of the positive spin you're reading on this morning's historically horrific jobs report: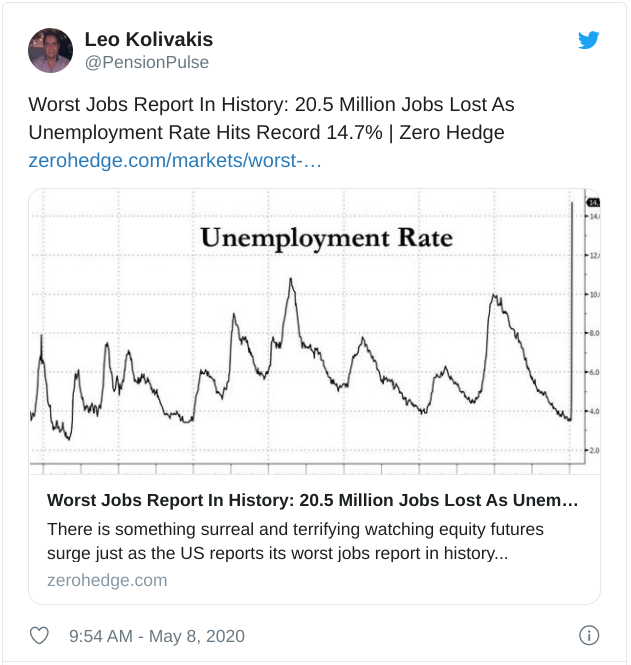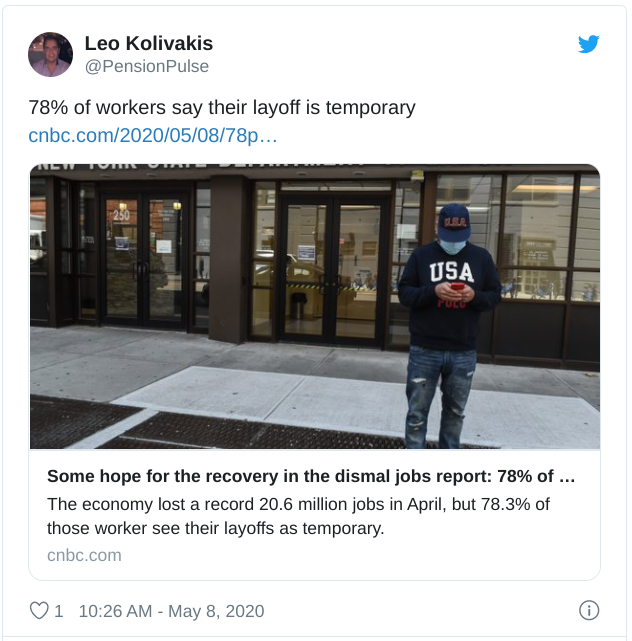 Unfortunately, most of those jobs are never coming back as the real unemployment rate spikes to over 20%. When the May jobs report rolls around, it will show an even bleaker picture of the US jobs market.
In fact, David Long, former CIO of HOOPP, looked at the latest US jobs report and highlighted this:
"If the workers who were recorded as employed but absent from work due to "other reasons" (over and above the number absent for other reasons in a typical April) had been classified as unemployed on temporary layoff, the overall unemployment rate would have been almost 5 percentage points higher than reported (on a not seasonally adjusted basis). However, according to usual practice, the data from the household survey are accepted as recorded. To maintain data integrity, no ad hoc actions are taken to reclassify survey responses."

No wonder the US Treasury Secretary is warning job losses will get a lot worse before they get better: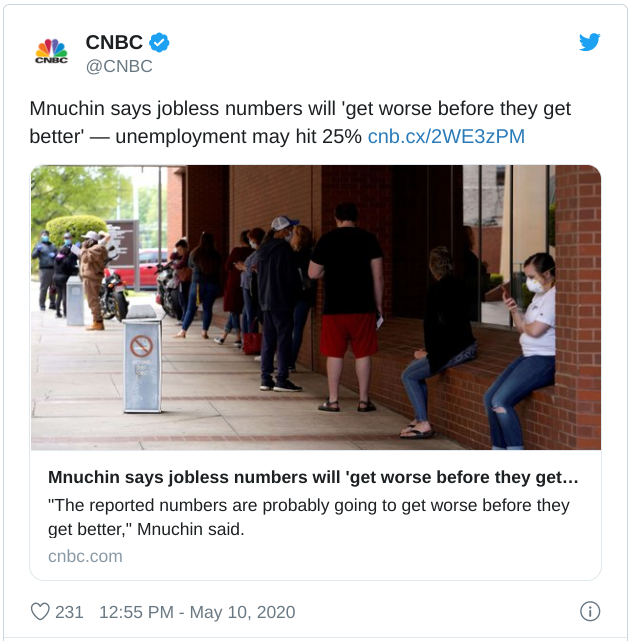 Still, the stock market doesn't care, cheering on every dismal economic data point as the great market disconnect continues unabated: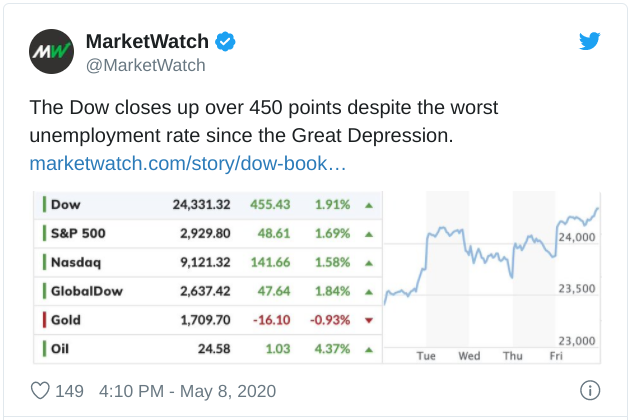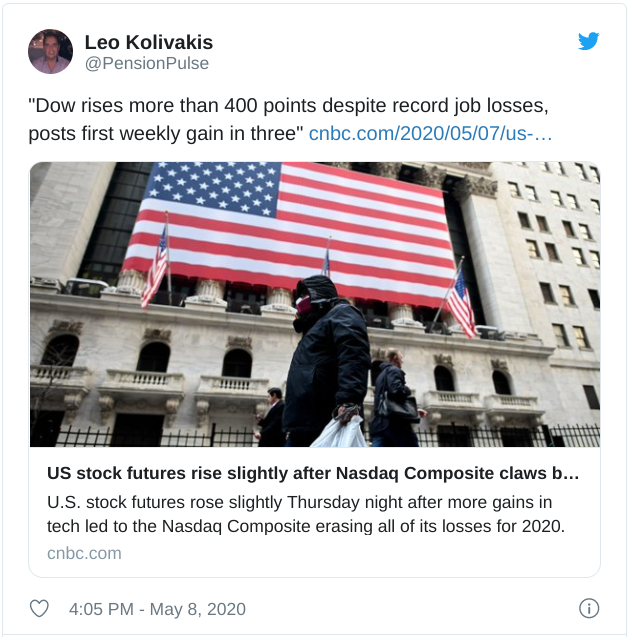 So what gives? Last week, I explained that I thought this was the market's last dance, bringing up the two most important factors explaining the big bounce off March lows:
The Fed injecting massive liquidity into the financial system, buying up risk assets like corporate bonds and
Global pensions (and sovereign wealth funds) rebalancing their portfolio to buy more stocks at the end of March following the sharpest monthly selloff in decades.
When it comes to stocks, it's all about the three Ls: Liquidity, Liquidity and Liquidity. The Fed through its Swiss surrogate has been busy buying FAAMG stocks: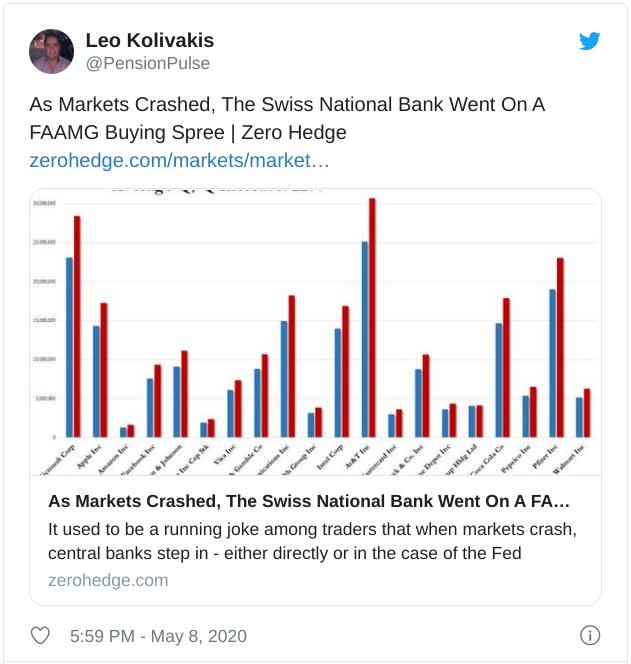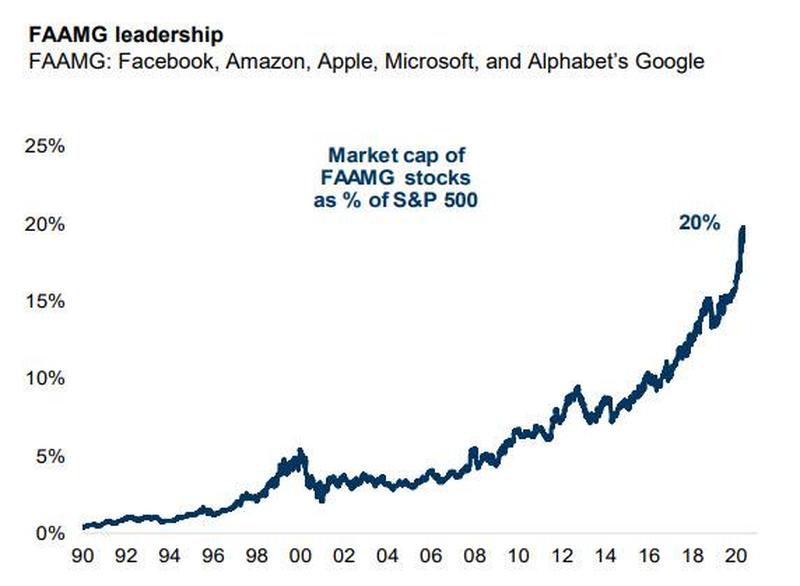 But don't underestimate the massive rebalancing that went on at the end of March as giant funds basically sold bonds to buy more stocks: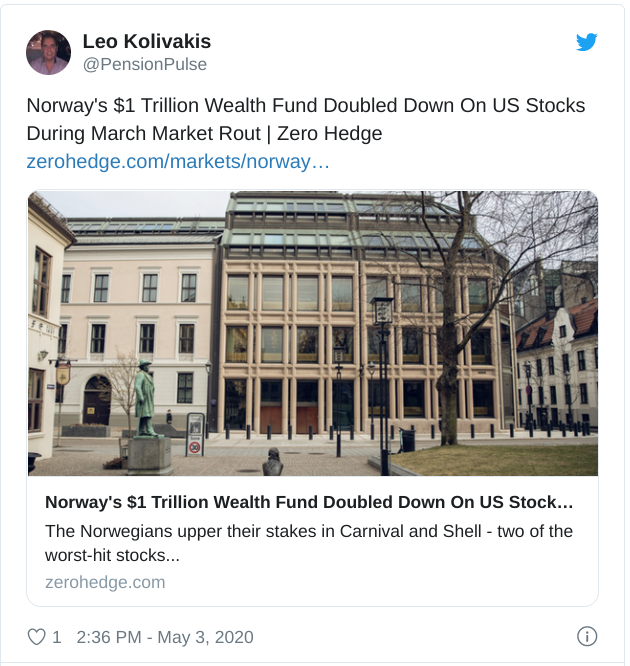 So when does the liquidity party end and how does it end? Some experts are warning investors not to be too optimistic while others don't think we will retest March lows: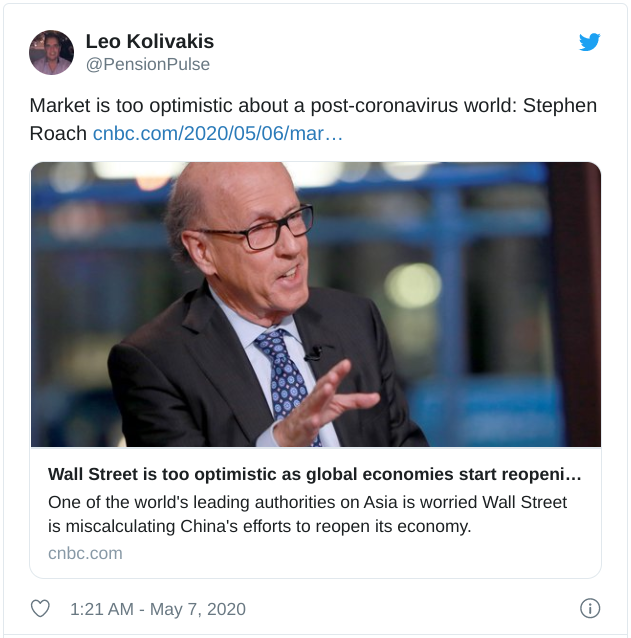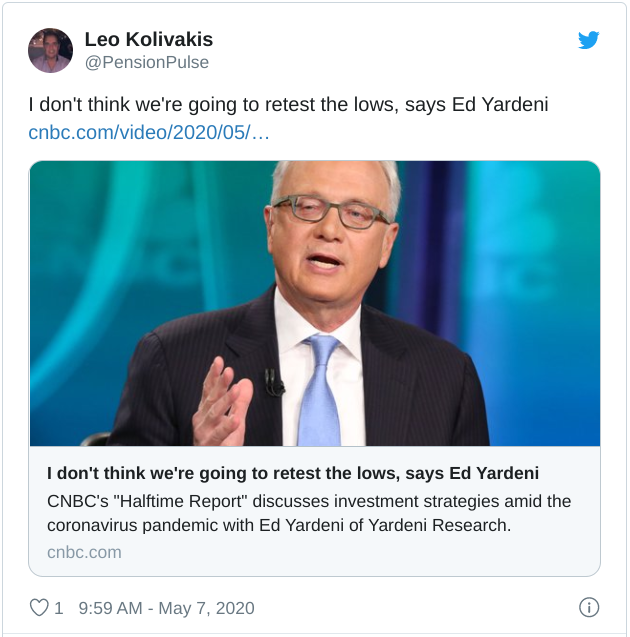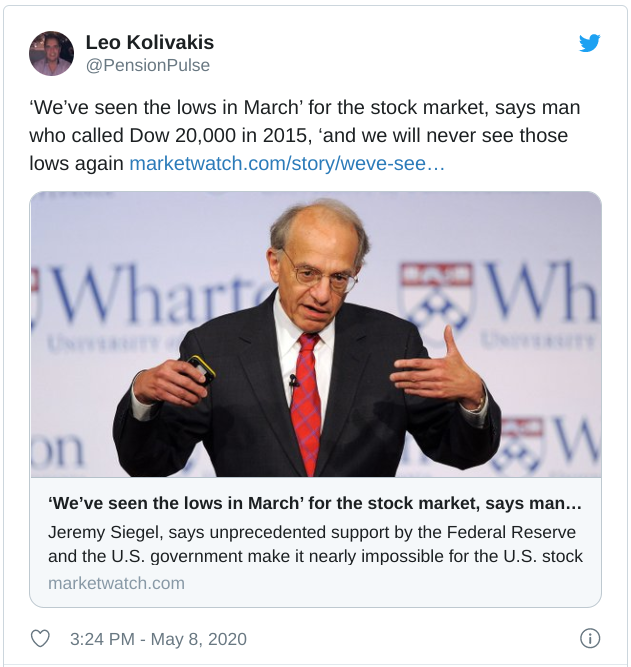 I happen to agree with those who think the bear will return, as highlighted by Investment Executive:
April's market bounce is likely to fade back into a bear market as investors face months of dire earnings and economic data, according to a report from Richardson GMP.
After markets cratered in March in response to the Covid-19 pandemic and economies shutting down, April saw a significant reverse. The S&P/TSX composite index rose 10.8% last month, and the S&P 500 posted a 12.8% gain.
Markets responded to massive stimulus from governments and central banks as policy-makers effectively closed large sections of the global economy.
Now that data around Covid-19 infection rates are improving and economies tentatively reopen, the policy response will be less substantial, the Richardson GMP report stated.
"So as the policy 'market boost' fades, the market will have to absorb economic data that will get worse and worse in the coming months," the report said.

"Q2 earnings released in July and the economic data between now and then will continue to paint a dire picture."
The report's authors recommend taking advantage of April's rally and reducing equities exposure in favour of fixed-income. The firm increased its underweight position on Canadian equities due to energy sector woes and large household debt.
It recommended increased exposure to Canadian corporate credit.

"The repricing of risk in the corporate bond market has tilted the medium- to long-term risk/reward profile back in favour of investors, making it a more attractive place to be," the report said.
While the worst of the health crisis and the risk of a liquidity crisis appear to be over, investors are now facing a recession whose end largely depends on the virus's path. The authors predict "a material hit to confidence" leading to conservative behaviour, potentially slowing economic recovery.
A note from Purpose Investments pointed to how difficult the recovery is to predict because this kind of reopening is basically unprecedented. With little guidance from companies, investors are relying on balance sheets to see which names can outlast the competition, chief investment officer Greg Taylor wrote.

The next big market risk, he said, will come in late summer or fall if the recovery doesn't take the shape markets have priced in. Taylor quoted Yogi Berra: "If the people don't want to come out to the ballpark, nobody is going to stop them."
Investors should brace themselves for a bear market that could last for some time, Richardson GMP said.

"Remember, bears usually last a year or longer and this one started two months ago," the report said. "While there is nothing average about this bear, we don't believe it is over. It could be a long summer."
There is nothing average about this bear market, it will be the longest bear market since 1973-74 even if the Fed and policymakers took the 2008 playbook and "put it on steroids". All we did is go though the first round of volatility: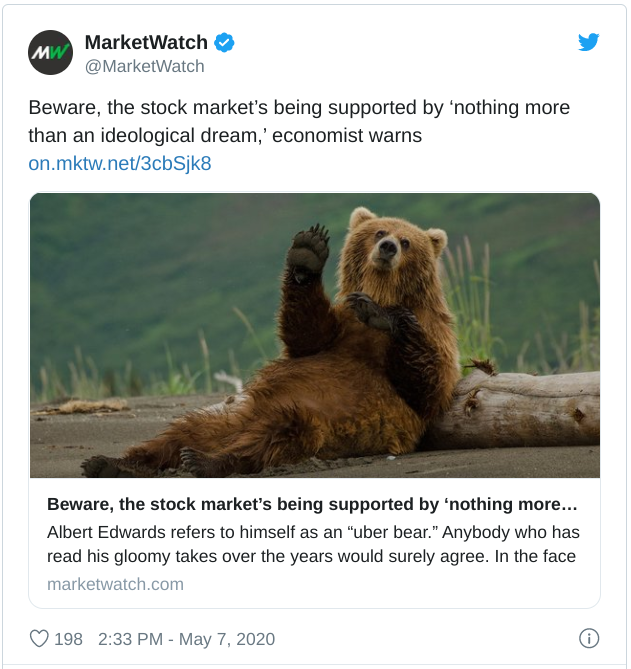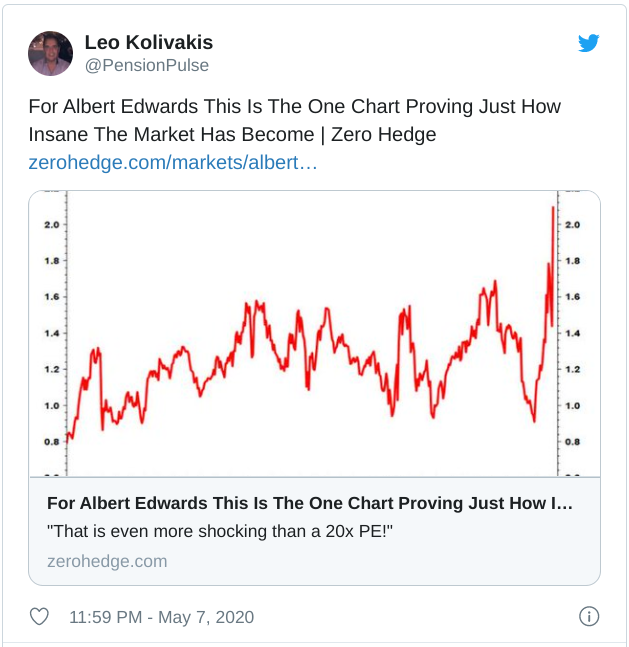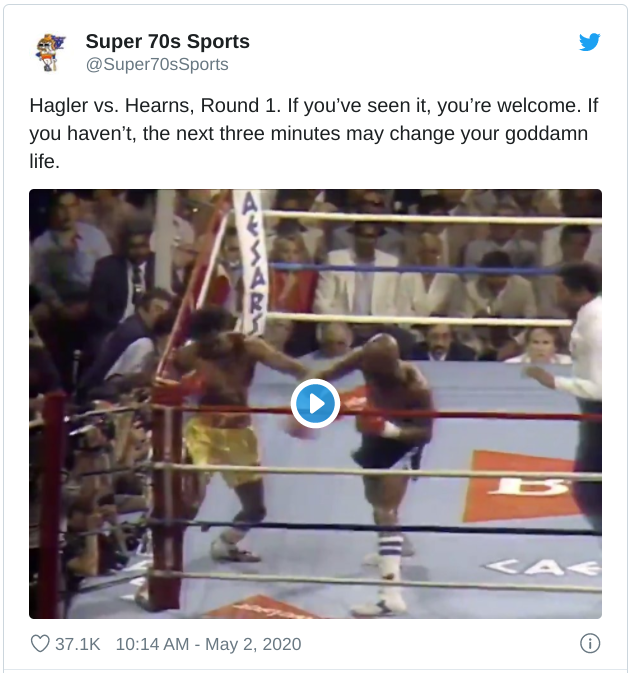 Right now, elite hedge funds/ quant funds are basically frontrunning the Fed and let's be honest, gaining from inside information at the highest levels of the US government.
Who else is benefiting from the Fed's actions? Elite private equity funds whose portfolio companies dominate the lowest depths of the junk bond market: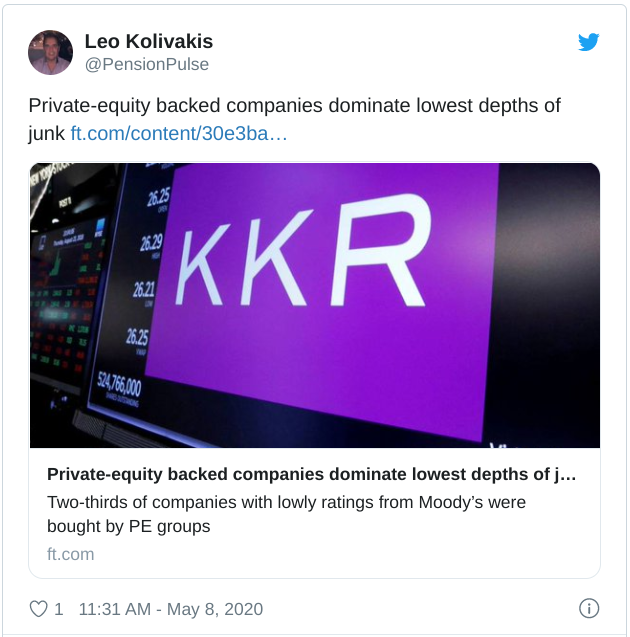 Remember that book I keep recommending? The Power Elite written back in 1955 by sociologist C. Wright Mills. It's now more relevant than ever.
But overrelying on the Fed to save the financial system and the economy might not work this time around: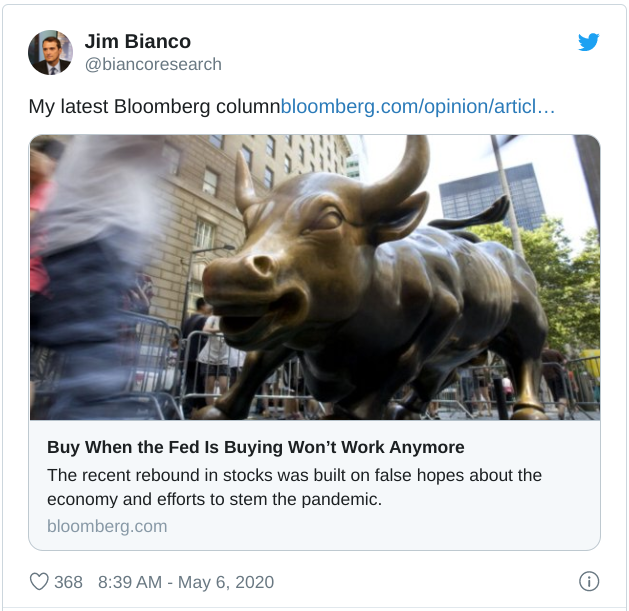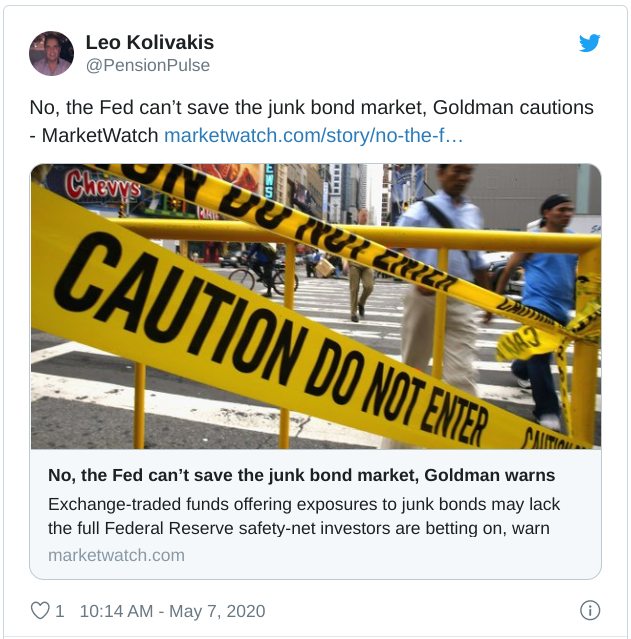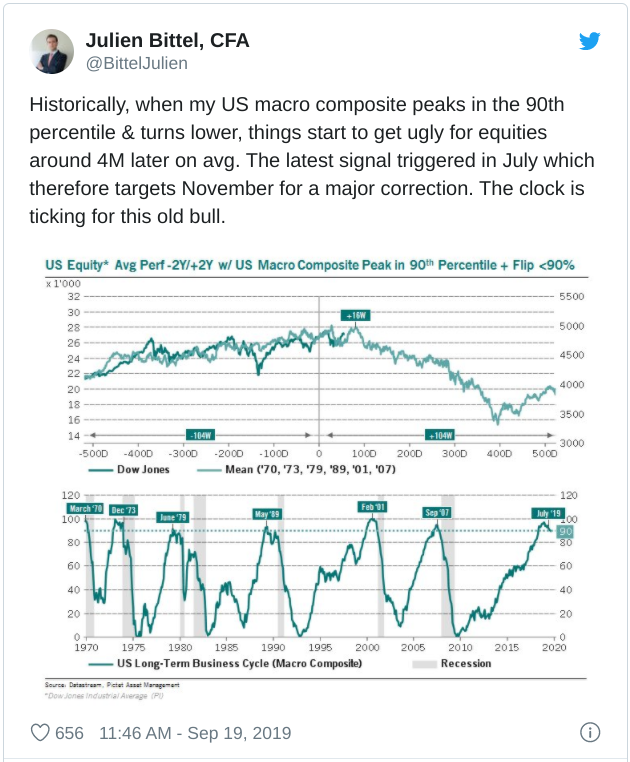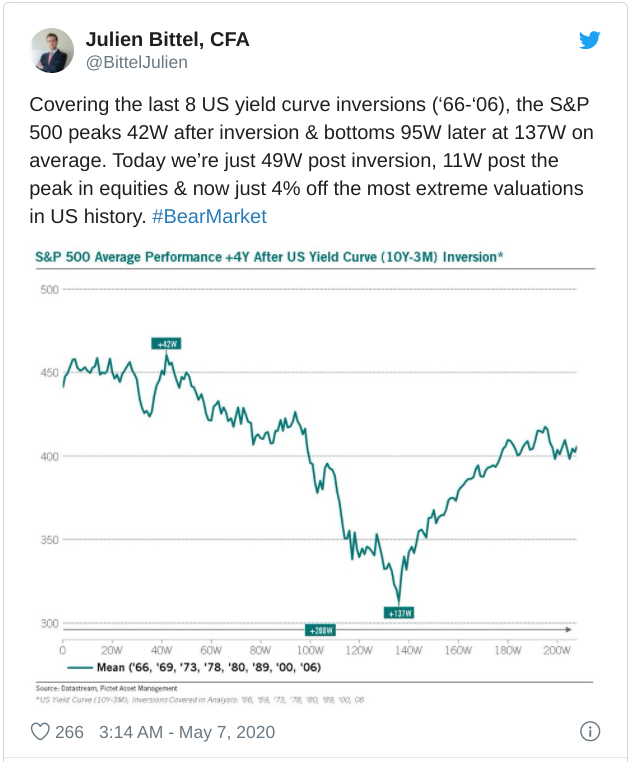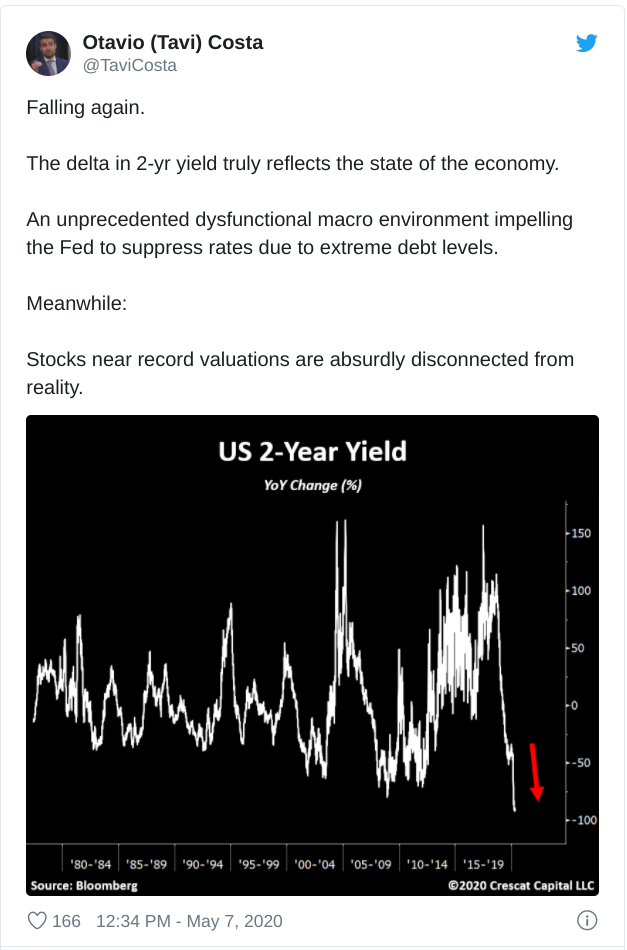 There's another problem with Fed printing trillions out of thin air, making the financial and corporate elite even richer than ever, it's exacerbating the great divide between Wall Street and Main Street: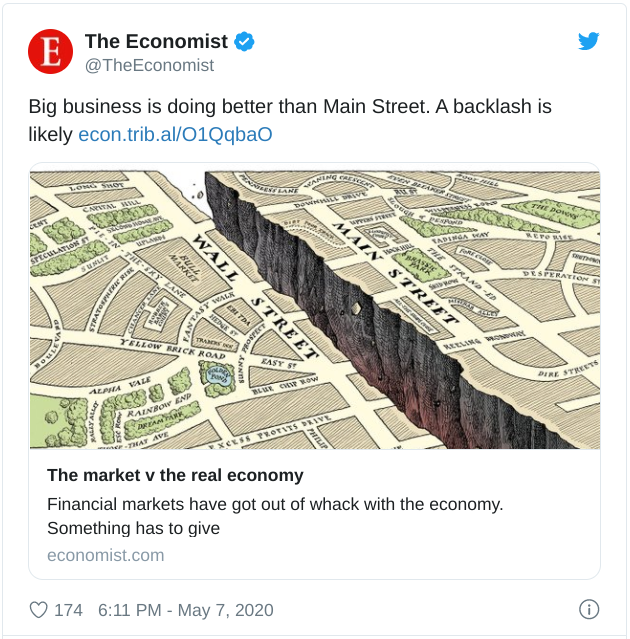 And it's this backlash that Ray Dalio has been warning of for a couple of years now. Policymakers will likely start giving everyone a 'universal basic income' but this 'let them eat cake' policy won't squelch major social tensions as the financial/ corporate elites make off like bandits after every crisis while the restless many fall into a depression.
My message to the financial elite? Watch this grizzly video because you can't get away with murder forever, at one point someone/ something bigger will eat you alive!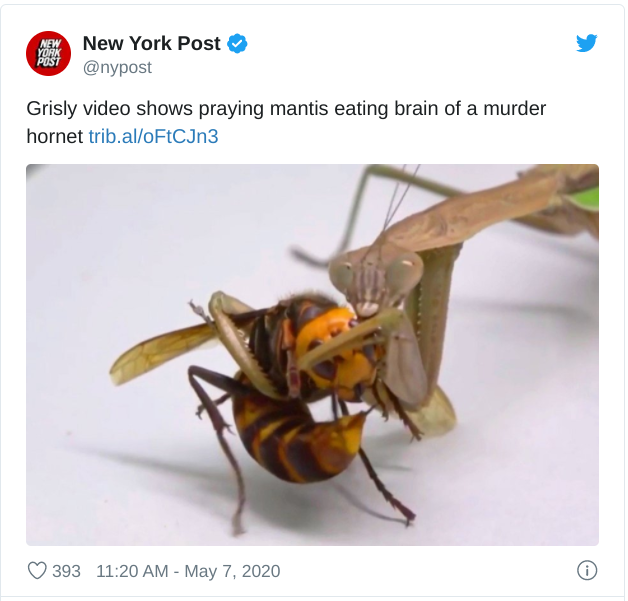 So will the bears be back? One way or another, they will be back stronger than ever but right now, everyone is focused on the Nasdaq which went positive for the year as elite hedge funds fade the dismal economic data and remain long tech stocks no matter what.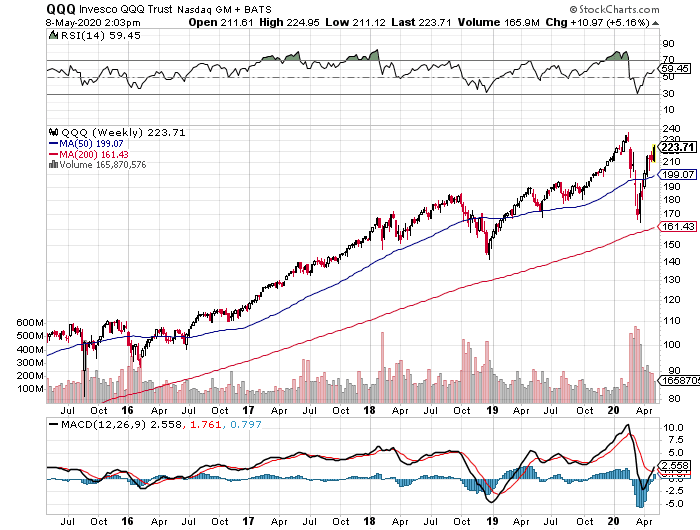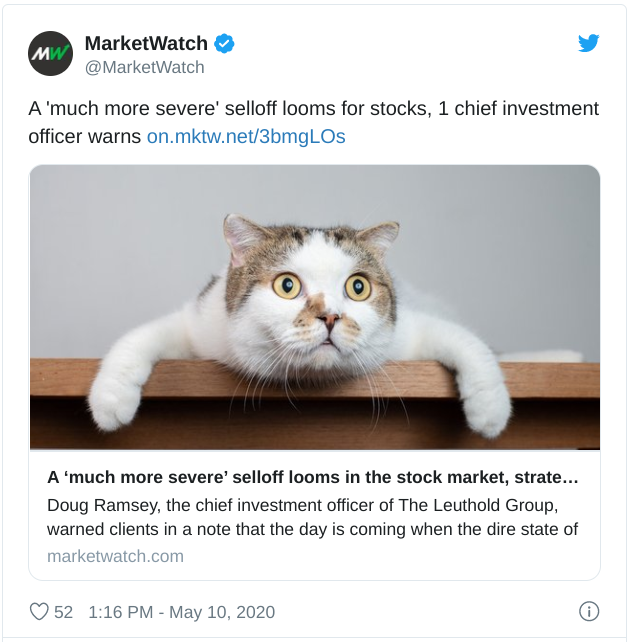 FOMO? TINA? Always buy tech no matter what the dip? Who needs active managers? The Fed's got your back, blah, blah, blah.
It's all nonsense folks, the Fed is just sowing the seeds of the next crisis which is why some well known investors are wondering how best to hedge against monetary madness: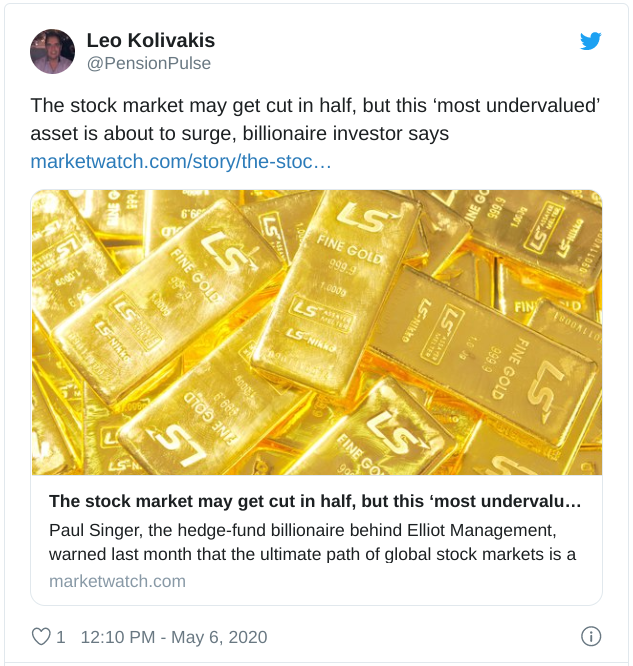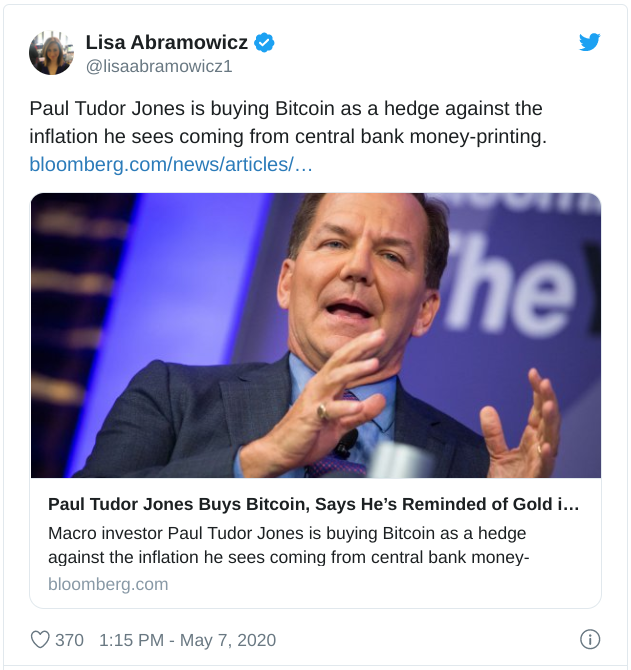 On that note, have a wonderful weekend, don't be surprised if the algos gun for Nasdaq 10,000 but my best advice is to sit out all this nonsense or risk getting your head handed to you over the next six months.
Also, a little reminder, my blog isn't a charity so if you value the insights, make sure you donate or subscribe at pensionpulse.blogspot.com using the PayPal options. I thank all of you who value my work through your financial support.
Below, Diane Swonk of Grant Thornton and Brent Schutte of Northwestern Mutual join "Squawk on the Street" to discuss the latest jobs numbers and economic fallout of the coronavirus pandemic. Listen to Diane Swonk, she's a great economist who gets it.
Second, CNBC's "Halftime Report" team is joined by BMO's Brian Belski to discuss his investment strategies amid the coronavirus pandemic. He thinks the market has more room to run and the market won't retest the lows. This guy is a perenial permabull who is the quintessential contrarian/ momentum indicator (he always shows up when stocks are soaring to cheerlead the rally and hides under a rock when stocks get slammed).
Third, CNBC's "Halftime Report" team discusses their investment strategies amid the coronavirus pandemic with Marc Lasry of Avenue Capital. Unlike Belski, Lasry has skin in the game and has been warning investors to temper their enthusiasm.
Lastly, Peter Cecchini, Cantor Fitzgerald global chief market strategist, joins "Closing Bell" to discuss markets. He states this is a classic bear market rally driven mostly by FOMO.
Leo Kolivakis is a Canadian-based senior analyst specializing in pension funds and investments across public/private markets.
_____
Equities Contributor: Leo Kolivakis
Source: Equities News