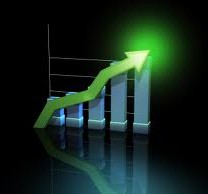 Guidewire Software Inc. (GWRE), the developer of core systems that support all aspects of property and casualty insurance provision, saw its shares trading for as much as $38.14 by midday, a gain of more than 20 percent from yesterday's close. Guidewire has a market cap just north of $2 billion.
The strong showing comes on the heels of the company's fiscal second-quarter earnings report, which indicated an increase in adjusted earnings-per-share of 23.53 percent to $0.21, up from $0.17 in Q2 of 2011, and beating estimates by $0.02.  Revenue for Q2 was also up sharply on the same period in the prior year to $72.2 million, representing 70.5 percent increase,  handily beating analyst estimates of $64.26 million
Additionally, revenue from software licensing came in at $30.8 million, beating consensus estimates of $26 million.
Investment firm Pacific Crest said in a report on Wednesday that demand for Guidewire's vertical apps is likely to grow in 2013, leading the agency to increase 2013 revenue estimates from $285 million to $290 million, and 2013 EPS estimates from $0.31 to $0.47.
The company's management touted the role of their increasingly efficient systems for the company's success.
"These systems—with capabilities such as support for customer self-service and real-time transactions, templates for faster deployment of new products, and design tools that make common product changes accessible to nontechnical users—promise improvements in speed and flexibility that are orders of magnitude greater than legacy policy systems."
DISCLOSURE: The views and opinions expressed in this article are those of the authors, and do not represent the views of equities.com. Readers should not consider statements made by the author as formal recommendations and should consult their financial advisor before making any investment decisions. To read our full disclosure, please go to: http://www.equities.com/disclaimer