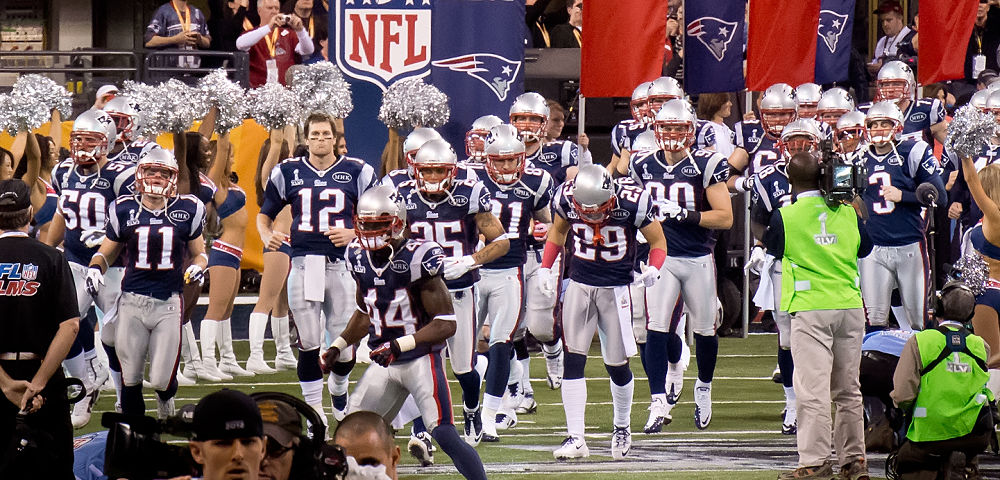 Image via SAB0TEUR/Wikimedia
If a microcap company could boast an appearance at the NFL Super Bowl and being featured on one of the longest-running reality television series in the world, it'd be deemed as a pretty successful year. Well, that's exactly what GTX Corp (GTXO) has already done, and it's only January. Add in the 2018 Consumer Electronics Show held January 9-12 in Las Vegas, and GTX has gotten the New Year off to an impressive start. The IoMT and GPS-based wearable tracking solutions provider had the opportunity to showcase its innovative product portfolio to millions of potential customers.
A prime example was the company's GPS-tracking insoles appearing on the popular television show keeping up with the Kardashians, which has been a staple for the E! Network for over a decade now, drawing in millions of viewers every episode. During a recent show, Kris Jenner, in a bid to keep tabs on the whereabouts of her mother, MJ, gives her a new pair of shoes and insoles, which happen to be GTX's flagship product called the GPS SmartSole.
"It was a significant CES for GTX Corp and the first time we showcased a suite of existing and future products that expanded our products and services way beyond GPS tracking solutions for seniors afflicted with dementia and Alzheimer's," said Patrick Bertagna GTX Corp CEO. "We now have tracking and monitoring solutions for kids, the military, law enforcement, mobile workforce, athletes and with our Biometric insoles we will expand our senior target audience from the 6 million currently diagnosed with Alzheimer's to the 72 million baby boomers in the US that need or want their mobility, activity and gait monitored."
At CES 2018, GTX also got to show off its new GPS InvisaBelt designed for toddlers expected out this quarter.
In timely fashion, GTX Corp capitalized on this momentum by launching its line of GPS tracking solutions for purchase on Amazon.com, (AMZN) making it easier than ever for consumers to find and buy these groundbreaking products. In addition, this new and improved GTX shopping experience features lower product costs and additional service plans to provide customers with flexible payment options.
These impressive milestones over just the past month alone certainly paves the way for 2018 to be the year in which the company hits its inflection point—both on Main Street and Wall Street. In fact, that name recognition is already starting. ABI Research recently identified GTX Corp as one of the Key Smart Footwear Players to watch in the emerging space, solidifying the company's place among household names such as Under Armour (UA), Garmin (GRMN) and Altra Running (Private). If January is any indication, GTX Corp will be a hard name to miss going forward.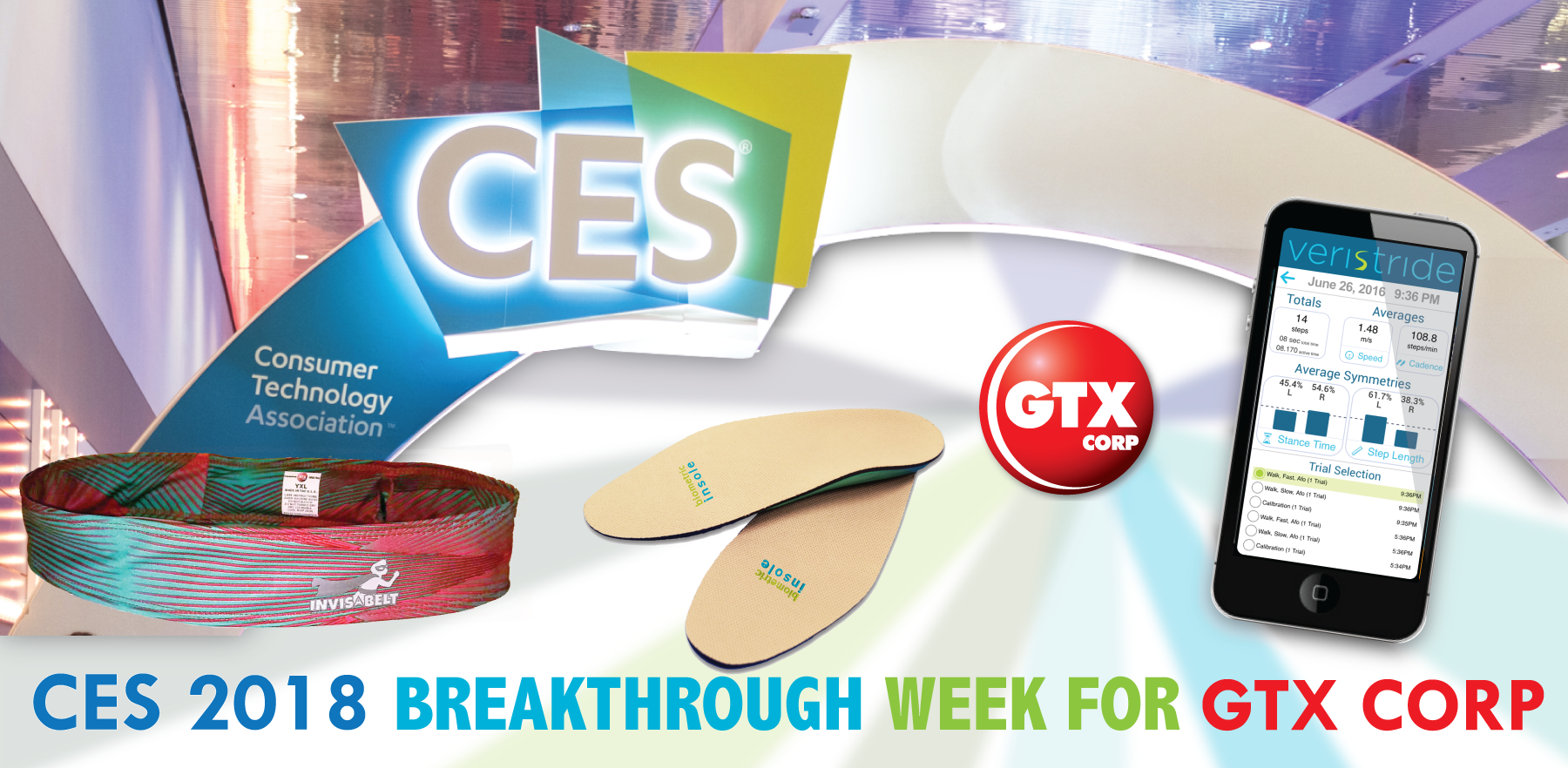 Athletes, Toddlers and Defense Sector Round Out New Products

The company has done a spectacular job at widening the breadth of target markets recently, including the all-encompassing demographic of athletes.
When the New England Patriots and Philadelphia Eagles collide on February 4th in Minneapolis, Minnesota for Super Bowl LII, GTX will be there, along with Veristride and long-time advisor and former Minnesota Viking Jack Brewer. GTX is a Silver Sponsor and will use the world's biggest football stage as an opportunity to showcase its new Biometric Insole Technology throughout the various events during Super Bowl week.
In sports, technology is being used more and more to enhance and track performance. The GTX insoles are a natural fit for the sports environment, starting with use in establishing walking baselines for pro athletes.
"I am so thrilled that that Super Bowl is being held in my backyard, and look forward to having GTX and Veristride introduce and demonstrate their new ground breaking gait analysis 'Walking Test' technology to the sports community during the Super Bowl experience," said Brewer on the upcoming events.
GPS SmartSole Ready for Prime Time

The SmartSole is the result of years of R&D at GTX and a new partnership with Veristride. Originally designed to target the seniors market and the approximately 6 million people suffering from Alzheimer's disease and other forms of dementia that are at constant risk of wandering, GTX has now substantially increased the market opportunity via technological advancements to its insoles and expansion into different age demographics.
The biometric insoles, unveiled for the first time at CES 2018, are now capable of monitoring how people walk, using Artificial Intelligence and sensors to predict if a senior could be prone to falling. With more than 2.8 million falls treated in emergency rooms annually in the U.S., accounting for an estimated $31 billion in direct medical costs, there is clearly a great need to leverage technology to provide insight into fall risk detection and prevention.
GTX's SmartSoles collect movement and activity from tiny sensors embedded in the insoles, using the information to produce data for gait analysis, which is predictive of likelihood of falls. The SmartSole uses established cellular technology, updating responsible parties every 10 minutes with location information. The soles have received a glowing review for their functionality by "The Brain Broad" Lynette Louise, allowing her to give her autistic children more independence while giving her the peace of mind that they are safe.
As the population ages, it is foreseeable that the associated costs will continue to inflate. So-called "baby boomers," people born during the during the post-World War II period between 1946 and 1964, are now reaching advanced stages in life, when falls become a real threat. That means that about 72 million baby boomers, or about one-quarter of the U.S. population, is a candidate for GTX's new product.

More than Just "Where is?"

GTX took what was technology for a large, but relatively niche market (dementia, Alzheimer's and autism patients) and through the execution of a succinct strategy has grown the market opportunity exponentially by answering the question "where is?" in not just dementia patients, but those with traumatic brain injuries and genetic cognitive-function disorders, and now even toddlers.
More recently, the location technology has expanded into things, as well as people. Through a partnership with Garrison Defense LLC, GTX's GPS technology is being incorporated into an intelligent firearm tagging and tracking system that will provide law enforcement and military personnel with real-time weapons accountability. The Garrison agreement followed GTX receiving a contract from Edwards Air Force Base to custom designed and manufacture robust military grade GPS technology to track personnel and equipment.
Ever expanding, GTX has widened its portfolio bag and target audience even more and gone beyond just "where is?" with the latest sports initiative. If market opportunity is any measure of value, GTX should be growing long legs in 2018. Once looking to sell to a market consisting of around six million, the GTX technology now has the potential to be utilized by over 100 million people of all ages for multiple applications and tens of millions of objects around the world.
---
In the interest of full disclosure, we call the reader's attention to the fact that Equities.com, Inc. is compensated by the companies profiled in the Spotlight Companies section. The purpose of these profiles is to provide awareness of these companies to investors in the micro, small-cap and growth equity community and should not in any way be considered as a recommendation to buy, sell or hold these securities. Equities.com is not a registered broker dealer, investment advisor, financial analyst, investment banker or other investment professional. We are a publisher of original and third party news and information. All profiles are based on information that is available to the public. The information contained herein should not be considered to be complete and is not guaranteed by Equities.com to be free from misstatement or errors. The views expressed are our own and not intended to be the basis for any investment decision. Readers are reminded to do their own due diligence when researching any companies mentioned on this website. Always bear in mind that investing in early-stage companies is risky and you are encouraged to only invest an amount that you can afford to lose completely without any change in your lifestyle. Equities has been compensated with cash, common shares and/or warrants for market awareness services provided.