GTX Corp (OTCBB: GTXO), an Internet of Things (IoT) solutions provider in the personal location, wearable and wandering assistive technology business, announced they are sponsoring and presenting at SafeAmerica's WorldSafe Spring Symposium on Thursday and Friday, April 26 and 27, at the Federal Reserve Bank of Atlanta.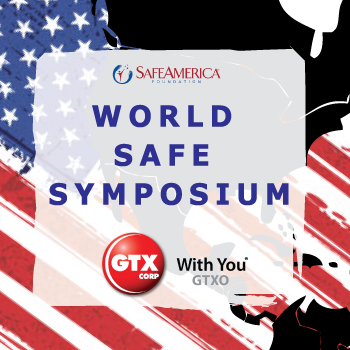 Themed 'Spring-into-Action!' – the 2 Day symposiumwill focus on 5 key topics that are challenging our nation and the world's health and safety issues that impact lives. "Our mission is educating people on health and safety issues to save lives," notedSafe America CEO Len Pagano. "To make sure millions of Americans are better prepared to deal with tough issues like disasters, active shooters, the opioid crisis, distracted drivers and human trafficking – that's our key task."
PROGRAM PARTICIPANTS
The Governor and First Lady of Puerto Rico, Roberto and Beatriz Rossello', will be among keynote speakers. Others in global health and safety will also be speaking including:
RETIRED ARMY GENERAL & CNN CONTRIBUTOR RUSSEL HONORE' on what's stupid' about America's attitudes toward disasters
CDC FOUNDATION CEO DR. JUDY MONROE on disaster recovery
GTX CORP CEO PATRICK BERTAGNA on wearable GPS wondering and recovery technology for seniors, veterans and children with autism
DR. ANNETTE SOBEL OF TEXAS TECH UNIVERSITY on protecting power generation before/during/after disasters
KGH CEO KATHLEEN KIERNAN on helping Americans be 'prepared without paranoia' before future disasters
YOUTH SPARK EXECUTIVE DIRECTOR JENNIFER SWAIN on fighting human trafficking
GOWARE CEO ALON STIVI on a new 'WorldSafe safety app'
CLAYTON COUNTY COMMISSION CHAIRMAN JEFF TURNER
And over 175 attendees and thought leaders who will gather to address some of the biggest safety and security issues America is facing today.
Speakers & Sponsors – 2018 Spring to Action Symposium
GTX Corp CEO Patrick Bertagna has also been nominated to sit on the Safe America Foundation (SAF) Board of Directors.
Throughout the year, SAF will conduct briefings and events to improve health and safety in key cities, including:
City Date Host
New York August 23 FEMA/Napoli Shkolnik PLLC
Chicago October 25 Dr. Kathleen Kiernan (Kiernan Group Holdings)
Washington, D. C. September 13 Capitol Hill
Philadelphia September 20 Dilworth Paxson, LLP
San Francisco October 16 Organizer
Los Angeles October 17 GTX Corp
San Diego October 18 Loma Media / Kiernan Group Holdings
Atlanta November 2Core ID Solutions / UPS
Houston December 6 DNV
New Orleans Jan. 17, 2019 Honore' Preparedness & Resiliency Group
San Juan, Puerto Rico Feb. 21, 2019Hosted by the Governor and First Lady
"It's a great honor to help support the Safe America mission and to have been asked to join their board, stated Patrick Bertagna GTX Corp CEO. We look forward to the many events throughout the major US cities where we can work alongside, the private and public sector to help bring awareness and solutions to some of our biggest challenges that concern the health and safety of millions of Americans."
GTX Corp is a For-Profit with Purpose Companywhich owns and licenses more than 85 patents, is a U.S. military contractor, manufactures many of its products in the USA and has multiple consumer products in the market place, all available on its online store, Amazon and authorized resellers and distributors across the globe.
Consumer Purchase of GPS SmartSoles
About the Safe America Foundation
Safe America is a 501 (c) – 3 non-profit founded in 1994. Theorganization is focused on becoming the country's leading'voice for safety,' partnering with corporate, governmental, andother non-profits to respond to emerging health and safetyissues nationwide.Its agenda focuses in five key areas – transportation, disasterresiliency, community safety (including youth education, aidingreturning veterans), cyber security/technological safety andglobal concerns (including eradicating human trafficking andenvironmental safety).The Foundation's supporters include C-level executives whoare members of a 'CEO Network' to support and sustaininitiatives to protect America's most important asset: humanlife.
GTX Corp (GTXO) is a pioneer in Smart, Mobile and Wearable GPS tracking and recovery location based products, supported through a proprietary IoT enterprise monitoring platform. GTX offers a global end-to-end solution of hardware, software and connectivity. The Company develops 2 way GPS tracking technologies which seamlessly integrate with consumer products and enterprise applications. GTX Corp utilizes the latest in miniaturized, low power consumption GPS, Cellular, RF and BLE technology enabling subscribers to track in real time the whereabouts of people or high value assets through a complete end to end – customizable transceiver module, wireless connectivity gateway, smart phone Apps, middleware, and IoT portal.
Headquartered in Los Angeles, California, GTX is known for its award-winning patented GPS SmartSole® – Think Dr. Scholl's meets LoJack, the world's first invisible wearable technology trackingdevice created for those at risk of wandering due to Alzheimer's, dementia, autism and traumatic brain injury. GTX Corp's business model is built around technology innovation and holds over 85 patents with many issued patents in the area of GPS tracking. The company has international distributors servicing customers in over 35 countries and is a US Military Government contractor. Other customers include public health authorities and municipalities, emergency and police authorities, private companies, public and private senior care homes, and consumers.
GTX Corp is an equal opportunity employer with a history of employing a diverse workforce and US veterans; makes many of its products in the USA, is a member of the United Nations Global Compact and Trust 2 Protect partnership. The Company doesn't just make and sell the best GPS tracking products, they deliver innovative, miniaturized, low power consumption wearable tech that provides safety, security and peace of mind at the touch of a button.GTX puts the "Where" in Wearable Tech.
In the interest of full disclosure, we call the reader's attention to the fact that Equities.com, Inc. is compensated by the companies profiled in the Spotlight Companies section. The purpose of these profiles is to provide awareness of these companies to investors in the micro, small-cap and growth equity community and should not in any way be considered as a recommendation to buy, sell or hold these securities. Equities.com is not a registered broker dealer, investment advisor, financial analyst, investment banker or other investment professional. We are a publisher of original and third party news and information. All profiles are based on information that is available to the public. The information contained herein should not be considered to be complete and is not guaranteed by Equities.com to be free from misstatement or errors. The views expressed are our own and not intended to be the basis for any investment decision. Readers are reminded to do their own due diligence when researching any companies mentioned on this website. Always bear in mind that investing in early-stage companies is risky and you are encouraged to only invest an amount that you can afford to lose completely without any change in your lifestyle. Equities has been compensated with cash, common shares and/or warrants for market awareness services provided.