GTX Corp (OTCBB:GTXO), an Internet of Things (IoT) solutions provider in the personal location, wearable and wandering assistive technology business, announced today that it will be a Silver Sponsor at Super Bowl LII Big Game Experience hosted in Minneapolis and will be showcasing its line of wearable technology and introducing its new line of biometric insoles and kids GPS SmartSoles.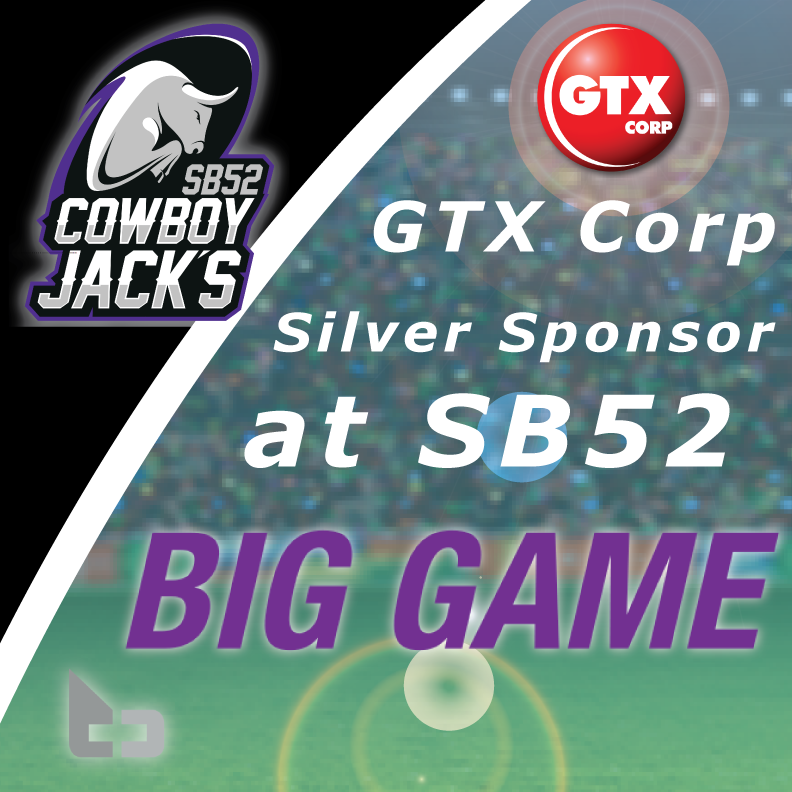 The Big Game Experience will be packed with a series of high profile Super Bowl events and people including Clinton Portis, Ray Lewis, Randy Moss, Kevin Hart, Sergio Brown, Andre Berto, Carl Eller, Warren Moon, Larry Fitzgerald, former Viking great and CBS commentator Nate Burleson along former teammate, Fox Business Contributor and GTX Corp Brand Ambassador Jack Brewer.
GTX Corp along with strategic partner Veristride will be attending the gifting suite Thursday and Friday from noon to 5:00 PM located at Cowboy Jacks 2801 Southtown Drive, Bloomington MN.
Patrick Bertagna GTX Corp CEO, commented, "We have invited many of the athletes, celebrities, media and retailers to come by the gifting suite and receive a $150 gift certificate which can be applied towards any GTX Corp track what you love products and the amazing 'Walking Test', a ($50 value) which we will be conducting during the SB52 events."
Stacy Bamberg, Veristride CEO will be administering the walking test throughout the day highlighting this new groundbreaking gait, balance and mobility analysis technology. The walking test, which only takes 3- 5 minutes, comes with a comprehensive report that will show you how your overall health and wellness are based on your walking partners.
Bertagna continued, "This new technology can be used in a myriad of applications ranging from professional sports, physical therapy rehabilitation, fall prevention and detection for seniors and basically anyone over 40 that wants to know how their overall health and wellness are without having to take a blood test or go to a doctor's office. While attending CES it was evident that the 'wearable technology' market was in full force, with multiple solutions and applications being presented. Interestingly, there was a significant fervor over technologies integrated into footwear, an area we have been pioneering for over a decade and in which we have focused a significant part of our patent portfolio. Also worth noting, ABI research just listed GTX Corp as a Key Player in the Smart Footwear Space."
In addition to the 2 days at the gifting suite, there will be a host of other events including NFL Legend and Hall of Fame Finalist Ray Lewis who will host the JBF Celebrity Poker Tournament which begins at 7pm on Thursday at the Downtown Minneapolis Cowboy Jack's location. Other celebrity guests include NFL Legend Clinton Portis, Media Personality and "The Real" Star Jeannie Mai, Social Influencer Helen Owen, 2x World Boxing Champion Andre Berto, Social Influencer YesJulz and many more.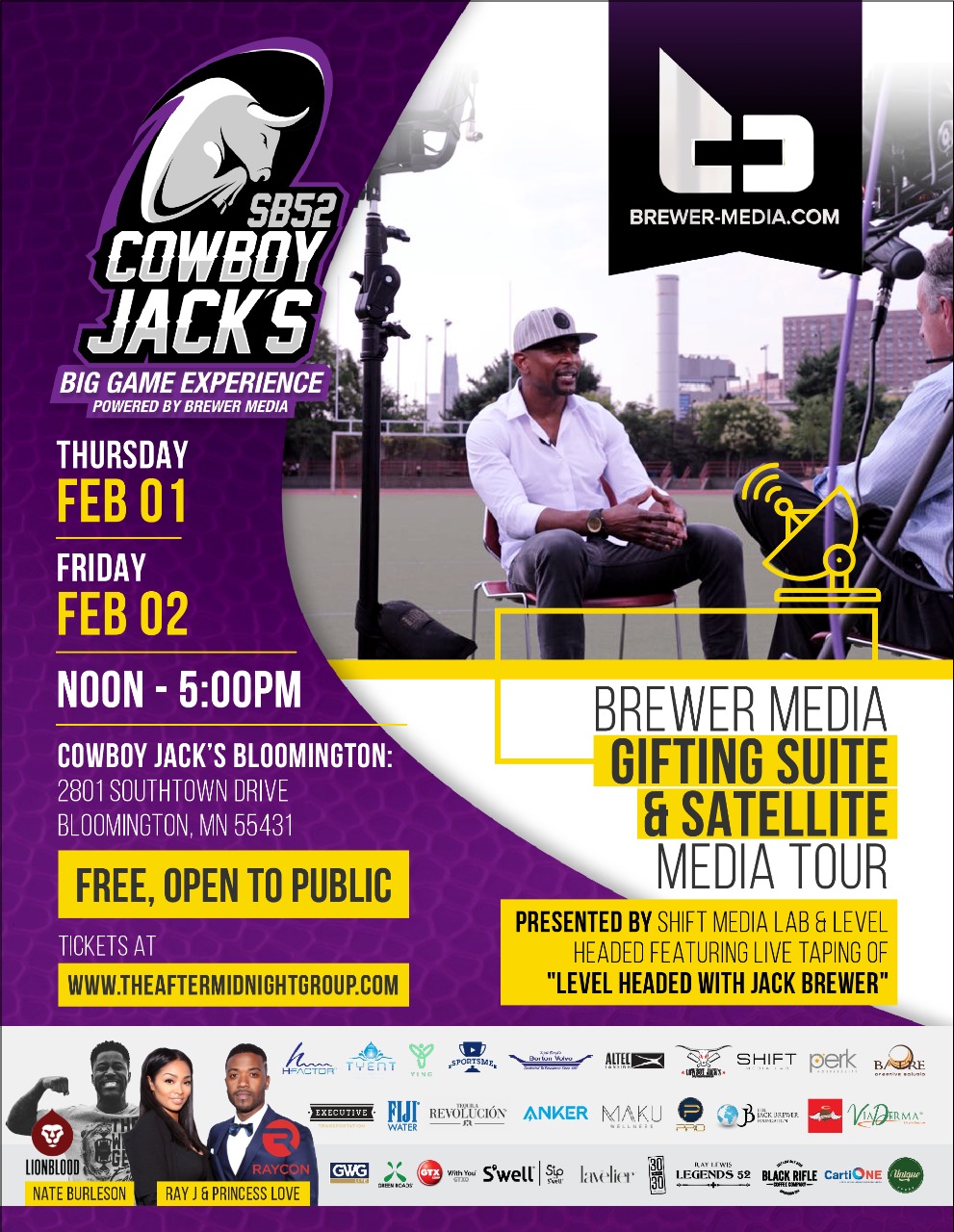 Maxim Magazine will be hosting a party Saturday night and on game day, downtown Cowboy Jack's will kick off on Super Bowl Sunday at 11am with the Impact Awards Brunch Hosted by Kevin Hart. Following this star-studded event will be the 10th Annual Jack Brewer Foundation Super Bowl Watch Party. This event will be headlined by Hall of Fame Finalist Ray Lewis and will include the prestigious Global Ambassadors Award Ceremony. Honorees and special guests include: NFL Hall of Fame Finalist Randy Moss, NFL Pro Bowl WR Larry Fitzgerald, Former NFL Pro Bowl DT Tommie Harris, 2x NFL Pro Bowl TE Takeo Spikes, Entertainment Mogul Ray J, 12x Grammy Award Nominee Busta Rhymes, Actress Amanda Cerny, International Humanitarian Bill Austin, Retired Army Officer/Award Winning MicroTech Founder Tony Jimenez, GWG Foundation Founder Jon Sabes, Borton Companies Chairman Kjell Bergh, St. Paul Mayor Melvin Carter, MN Vikings CEO Kevin Warren and many more.
About Veristride
Veristride, Inc. analyzes movement at the source, enabling users to heal, excel and thrive. High fidelity sensors at the foot interface paired with state of the art biomechanical analysis allow Veristride to analyze how people walk, run and move. Built on over 15 years of research, Veristride's approach caters to a wide range of users from individuals to trainers to organizations. In healthcare, Veristride's PT Metrix system is used by physical therapists who work with individuals faced with mobility challenges. Both clinicians and their patients need better information about progress and symmetry using cues and analytics to measure outcomes.
GTX Corp (GTXO) is a pioneer in Smart, Mobile and Wearable GPS tracking and recovery location based solutions, supported through a proprietary IoT enterprise monitoring platform. GTX offers a complete end-to-end solution of hardware, software and connectivity. The Company develops 2 way GPS tracking technologies which seamlessly integrate with consumer products, enterprise and military applications. GTX Corp utilizes the latest in miniaturized, low power consumption GPS, Cellular and BLE technology and offers a proprietary platform that enables subscribers to track in real time the whereabouts of people or high valued assets through a complete end to end – customizable transceiver module, wireless connectivity gateway, smartphone Apps, middleware, and portal.
Headquartered in Los Angeles, California, with distributors in 14 countries and customers in over 35 countries, GTX is known for its award-winning patented GPS SmartSole® – Think Dr. Scholl's meets LoJack, the world's first invisible wearable technology device created for those at risk of wandering due to Alzheimer's, dementia, autism and traumatic brain injury. Currently there are 100 million people worldwide who are part of this at risk wandering group and that number is expected to reach 277 million by 2050. The Company doesn't just make and sell the best GPS tracking products, they deliver innovative, miniaturized, low power consumption wearable tech that provides safety, security and peace of mind at the touch of a button. We put the "Where" in Wearable Tech.
Online:www.gtxcorp.comTrack My Workforce | GTX Corpwww.gpssmartsole.com
Amazon Link: Buy Your GPS SmartSoles Here
Social media– #trackwhatyoulove #withyou #smartsole #connectedandprotected
https://www.facebook.com/gtxcorpcom
http://www.twitter.com/gtxcorp
http://www.pinterest.com/GTXCorp/
General information, investor relations, wholesale licensing, consumer purchase:
213.489.3019
[email protected]
[email protected]
http://gtxcorp.com/contact-us/
Consumer Purchase of GPS SmartSoles
In the interest of full disclosure, we call the reader's attention to the fact that Equities.com, Inc. is compensated by the companies profiled in the Spotlight Companies section. The purpose of these profiles is to provide awareness of these companies to investors in the micro, small-cap and growth equity community and should not in any way be considered as a recommendation to buy, sell or hold these securities. Equities.com is not a registered broker dealer, investment advisor, financial analyst, investment banker or other investment professional. We are a publisher of original and third party news and information. All profiles are based on information that is available to the public. The information contained herein should not be considered to be complete and is not guaranteed by Equities.com to be free from misstatement or errors. The views expressed are our own and not intended to be the basis for any investment decision. Readers are reminded to do their own due diligence when researching any companies mentioned on this website. Always bear in mind that investing in early-stage companies is risky and you are encouraged to only invest an amount that you can afford to lose completely without any change in your lifestyle. Equities has been compensated with cash, common shares and/or warrants for market awareness services provided.