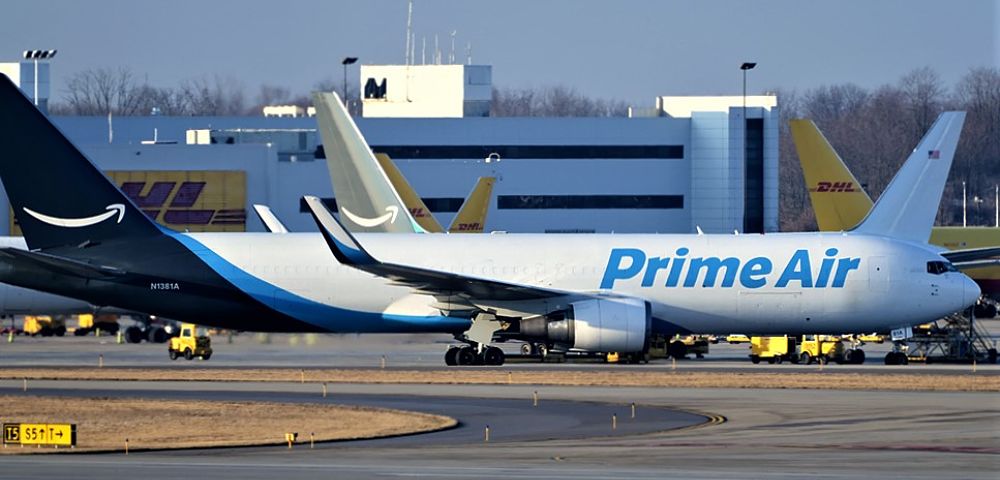 Image via Jehan Ghouse/Wikimedia
This new series shifts from high technology – covered in the last three installments – to the battle underway in the retail world, starting with the fight between WalMart WMT and Amazon AMZN. The largest company in the US in revenue exceeding $500 billion, WalMart, is going at it hammer and tongs for online and general retail dominance, against Amazon, the darling of forward-thinking techies and a great market capitalization favorite (just under $842 billion). These contenders are the most interesting opponents in the online war.
Trucks or Planes
The battle between these venerable competitors is every bit as intense as the rivalries for Internet, entertainment and related services or for top market capitalization hegemony among the hi-tech giants. WalMart and Amazon are exchanging shots over critical strategic building blocks — speed, cost and reliability of delivery service. This is where the battle lies – today's business version of Iwo Jima or Pork Chop Hill.
The strengths and weaknesses and approaches of the contenders prove interesting. WalMart commands massive square footage across the US and beyond. The brick and mortar retail kings operate over 5,300 stores. The often wise Motley Fool reported that Amazon commanded roughly 44% of all e-commerce sales in the U.S. last year. Amazon's online business is booming.
Since we want to look at the details of this battle, keep in mind that WalMart remains a significant online player, while Amazon is increasing its brick and mortar presence rapidly. Both companies want to deliver a wider range of goods including food and perishables in ever shorter time periods. Right now, two day delivery is expected, so the battle is over one day or possibly faster delivery. For example, WalMart's Instacart offers delivery in "as little as one hour." Perhaps most interesting is that WalMart leans toward trucking (ground game) while Amazon leans toward air freight (air game).
WalMart has a head start with its 6,000 truck fleet, stores spread across the nation and massive grocery business. They can purchase, store and ship quickly and efficiently. Amazon, as a newer player in the rapidly increasing overnight delivery competition, has purchased planes and leased 40 cargo planes. Not averse to risk, Amazon's actions sound like the Federal Express FDX model that was later adopted by its competitors (United Parcel Service UPS, DHL and USPS) to speed up their delivery. A huge Amazon hub is in the works. No surprise to its fans, following a huge warehouse run up, Amazon is looking to build its own air and truck delivery service.
Investors may make the knee jerk assumption that Amazon will take the lead because planes are faster than trucks. Speed stands out as a major virtue of the air game. But the ground game has its advantages. Investors may remember when Warren Buffett bought Burlington Northern Railroad in 2009. (Wow, time flies!) A railroad can move huge quantities of freight relatively cheaply (small crews). In addition, getting to an airport is one thing but delivering inside a city calls for a powerful ground game.
Quality and Speed on the Rise
As the competition stiffens, we are witnessing a rapid improvement in the quality and speed of service. Two day delivery is becoming standard and free. This means that the rapid infrastructure increase by both companies allows faster delivery of most items and can be done without a stiff service charge. Next will be one day and then even faster delivery. That adds cost effectiveness to speed.
Consumer demand is spurring the contenders. More perishable goods are being sought online and for rapid, effective delivery. Effective means that food can be kept cold and safe (unbroken eggs, for example). This in turn means refrigerated trucks and planes, careful handling, good packaging and more speed.
The strategic elements also prove intriguing. Amazon shows adeptness at rapidly expanding key elements of a business. Witness the speedy growth of warehouses, which feature double warehouses not far from major cities. Rapidity and the funding to make it happen are important strategic inducers. However, Whole Foods remains much smaller than WalMart's food prowess, the world's largest grocer. Size, another strategic factor, matters and WalMart maintains an advantage. In addition, WalMart holds an advantage in inventory turns in food – an important ratio for the productivity of the business. Inventory management also shows itself as a major business factor – storing and quickly shipping perishables to please consumer preferences.
This myth raises some interesting issues about where online shopping is headed and permits us to look at many dramatic examples of how companies actually function despite their glossy images.The title comes from broad strategies in football. Passing (the air game) can pick up many yards quickly. But, as pundits have noted, only three things can happen when you throw a pass and two of them are bad. The usually slower ground game may prove more reliable if slower and less impressive. Next month, the Myth Buster will continue the investigation into the online war, which has many fronts.
Read the rest of Financial Myths: Ground Game vs. Air Game series here:
*******************
Michael McTague, Ph.D. is Executive Vice President at Able Global Partners in New York, a private equity firm.