Emeryville, California, based Gritstone Oncology is developing tumor-specific immunotherapies to fight multiple cancer types. The company has created an artificial intelligence platform technology called EDGE to identify tumor-specific targets and natural T-cell receptors (TCRs) directed to those targets.
The company announced a research and development collaboration with bluebird bio BLUE today that will bring Gritstone $20 million in upfront cash, $10 million in a Series C preferred equity investment, "significant" milestone payments on any therapies and tiered royalties on certain approved therapies. Gritstone will use its proprietary EDGE system to identify for bluebird bio 10 tumor-specific targets across several tumor types and, in certain cases, TCRs directed to those targets. bluebird will conduct all development, manufacturing and commercial activities, while Gritstone will use EDGE to enable patient selection for clinical development of such therapies.
Source: Precision Medicine World Conference
By combining our expertise in gene and cell therapy with Gritstone Oncology's unique target identification and TCR technology, we hope to bring the power of cell therapy to a broader set of newly-validated targets, enabling us to treat previously unaddressable patient populations. As we expand our immuno-oncology focus and portfolio, this collaboration with Gritstone Oncology is highly complementary to our goal of rapidly advancing novel cellular therapies with the potential to transform the lives of people with cancer, particularly in solid tumor indications.
– Philip Gregory, D.Phil., Chief Scientific Officer, bluebird bio.
Earlier this month, we highlighted bluebird bio's cancer immunotherapy collaboration deal with Regeneron REGN, whereby bluebird bio earned a $100 million investment. Today's announced deal with Gritstone provides bluebird bio with even more potential targets for its cell therapies.
Gritstone also filed its Form S-1 today for an $80 million initial public offering via Goldman Sachs, Cowen and Barclays. The company was launched in 2015 with a $102 million Series A financing co-led by Versant Ventures and The Column Group, with Clarus Ventures alongside. Other investors include Frazier Healthcare Partners, Redmile Group, Casdin Capital and Transformational Healthcare Opportunity. Gritstone raised another $92.7 million in a Series B round in 2017 led by new investor Lilly Asia Ventures, with participation from GV, Trinitas Capital and Alexandria Venture Investments, along with all existing Series A investors.
The company intends to initiate a Phase 1/2 clinical trial of GRANITE-001, its first personalized immunotherapy candidate, in the second half of 2018, evaluating it in the treatment of common solid tumors, including metastatic non-small cell lung cancer and gastroesophageal, bladder and colorectal cancers, in each case in combination with checkpoint inhibitors provided by Bristol-Myers Squibb BMY, with whom Gritstone signed a clinical trial collaboration and supply agreement in July 2018.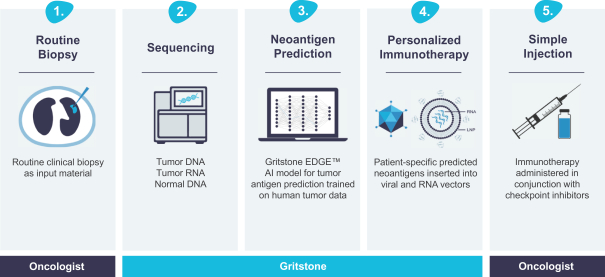 Source: Gritstone Oncology
As the field of immuno-oncology has evolved, it has become clear that targeting T-cell therapeutics to solid tumors in a highly specific manner is vital to enable potent tumor cell killing with sparing of normal tissues. We believe that our artificial intelligence-based approach to identifying tumor-specific targets and corresponding, naturally occurring TCRs, combined with bluebird bio's expertise in gene and cell therapy, will allow us to develop cellular immunotherapies against differentiated oncology targets.
– Andrew Allen, MD, PhD, President and CEO, Gritstone Oncology
Please email us at [email protected] to see our Case Studies and Testimonials.
Please click here for information on our new trading platform.
Please click here to see our daily newsletter.