CK Power Public Company Limited is the first power development and distribution company to be listed in Thailand and has the majority of its core assets located overseas.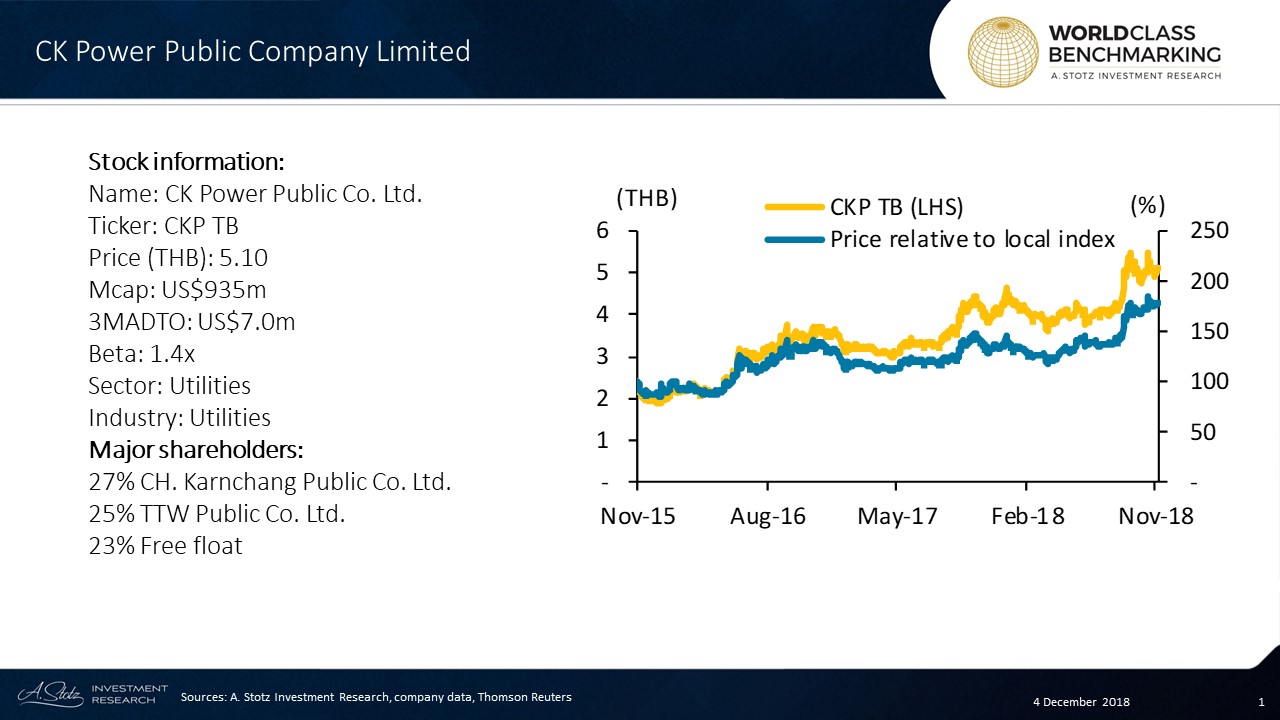 As of 2017, around 61% of its power capacity is located in Laos, with the rest in Thailand, including three solar farm projects and one co-generation plant.
Business Description
CKP is a holding company which derives almost all its revenue from electricity sales. About 61% of its total installed capacity of 425 MW comes from its stake in hydroelectric power generation plant, Nam Ngum 2, located in Laos.
The remaining capacity is made up of its holdings in two co-generation and three solar-powered plants, all of which are located in Thailand. The two plant types contribute 36% and 3% to the total capacity respectively.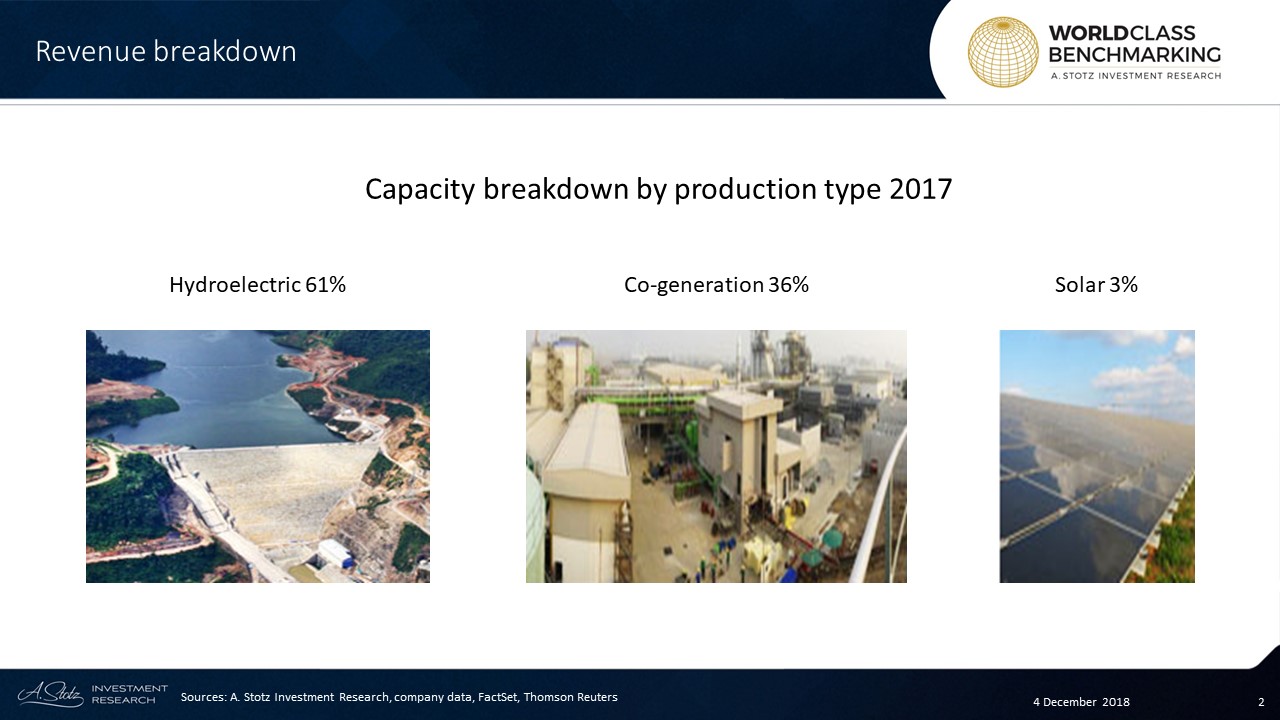 CKP's revenue from hydroelectric power should rise in 2019 from the completion of Xayaburi Power Co. Ltd, another power plant in Laos with 1,285MW capacity. Its commercial operation date (COD) is set in 4Q19 and should provide 482 MW increase in effective capacity to CKP from its 38% shareholding, which is going to more than double its current capacity.
All electric generating facilities that CKP has stakes in, both in Thailand and Laos, have government power-purchase agreements (PPA) in place, which allows for stable demand and pricing.
Leadership
Thanong Bidaya has served as the independent Chairman of CKP since 2012. He also serves as Chairman at Scan Inter Public Company Limited (SCN TB), TTW Public Company Limited (TTW TB), and Xayaburi Power Company Limited. He received a Bachelor of Economics from Yokohama National University in Japan, Master of Economics and Doctor of Philosophy in Management from Northwestern University in the US. He also attended the Directors Accreditation Program (DAP 25/2004) at the Thai Institute of Directors Association.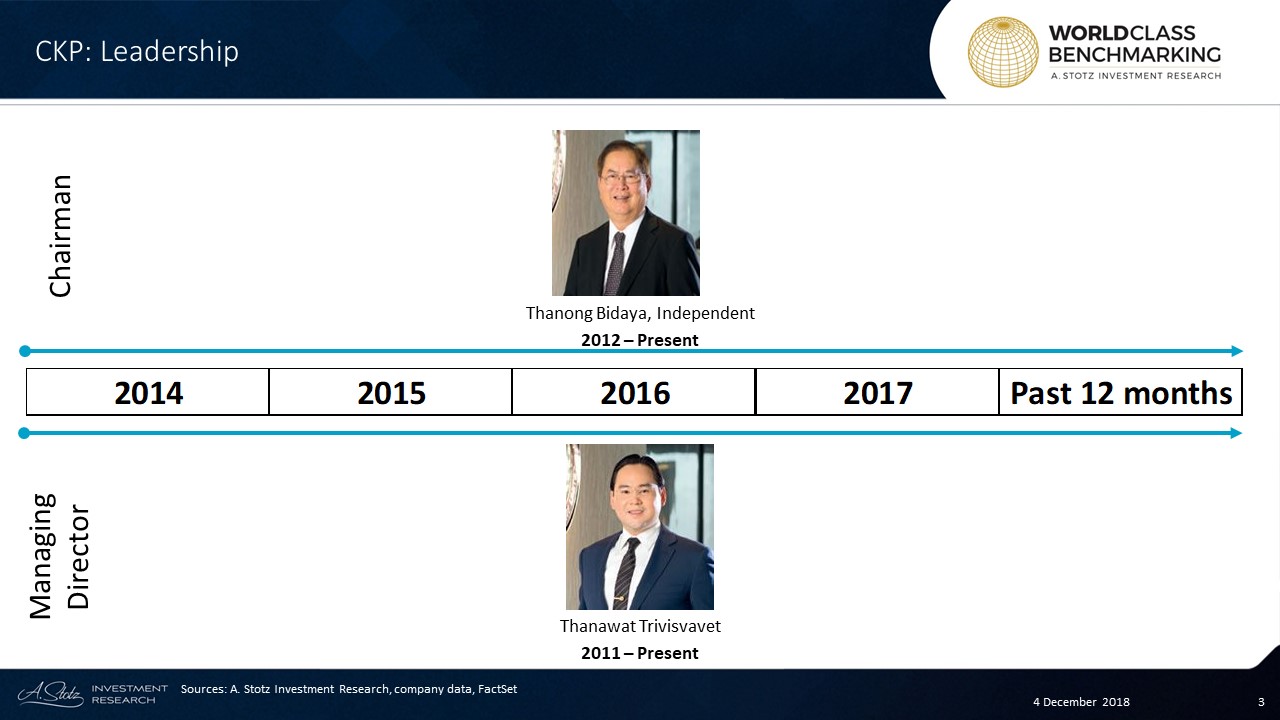 Thanawat Trivisvavet has been Managing Director at CKP since 2011. Moreover, he holds the position of Executive Director at Nam Ngum 2 Power Company Limited and Xayaburi Power Company Limited and the position of chairman at Bangpa-in Cogeneration Limited. He graduated with a Bachelor of Economics from Duke University in the US and a Master of Economics from Northwestern University, also in the US. He has participated in Director Certification Program (DCP 116/2009) at the Thai Institute of Directors Association as well.
World Class Benchmarking
Profitable Growth was terrible in 2015 and 2016 but has improved to #1 in the most recent period. In the past 12 months, CKP ranked in the top 16 out of 160 medium-sized Utilities companies worldwide.
Profitability has been steady at #9 throughout the years. However, Growth has improved from #9 in 2016 to excellent ranks recently. It his the high Growth that has driven up the overall Profitable Growth rank.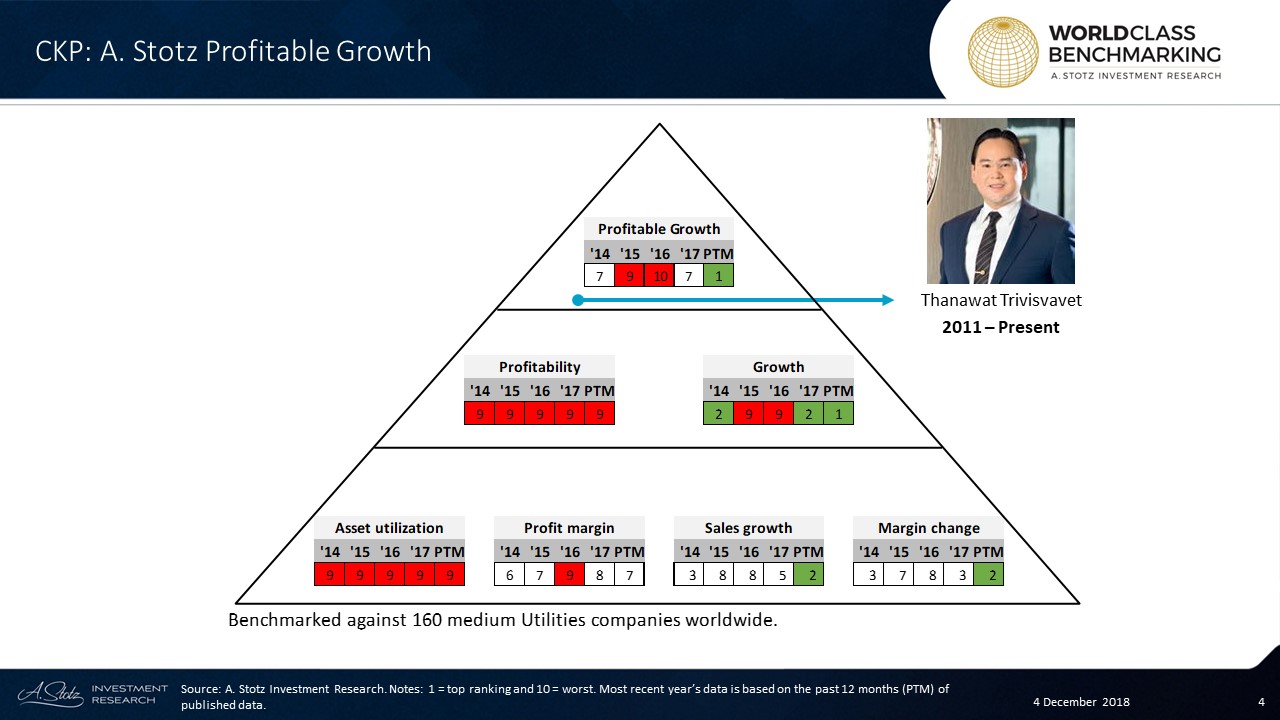 Asset utilization performance has been as poor as Profitability. Profit margin has been below average over the years but shown an improving trend since 2016.
Sales growth has fluctuated since 2014 and the latest rank stood at #2. Margin change has also surged over the years, and the most recent rank was the same as for Sales growth.
---
What're your thoughts on CKP?
If you like our research, share it with your friends.
---
DISCLAIMER: This content is for information purposes only. It is not intended to be investment advice. Readers should not consider statements made by the author(s) as formal recommendations and should consult their financial advisor before making any investment decisions. While the information provided is believed to be accurate, it may include errors or inaccuracies. The author(s) cannot be held liable for any actions taken as a result of reading this article.