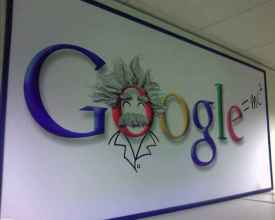 social media companies are struggling to master the difficult art of mobile advertising. It happened to Facebook (FB) , it's happening to Twitter (TWTR) , but most would be surprised to hear that it's happening to Google (GOOG) as well.
Even Google, the de-facto king of digital advertising, is struggling to maintain advertising margins as the entire world shifts from desktop to mobile. Google is not able to charge the same premiums on mobile as it can on traditional desktop platforms, simply because smaller screens yield less valuable advertising.
Google announced in its earnings call that cost-per-click (CPC) dropped 6% year-over-year, or 7% without currency fluctuations. CPC dropped 7% on Google's sites and 13% on partner sites. The company posted similar CPC declines for the past several quarters.
Google has been able to disguise this trend because it continues to post massive growth in other areas. Total paid clicks were up 25% from the year prior, beating the 24% analyst estimate. This was driven by 33% growth in paid clicks across Google-owned and operated properties like YouTube, Google Maps, and Google Finance.
Investors were able to shrug off the dip in cost-per-click because Google grew robustly in other categories during the quarter. However, Google may not be able to maintain such huge growth in perpetuity, and will therefore need to rely on new sources of revenue at some point.
Google hopes that its plethora of recent acquisitions in social media, messaging, Internet security, data analytics, and cloud computing will be able to drive growth in the future, eventually making up for the continued decline in CPC. "We are moving forward with great product momentum and are excited to continue providing amazing user experiences, with a view to the long term," said CFO Patrick Pichette, who emphasized strength in Google's core search revenue. He also emphasized app sales from the PlayStore as a surprising contributor for other revenue growth.
Google's overall revenue grew 22% year over year to $16.0 billion, easily beating the $15.6 billion estimate. Meanwhile, Google announced $6.08 in EPS excluding one-time items, missing analyst expectations of $6.24. Shares rose slightly in afterhours trading on Thursday.
DISCLOSURE: The views and opinions expressed in this article are those of the authors, and do not represent the views of equities.com. Readers should not consider statements made by the author as formal recommendations and should consult their financial advisor before making any investment decisions. To read our full disclosure, please go to: http://www.equities.com/disclaimer