Janet Yellen recently testified before the House Financial Services Committee, not in her capacity as Fed Chair, but to comply with a provision of the Dodd-Frank legislation. Dodd-Frank directed the creation of a new position at the Fed, the Vice Chair for Supervision. Five years after that directive, the President has yet to nominate someone for the job; observers think he is wary of a political struggle over the nomination. That vice chair is supposed to report twice each year to Congress, and with the post vacant, Fed board member Daniel Tarullo was until now tasked with the job. This time, Mrs. Yellen acted as pinch hitter.
The testimony was an occasion for us to hear Mrs. Yellen's broad views on the post-crisis landscape of bank regulation in the U.S. Predictably, her view is positive:
"Taken as a whole, the reforms we have adopted since the crisis, including those mandated by the Dodd-Frank Act, represent a substantial strengthening of the regulatory framework for the largest financial institutions… Our supervisory approach is more comprehensive and forward looking..."
She had some harsh words for big banks, though:
"While we have seen some evidence of improved risk management, internal controls, and governance at the [systemically important] firms, they continue to have substantial compliance and risk-management issues. Compliance breakdowns in recent years have undermined confidence in the… firms' risk management and controls and could have implications for financial stability, given the firms' size, complexity, and interconnectedness. [These] firms must address these issues directly and comprehensively." She didn't elaborate on these criticisms, or identify the specific firms she had in mind.
So big banks (which means those subject to LISCC, the Large Institution Supervision Coordinating Committee that was established in the wake of the financial crisis) didn't get a free pass. Regulators are not signing off… and will continue to be applying pressure.
Smaller banks, though, had a lot to be happy about in Mrs. Yellen's testimony. We've commented many times on the difficulties that smaller banks have faced in the Dodd-Frank era, weighted down by regulations designed to rein in "too big to fail" institutions. Mrs. Yellen emphasized her conviction that bank regulation should not be a "one-size-fits-all" affair:
"Before I became Chair of the Board of Governors and Vice Chair before that, I spent six years as president of the Federal Reserve Bank of San Francisco… Among the lessons that experience reinforced is that when it comes to bank regulation and supervision, one size does not fit all. To effectively promote safety and soundness and ensure consumer compliance without creating undue regulatory burden, rules and supervisory approaches should be tailored to different types of institutions such as community banks."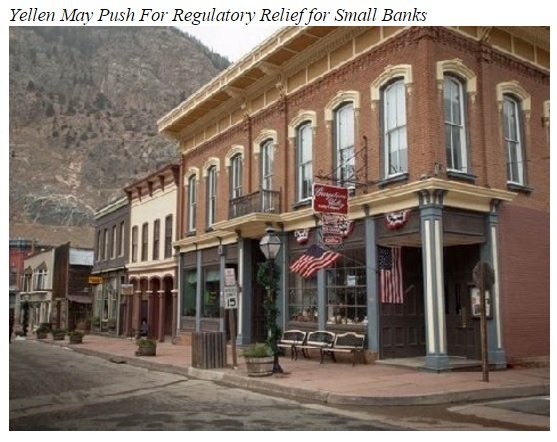 In 1996 the Economic Growth and Regulatory Paperwork Reduction Act was passed, and that act mandates that every ten years, U.S. financial regulators complete a review to identify "outdated, unnecessary, or unduly burdensome regulations that impact a bank's ability to serve its customers effectively and efficiently." The next review will be completed in 2016. While she did not elaborate on specific regulatory relief, Mrs. Yellen suggested that this review would be an occasion to implement changes that would reduce regulatory burdens for smaller banks.
Investment implications: Financials come first in investors' minds as they contemplate the imminent end of the Fed's zero-interest-rate policy, but not all financials are created equal. We believe that the largest financial institutions will continue to face intense regulatory scrutiny and that they are not "out of the woods." On the other hand, we're hopeful that Fed Chair Yellen understands that smaller banks deserve some relief from the regulatory burden that has been placed indiscriminately on banks of all sizes since the financial crisis. We continue to prefer smaller and regional banks in our exposure to the financial sector as the first rate rise draws closer.
DISCLOSURE: The views and opinions expressed in this article are those of the authors, and do not represent the views of equities.com. Readers should not consider statements made by the author as formal recommendations and should consult their financial advisor before making any investment decisions. To read our full disclosure, please go to: http://www.equities.com/disclaimer