If you look at a representative Gold (GLD) ETF and related pricing you will see a predictable $50 rally going on as equity and bond markets get hammered. Today's action is about a 4% move so it gets the Gold Bugs all excited. But for most metals traders they know the 3 year story of failed rallies.
There are so few "Flights to Quality" or FTQ with Crude Oil tanking, no Equity Put Premium worth buying and the metals are in a 3 year trading range. Investors have been moving away from regulated markets and trading Bitcoin as a hedge even though it lacks any consistent correlation. Investors are desperate for a hedge and many have turned to single stock hedges like Smith and Wesson (SWHC) which has a recent decoupling as an FTQ. 2016 hedging has proven difficult at best.
If you notice the rally in gun maker Smith & Wesson (SWHC) in the lower chart you can see the stock had a great 2015 for shareholders. But like all hedges they lose steam which is happening as you can clearly see in this 2 year snapshot.
Also below is a 2 year Gold Chart which shows the range trading nature of Metals in 2016. The conclusion I draw here is that the current Gold move is nothing more than another potential failed rally and bangs against the top of the range and eventually heads lower after things settle down.
Gold ETF (GLD) 2 Year Range Trades back to the top of the channel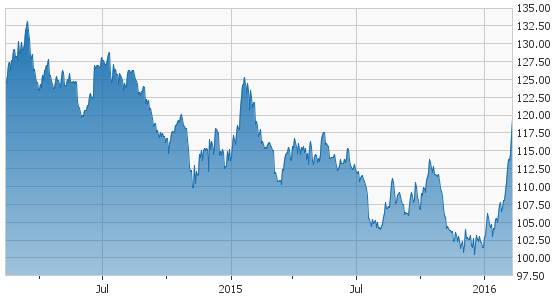 Smith and Wesson (SWHC) 2 Year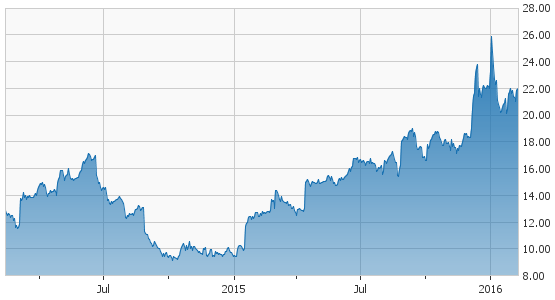 DISCLOSURE: The views and opinions expressed in this article are those of the authors, and do not represent the views of equities.com. Readers should not consider statements made by the author as formal recommendations and should consult their financial advisor before making any investment decisions. To read our full disclosure, please go to: http://www.equities.com/disclaimer