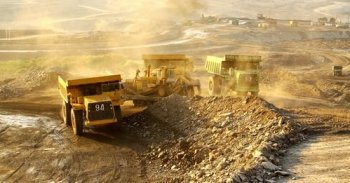 The World Gold Council, in conjunction with the consultancy group Maxwell Stamp, recently released a report to show how much the gold mining industry contributes directly to the economy in 2013. The figure was a gold-level $83.1 billion. The report also stated that the direct impact of gold mining combined with the indirect economic impact is up to $171.6 billion.
The study on the gold mining industry's economic impact was compiled to better understand how gold production impacts both local and global economies. The study also analyzed how gold mining in the 47 largest gold producing countries contribute to employment. This accounted for 90% of the world's gold production!
When the value created by support services and indirect employment is taken into consideration, the impact of the gold industry is staggering: Experts from the World Gold Council, such asJohn Mulligan, Head of Member and Investor Relations at the World Gold Council says "This report shows that the total economic impact of gold mining is significant and substantial. Our findings highlight that commercial gold mining is a major source of income and driver of economic growth, playing an important role in supporting the sustainable socioeconomic development of host nations and communities."
Gold Brings Local Jobs and Higher Wages
One of the key findings in the report was that over a million people are employed by gold mining companies worldwide. The World Gold Council also found that most gold mining companies hired local workers, which positively affected those local economies. Furthermore, while gold mining employment positions are not as plentiful as other industries, the report also stated that the wages are higher.
Some of the gold producing countries in the report are considered in the "lower-middle" income with substantial "socioeconomic needs." The study found that gold mining in those countries helped produce a rise in the income status of that gold-producing country.
Another important find in the report is that 70% of the value produced by gold mining companies is derived from local supplier and employees. Furthermore, gold mining companies often contribute to local economies through corporate and income taxes – as well as through lesser mean such as permits and royalties.
2015 has been an especially difficult year for gold mining companies. "The combination of a dramatic slowdown in growth in China, a stronger US dollar and slower projections for growth globally have hurt gold prices generally, and gold mining companies in particular," notes Anthony Allen Anderson, Director of Sales Operations with Culver City-based Gold Silver Group.
Anderson's team has handled more than $1 billion in commodities and precious metals transactions around the world, developing customized precious metals portfolios and physical precious metals IRAs for investors, "while most people are afraid of guessing wrong on the long-term prospects of individual mining companies, we are seeing opportunistic investors reentering the gold and silver bullion market where there is some excellent value and investment potential."
DISCLOSURE: The views and opinions expressed in this article are those of the authors, and do not represent the views of equities.com. Readers should not consider statements made by the author as formal recommendations and should consult their financial advisor before making any investment decisions. To read our full disclosure, please go to: http://www.equities.com/disclaimer