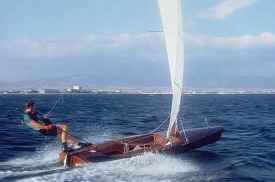 I often see investors and traders frozen into inaction. Never good in the stock market! Usually, when people get frozen it is not a matter of lack of knowledge or even the absence of a game plan. What usually causes problems for people is any conflict between what they think "should happen" and "what is happening". That's why it's better to learn to go with the flow and not fight the market. The market is bigger than anyone, and could not care less what you think.
I have been saying for years now that the trend of the market is up. That does not mean that all stocks will go up, or that all sectors will go up. In fact, the closer you look at the market, the clearer it becomes that there are leaders and laggers. If you can identify the major trend of the market, identify which sectors are performing the best, and identify the leading companies in each sector, then you are 80% on your way to being a very successful investor. The remaining piece to put into place is using professional portfolio management.
I worked to develop the Magnet® Stock Selection Process over the last 25 years to identify the companies most likely to be the biggest winners in the market. And while the Magnet® Process has been great for me and my clients, learning how to use proper money management, the proper use of stop losses, and how to apply proper risk management is what I now feel best about. I came to understand that there is no "Holy Grail", no model that picks "only winners". Having a model that can identify the best companies in each sector, then trying hard to use the best entry points, and then using risk management is what I think are the keys to investing. I have learned to go with the flow–investing in the Magnet stocks and simply leaving the other companies out of my portfolios. I have also learned not to fight the market. No ideas that my Magnet model identifies make me nervous because I know I will always use professional money management within my portfolio. No tension in the mind or portfolio helps the profits to flow. I am not smarter than the market, nor do I know the future. That understanding is what has helped me the most. I'll leave fortune telling to others. I'll just continue to focus on profitable investing.
Longs: Lannett Company, Inc. (LCI), Gilead Sciences Inc. (GILD), VASCO Data Security International Inc. (VDSI), Walgreens Boots Alliance, Inc. (WBA), Tower Semiconductor Ltd. (TSEM)
By Jordan Kimmel, Chief Investment Officer at Investview, Inc. (INVU).
DISCLOSURE: The views and opinions expressed in this article are those of the authors, and do not represent the views of equities.com. Readers should not consider statements made by the author as formal recommendations and should consult their financial advisor before making any investment decisions. To read our full disclosure, please go to: http://www.equities.com/disclaimer