Acute myeloid leukemia (AML) is an aggressive cancer of the bone marrow and blood, and among the most common types of leukemia in adults. According to the American Cancer Society, about 60,300 new cases of leukemia will be diagnosed in 2018, of which about 19,500 will be AML. About 24,400 people will die from leukemia in 2018, of whom about 10,700 will be from AML. Though AML can occur in people of all ages, it is uncommon before the age of 45, with an average age at first diagnosis. The current standard of care for AML, which involves chemotherapy, radiation therapy and stem cell transplantation, has proven to be only modestly effective in patients, as AML has the lowest five-year survival rate of all leukemias at about 24%.
Rockville, Maryland, based GlycoMimetics GLYC is developing therapies for cancer, sickle cell disease and other serious diseases. The company announced today that it has dosed the first patient in its Phase 3 clinical trial of uproleselan (GMI-1271) in patients with relapsed/refractory AML. The investigational drug will be studied in combination with two different standard chemotherapy regimens: MEC (mitoxantrone, etoposide and ara-C) and FAI (fludarabine, ara-C and idarubicin). Uproleselan has Breakthrough Therapy designation and Orphan Drug designation from the FDA.
Uproleselan is designed to block AML cells from binding to a molecule called E-selectin, which is found in bone marrow. E-selectin is known to regulate stem cell renewal and resistance to chemotherapy. Preclinical research points to the uproleselan's potential role in moving these cancerous cells out of the protective environment of the bone marrow where they may hide and escape the effects of chemotherapy. In a Phase 1/2 study in both newly diagnosed elderly AML patients and relapsed/refractory AML patients, patients who were treated with uproleselan together with standard chemotherapy achieved better than expected remission rates and overall survival, as well as lower than expected induction-related mortality rates, as compared to historical controls derived from third party clinical trials evaluating standard chemotherapy alone.
GlycoMimetics anticipates the initiation of two complementary Phase 2/3 trials from two leading clinical consortia in early 2019. One trial is being sponsored by the National Cancer Institute and will enroll newly diagnosed patients fit for intensive chemotherapy. The other trial is sponsored by the HOVON Foundation (Hemato-Oncologie voor Volwassenen Nederland, or Haemato Oncology Foundation for Adults in the Netherlands) and will enroll newly diagnosed patients unfit for intensive chemotherapy.Rachel K. King, GlycoMimetics Chief Executive Officer.
The dosing of the first patient in our pivotal Phase 3 trial for uproleselan is an important milestone for GlycoMimetics. This is a rigorously designed Phase 3 trial that has the potential to bring us one step closer to meeting the significant unmet needs of individuals living with relapsed/refractory AML. The trial is an important component of our comprehensive late-stage development program for uproleselan that positions us to evaluate the use of our product candidate across the spectrum of AML. It is the first of three randomized, controlled trials for uproleselan in AML, which we believe should provide clear efficacy and safety outcome measures in each of the settings being assessed.

– Helen Thackray, MD, FAAP, SVP, Clinical Development, and Chief Medical Officer, GlycoMimetics.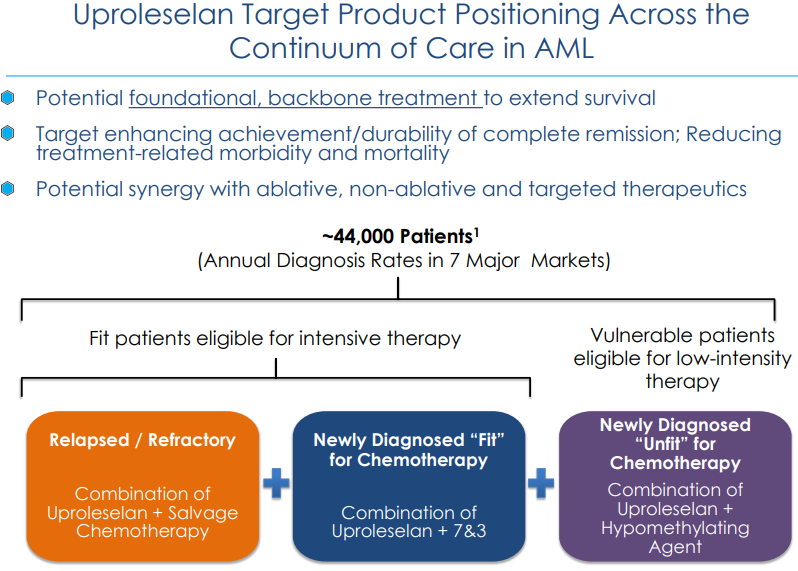 1. GlobalData AML Opportunity Analysis and
Forecast Report, 2016.

Source: GlycoMimetics
GlycoMimetics' lead program is in sickle cell disease, in partnership with Pfizer PFE. Sickle cell disease is among the most widely prevalent genetic disorders, affecting an estimated 100,000 people in the US according to the CDC, and responsible for more than 70,000 hospitalizations per year. Sickle cell affects predominantly African-American patients and is an inherited condition. One of the most debilitating effects of sickle cell disease is vaso-occlusive crisis, in which red blood cells become rigid and stick inside small blood vessels. Pfizer, which licensed rivipansel, a pan-selectin antagonist, from GlycoMimetics in 2011, is currently conducting a Phase 3 study for the treatment of vaso-occlusive crisis in individuals hospitalized with sickle cell disease who are at least six years of age.
Our clinical development pipeline sets us up for multiple, value-creating clinical data readouts. During 2019, we anticipate topline data from the Phase 3 study of rivipansel being conducted by Pfizer in patients with sickle cell disease. Then, beginning at the end of 2020, we expect to generate topline data from the several trials that we will have underway in AML.

– Rachel K. King, CEO, GlycoMimetics.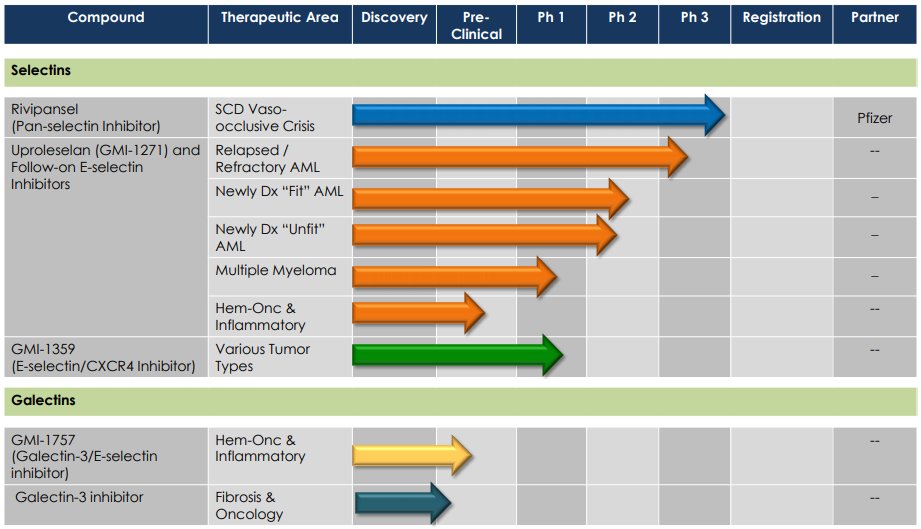 GLYC stock is currently trading at $11.37, near its 52-week low, after breaching the $26 level earlier this year. The company has been public since 2014, and the current $490 million market valuation seems rather modest given that it has two candidates in Phase 3 studies, each with significant market potential. CEO Rachel King has outlined a calendar of clinical data readouts for the next two years of which investors should certainly be mindful, and we'll be keeping close watch as well.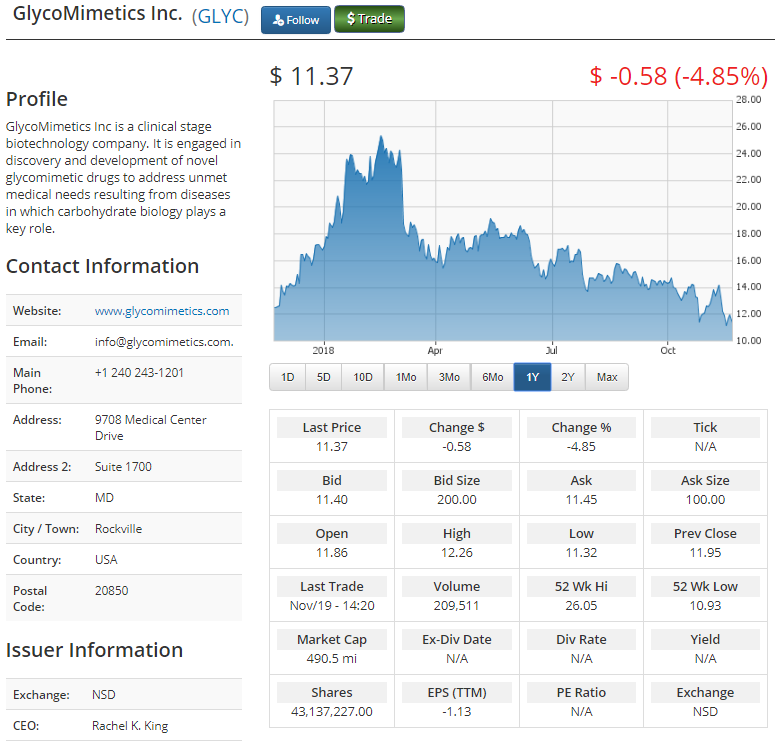 Please email us at [email protected] to see our Case Studies and Testimonials.
Please click here for information on our new trading platform.
Please click here to receive our free daily newsletter.