~ The Mtrac platform offers compliant and transparent payment processing to address the needs of cash-intensive cannabis operations ~
The midterm elections earlier this month ushered in a changing of the guard in the House of Representatives, as voters turned out in force to create what will be a split legislative body when the 116th Congress begins its session in five weeks. Beyond the new members of Congress, however, the recent ballots also fueled the state-by-state march of cannabis legalization across the country. 33 states plus Washington, DC, have now made the medical use of cannabis legal, while 10 states plus DC are now open for legal recreational use.
The legal cannabis industry grew to $8.5 billion in 2017, up 31%, according to a June 2018 report entitled, "The State of Legal Marijuana Markets, Sixth Edition" by Arcview Market Research and BDS Analytics. The report projects continued growth to $11 billion in US consumer spending in 2018 and more than $23 billion by 2022. An April 2018 report from Cowen pegs cannabis market size to be $75 billion by 2030. This is remarkable progress for an industry whose product is still considered to be an illegal Schedule 1 drug under the federal Controlled Substances Act (as Jeff Sessions would undoubtedly still like to remind you).
This state vs federal impasse remains a significant hurdle for new entrants to the cannabis business as well as established entities, given that most banks won't service the industry at all because of the legal muddle. As a consequence, most cannabis businesses can't accept credit cards, make electronic payments to vendors and suppliers or have checking accounts. As Kevin Murphy wrote in Forbes in September 2018, our federal government requires all banks "to file a suspicious activity report for every transaction involving a marijuana business. These rules extend beyond the marijuana operator itself to any company it interacts with, from accountants to cleaners, resulting in mountains of red tape and expense" that most banks simply choose to avoid.
Global Payout (Mtrac Tech)

We've been following a company called Global Payout GOHE that has developed a payment processing system designed to address the unique needs of cannabis businesses. The company, operating through its wholly-owned subsidiary, Mtrac Tech, introduced its proprietary E-wallet system earlier this year, which is powered by point of sale software from GreenBox POS GRBX, with whom Mtrac Tech has a joint venture and exclusive licensing agreement. MTRAC is a cash loading machine/kiosk system that is supported by blockchain technology, offering cannabis customers and retailers a transparent and secure alternative to cash payment transactions that is fully compliant with anti-money laundering (AML) and know your customer (KYC) regulations.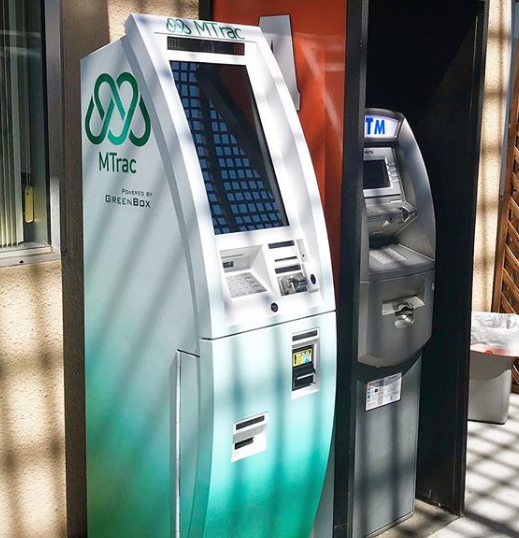 Source: Mtrac Tech
In recent months, the company has intensified its marketing efforts to coincide with the latest iteration of its platform, highlighted by what it asserts was an extremely productive appearance at MJBizCon, the largest cannabis convention in the country, in Las Vegas earlier this month. The company made hundreds of live demonstrations to convention attendees, and management believes that its nascent customer base will continue to expand as a result.
Footprint in six states
Mtrac announced earlier this week that it has signed agreements with two "national brand" cannabis companies with 10 dispensaries in three states. The number of dispensaries using Mtrac's payment processing system from these two companies is expected to grow to 25 by year-end and 75 in 2019. The new agreements now put Mtrac in six states: California, Colorado, Nevada, Arizona, Maryland and Pennsylvania.
We are solving some of the biggest financial challenges facing the industry, and I believe that a shared vision and key relationships with leading companies provides us with an opportunity to truly set a gold standard. With the deployment of our compliant and transparent payment processing and management system, we are solving the problems and addressing the risks associated with cash-heavy operations, while maximizing our value positions and enhancing customer/patient experience with secure and efficient transactions.

– Vanessa Luna, CEO, Mtrac Tech.
Issues to consider
Global Payout completed a reverse triangular merger in June 2018, whereby MoneyTrac Technology, a private California corporation, was merged into Global Payout's Mtrac Tech subsidiary. To date, Global Payout has been making the required disclosures under the OTC Pink Basic Disclosure Guidelines, but the company announced on October 30, 2018, that it is in the "final stages" of its audit and that it anticipates filing its SEC Form 10 "within the next few weeks." This will be a critical step for the company as it seeks broader exposure to the investing public. Once it's effective, the Form 10, as it serves to register a class of securities, will signify that Global Payout will then be subject to SEC reporting requirements and all the scrutiny that comes with them. That means 10-Ks, 10-Qs, 8-Ks and ownership reporting.
Another issue the company needs to address quickly is the fact that it has an extremely limited web presence. The company's corporate site is a blank page as of today, while the site of the operating subsidiary offers only limited information. While we presume that Global Payout is addressing this, investors should ping the sites to see if they're live once the Form 10 becomes effective.
The OTC Pink Market quotation, the sub-penny price and limited operating history clearly put Global Payout in the speculative category of investments. We believe, however, that the company has the opportunity to capture a meaningful piece of an obviously growing cannabis market. It's fulfilling a key need that is a hurdle for most of the legal businesses that have been and will be forming, and the companies that engineer the most effective payment processing solutions stand to benefit greatly as legislation continues its inexorable advance.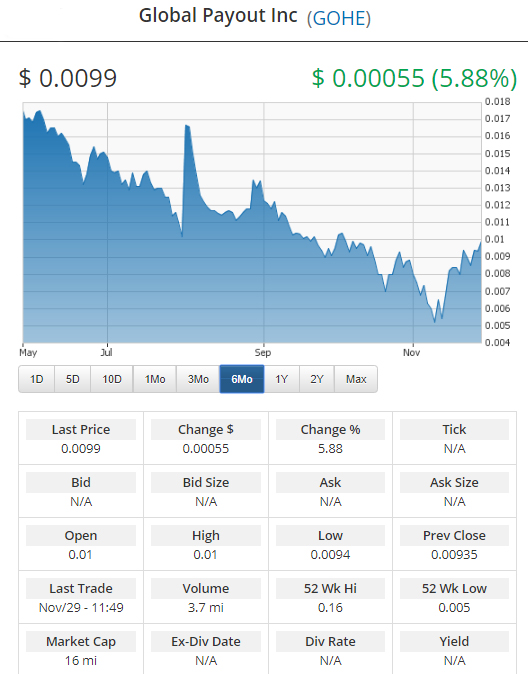 Please email us at [email protected] to see our Case Studies and Testimonials.
Please click here for information on our new trading platform.
Please click here to receive our free daily newsletter.