Image: Forty Seven, Inc.
Gilead To Acquire Forty Seven for $95.50 Per Share — $4.9 Billion
Gilead Sciences will be acquiring Forty Seven and its immuno-oncology portfolio of clinical assets at $95.50 per share, valuing Forty Seven at about $4.9 billion. Bloomberg had reported last Thursday that Gilead had approached Forty Seven with a takeover bid, and the market promptly took Forty Seven stock up 19% on Friday to $58.00. The official announcement Monday morning lifted the stock to the $94.00 level, around which it traded furiously all day with nearly 26.5 million shares changing hands.
The deal is Gilead's largest since spending $5.05 billion in cash for key late stage assets of Galapagos, including a Phase 3 candidate for idiopathic pulmonary fibrosis (IPF) and a Phase 2 asset for osteoarthritis. As Jason Mast writes in Endpoints News, these mid-range deals may be indicative of what we can expect from Gilead Chairman and CEO Daniel O'Day (in the corner office since March 2019) going forward, in contrast to the 2017 acquisition of Kite Pharma, on which Gilead spent $11.9 billion and which has proven to be slow in gaining sales traction.
Forty Seven Has Shown Clinical Promise With Checkpoint Cancer Therapy
We wrote on Menlo Park, California, based Forty Seven, Inc. in June 2018, when the company was about to go public. We highlighted the promising early data of the company's lead antibody asset, magrolimab (formerly known as 5F9), in combination with rituximab in patients with advanced solid tumors and non-Hodgkin's lymphoma (NHL).
Since that successful IPO, the company has continued to advance magrolimab in the clinic, notably in an ongoing Phase 1b trial evaluating magrolimab in combination with azacitidine in untreated patients with higher risk myelodysplastic syndrome (MDS) and untreated patients with acute myeloid leukemia (AML), who are ineligible for induction chemotherapy.
In December 2019, Forty Seven released data promising trial data on 46 patients evaluable for response assessment, including 24 patients with untreated higher-risk MDS and 22 patients with untreated AML, who were ineligible for induction chemotherapy. Magrolimab produced an overall response rate (ORR) of 92% in the higher-risk MDS group, with 12 patients (50%) achieving a complete response (CR), eight patients (33%) achieving a marrow CR and two patients (8%) achieving hematologic improvement. Two patients (8%) had stable disease.
In the untreated AML group, ORR was 64%, with nine patients (41%) achieving a CR, three patients (14%) achieving a CR with complete blood count recovery (CRi) and one patient (5%) achieving a morphologic leukemia-free state (MLFS). Seven patients (32%) had stable disease and one patient (5%) had progressive disease.
Blocking the CD47 "Don't Eat Me" Pathway
Source: Forty Seven, Inc.
The human body's CD47 protein is a key cellular signaling molecule whose overexpression is correlated with poor prognosis in multiple cancer types, including AML, NHL, ovarian cancer, gastric cancer and lung cancer.
Abnormal cells such as cancer cells commonly carry "eat me" signals that indicate to the body's immune system that they don't belong. Macrophages—specialized white blood cells—that normally engulf and digest cancer cells (phagocytosis, per your high school biology teacher) as a first line of defense, recognize these cancer cells by these "eat me" signals.
CD47 functions effectively as a "don't eat me" signal to the immune system, thereby protecting cancer cells from being destroyed by macrophages.
Therefore, blocking CD47 can lead to elimination of many types of tumors and increased survival.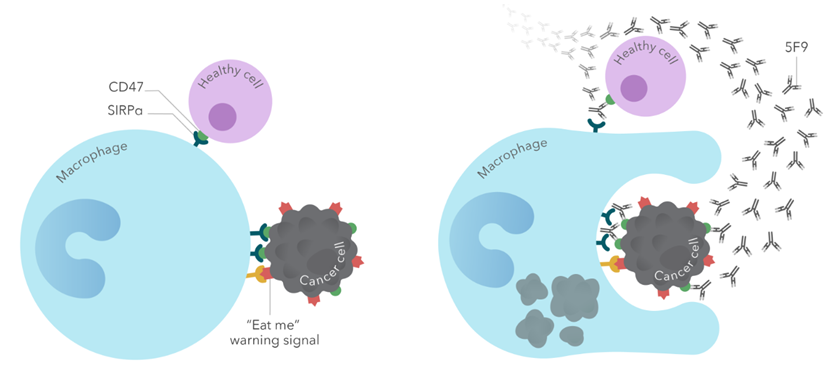 Source: Forty Seven, Inc.
Broad Portfolio of Potential Cancer Therapies

Forty Seven is initially studying magrolimab in patients with MDS and AML. Additional studies are ongoing in NHL and solid tumors. The FDA has granted Fast Track designation to magrolimab for the treatment of MDS and AML, and for the treatment of relapsed or refractory diffuse large B-cell lymphoma (DLBCL) and follicular lymphoma, two forms of B-cell NHL. The FDA has also granted magrolimab Orphan Drug designation by the FDA for the treatment of MDS and AML and by the European Medicines Agency for the treatment of AML.
Beyond magrolimab, Forty Seven is preparing to advance two additional investigational compounds into clinical testing:
FSI-174 — Anti-cKIT Antibody
cKIT, also known as CD117, or stem cell growth factor receptor, is expressed on the surface of hematopoietic stem cells (HSCs) among other cell types. Alterations of this receptor have been found in leukemia, melanoma and gastrointestinal stroma tumors. Anti-cKIT antibodies can bind to cancer cells and provide an "eat me" signal to macrophages.
Forty Seven is developing FSI-174 in combination with magrolimab as a novel, all-antibody conditioning regimen to address the limitations of current stem cell transplantation regimens.
FSI-189 — Anti-SIRP? Antibody
Signal regulatory protein alpha (SIRP?) is a protein expressed on macrophages and dendritic cells that serves as a target for CD47. Upon binding CD47, SIRP? initiates a signaling cascade that results in the inhibition of phagocytosis.
Forty Seven is developing FSI-189, an antibody that binds to SIRP?, for the treatment of cancer, as well as certain non-oncology settings, including transplantation conditioning.
Source: Forty Seven, Inc.
Fair Price for Forty Seven's Potential
While some have speculated on the $4.9 billion price tag, we think Gilead has paid fair value for the potential of Forty Seven's broad pipeline in areas of high unmet need, and the balance of 2020 looks to be a very active year for the progress of the pipeline.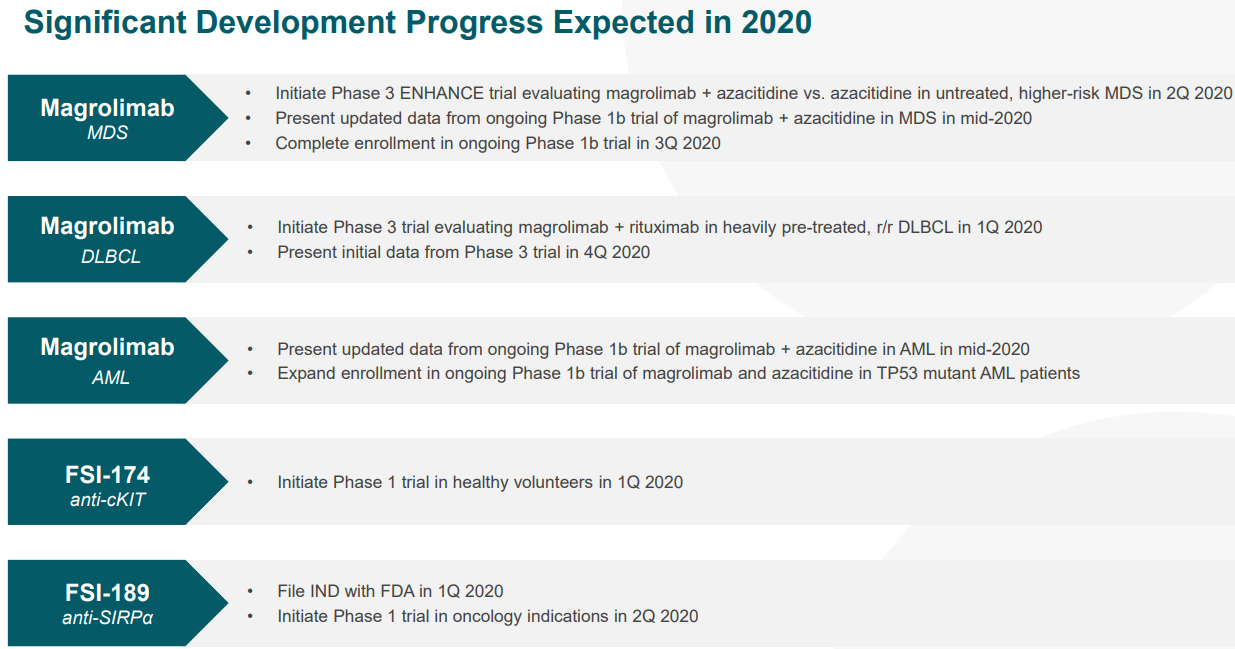 Source: Forty Seven, Inc.
This agreement builds on Gilead's presence in immuno-oncology and adds significant potential to our clinical pipeline. Magrolimab complements our existing work in hematology, adding a non-cell therapy program that complements Kite's pipeline of cell therapies for hematological cancers. With a profile that lends itself to combination therapies, magrolimab could potentially have transformative benefits for a range of tumor types. We are looking forward to working with the highly experienced team at Forty Seven to help patients with some of the most challenging forms of cancer.

– Daniel O'Day, Chairman and Chief Executive Officer, Gilead Sciences.
Edward Kim is Managing Editor of Equities.com.
_____
Sources: Equities News