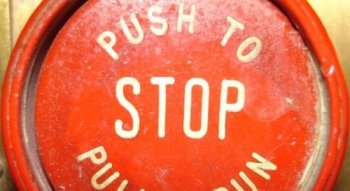 My first job in high school was a hold deck in the Pork Belly Pit at the Chicago Mercantile Exchange (CME) . Basically, my job was to watch the Pork Belly front month prices. If any of the orders (which were in order low to high) came close to where the market was, I would hand it to the "filling broker" who stood in the octagon shaped trading pit, he would then start yelling out the price, and the order would get filled.
All different types of orders existed in this deck. Mostly they were limit orders executed at a certain price, but sell stop orders were like magnets.Wanting to protect themselves, most Pork Belly investors trading the futures market would enter orders in precisely the same level, so all the stop orders would lie in the same spots. It was like clockwork: the prices would trend back to the support or resistance. A large percentage of the time, they would get executed and once the stops were filled, the market would turn back the other way.
In fact, many of the veteran brokers would drive pricing to the stop levels to generate more business for themselves. Mainly because they were paid $2 for each contract they executed in the Pork Belly Futures Pit. If they filled 2000 orders per day, they would have a daily gross number of $4000, and if they worked each trading day of the year they would make about $800,000 per year. My neighbor who I held the deck for those summers had no formal education, butdrove a Porsche 911, played tennis atthe prestigious Lake Forest Club, smoked fine cigars, and drank martinis all the way home on the commuter train. He also sent his kids to Northwestern where his sons trained to be doctors and lawyers.
Eliminating stop loss orders winds up saving investors from themselves. I call to mind a winter day in Wisconsin where I saw a limping fawn half-heartedly making her way down a forest trail with darknessquicklyapproaching. At first, her trail was clear, but soon after I spotted a wolf following her scent. I knew I would never see that fawn again.
Removing stop loss orders does one more thing to keep the wolf from following your trail. Find other ways to limit risk, because there are many ways to stay out of trouble.
DISCLOSURE: The views and opinions expressed in this article are those of the authors, and do not represent the views of equities.com. Readers should not consider statements made by the author as formal recommendations and should consult their financial advisor before making any investment decisions. To read our full disclosure, please go to: http://www.equities.com/disclaimer