Getting In on the Ground Floor With World Class Companies
Frank Holmes Follow |
Last week I had the privilege of attending BMO's 28th Annual Global Metals & Mining Conference in Hollywood, Florida, along with portfolio manager and precious metals expert Ralph Aldis. The BMO conference is an epic event that brings together the "who's who" of mining and natural resources—think Pierre Lassonde, Robert Friedland, Marin Katusa and many, many more.
Sentiment was cautiously bullish on gold and precious metals, while mega-mergers and takeovers were top of mind for many attendees and presenters. I'm not exaggerating when I say that the news of Barrick Gold's GOLD bid for rival Newmont Mining NEM dominated the buzz. In case you're not aware, Barrick is currently seeking to persuade shareholders to support its $18 billion hostile takeover of the Colorado-based miner.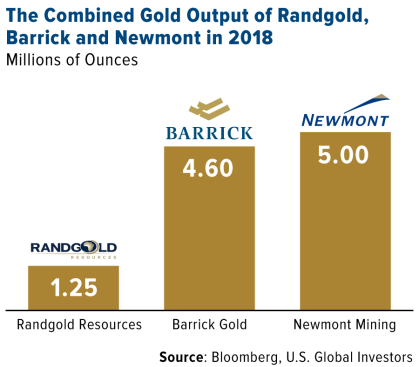 This latest round of industry consolidation follows the Barrick-Randgold Resources merger, announced back in September, as well as Newmont's own deal with Goldcorp in January. If Barrick is successful in its bid, however, Newmont must break off the $10 billion deal with Goldcorp.
Even before all of this began, Barrick was the world's largest gold producer, with a market cap of nearly $21 billion. If it manages to acquire Newmont, it would become an untouchable behemoth.
Here's an illustration of just how big the resultant company would be: World gold output stood at 158 million ounces last year, and of that, Barrick, Randgold and Newmont produced a combined 10.85 million ounces. Those three companies alone, then, were responsible for one out of every 14 ounces or so worldwide.
I have so much more to say on this, but for now, I invite you to watch my interview with Kitco News' Daniela Cambone, direct from the BMO conference. Click here to see it!
The metals and mining industry could be undergoing some dramatic changes in the near future. It's important for investors to get in on the ground floor when this happens.
Back in 2017, we were seed investors in HIVE Blockchain Technologies HIVE:CA, the world's first publicly traded cryptocurrency mining firm. We also recognized the value of the disruptive jewelry manufacturer Mene MENE:CA, and were able to make a private investment months before it was listed on the TSX Venture Exchange. More recently, I introduced you to GoldSpot Discoveries SPOT:CA, the very first company to harness the power of artificial intelligence (AI) in the mineral exploration process. We made a sizeable allocation in the company, and I was named chairman of the board.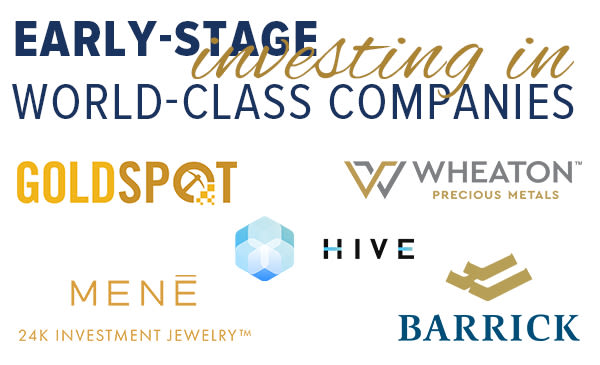 We're not new to any of this, of course. I'm proud of our track record of getting in early with a number of now-phenomenally successful companies. We were among the original financers of American Barrick Resources, before it changed its name to Barrick Gold in 1995. Ditto for Wheaton River Minerals, now known as Wheaton Precious Metals wpm—one of our favorite royalty and streaming companies.
This is just one among many reasons why I believe active management still plays an essential role in investors' portfolios. It also brings to mind the concept of "synchronicity."
The word "synchronicity" was first coined by the Swiss psychoanalyst Carl Jung, a disciple of Sigmund Freud. It says that events are meaningful coincidences if they occur with no causal connection yet seem to be meaningfully related.
Jung conceived of synchronicity after he observed a curious incident. A client described to him a dream she had the previous night of a golden scarab—a very expensive piece of jewelry. The very next day, while meeting with the same client, an insect struck his office window. Upon closer inspection, Jung saw that it was a scarab beetle, which closely resembled the piece of jewelry from his client's dream. The insect is very rare in Jung's native Switzerland. "Here is your scarab," he reportedly told her.
Employment: CVS Health To Hire 25,000 in Virtual Career Event Friday September 24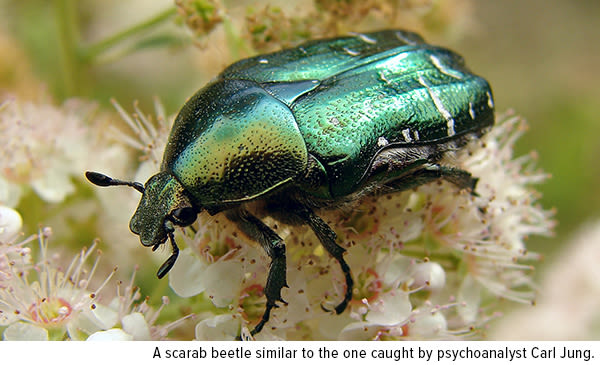 The two events—the dream and the insect encounter—cannot reasonably be called causally connected. But they're meaningfully related.
Synchronicity was one of many topics we discussed this year at Harvard Business School, where I go every year along with as many as 150 CEOs from dozens of different countries.
The theme really rang true for me and many of my fellow CEOs. Many of us believe that luck, ambition and positive thinking all play a role in our lives and business decisions, and have helped us get where we are today.
I feel grateful and blessed every day that I'm in a position to find solutions, to stay curious to learn and improve and to find opportunities—opportunities such as HIVE, Mene, GoldSpot and many more.
Feeling left out? Make sure you subscribe to the U.S. Global Investors YouTube channel by clicking here!
DISCLOSURE: All opinions expressed and data provided are subject to change without notice. Some of these opinions may not be appropriate to every investor. Holdings may change daily. Holdings are reported as of the most recent quarter-end. The following securities mentioned in the article were held by one or more accounts managed by U.S. Global Investors as of 12/31/2018: Barrick Gold Corp., Newmont Mining Corp., Mene Inc., Wheaton Precious Metals Corp. Frank Holmes was appointed non-executive chairman of the Board of Directors of HIVE Blockchain Technologies. Both Mr. Holmes and U.S. Global Investors own shares of HIVE, directly and indirectly. Investing in crypto-coins or tokens is HIGHLY SPECULATIVE and the market is largely unregulated. Frank Holmes was appointed chairman of the Board of Directors of GoldSpot Discoveries. Both Mr. Holmes and U.S. Global Investors own shares of GoldSpot.

---
The views and opinions expressed in this article are those of the authors, and do not necessarily represent the views of equities.com. Readers should not consider statements made by the author as formal recommendations and should consult their financial advisor before making any investment decisions. To read our full disclosure, please go to: http://www.equities.com/disclaimer.
Market Movers
Sponsored Financial Content