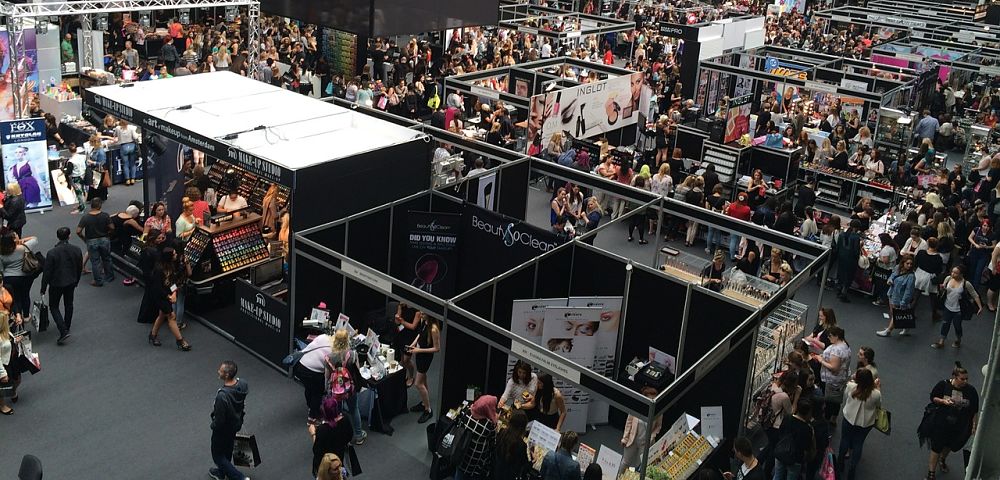 Is your company displaying products or services at a tradeshow? How are you getting ready? Some of the first decisions you need to make include the tradeshow booth you will use to spotlight your company.
The first thing to consider is whether you should purchase or rent a booth. Besides price, there are several things to consider:
Does your business plan on rebranding soon?
What is the size of your business and how big of an impact do you want to you make at the show?
Do you plan to use the same booth for future tradeshows?
How many tradeshows and fairs will your business participate in each year?
What is the size of the exhibit area you plan on booking?
Once you answer these questions, you can move onto determining if purchasing a booth is a better option than renting. This is a choice the doesn't only affect the first tradeshow, but future shows. It also helps get the creative ideas flowing, as finding the right trade show display can be one of the most exciting aspects of displaying at trade shows.
Here are some pros and cons of renting vs. buying your tradeshow booth:
Pros of Renting a Tradeshow Booth
1. You can Easily Change Your Branding
If your branding is fluid or you have a different theme for each show, then you might want to rent instead of purchase. A rented booth gives you the advantage of making a bold statement while also being temporary. The next show may be completely different in branding, style, and layout, and that is okay because each time you will rent a new booth to suit your needs.
2. Renting a Tradeshow Booth Offers Flexibility
Do you have a lot of shows on the agenda? What happens if the turnaround time between shows clashes? Renting means you are flexible enough to have two complete booths in two places at once. You don't have to worry about shipping from one location to the next, and you don't have to worry about storage between shows. You have more flexibility when you rent.
3. Experiment with Different Booth Layouts
Renting a booth allows you to configure new layouts and be creative. For example, say you have a 10×20 space at a show in Denver but a 10×10 space in Los Angeles. Renting means you can have a different layout at each. Plus, when you rent, you pay for a space that suits your budget and costs. Why pay for a 10×20 space if you are only filling it with a 10×10 booth?
4. Rented Booths Help You Avoid Liabilities
Beyond the actual cost of the booth and the materials, there are other costs to consider. There is maintenance, insurance, storage costs, and disposal fees, just to name a few. If you rent, those costs are nearly illuminated.
5. Renting Helps Make It Easy to Fulfill Organizers' Rules and Regulations
Each tradeshow and the rental hall has different restrictions from the organizers. There are rules and regulations you need to consider. For example, the height of the booth can vary depending on the space. Renting makes it easier to fulfill individual restrictions at each show.
Cons of Renting a Tradeshow Booth
1. Limitations to Customization of Your Tradeshow Booth
While there are many options to customize your rented booth, a booth that you own may be completely customized by you. Your team can create virtually anything you want as long as they have the time, talent, and money to physically bring it to fruition.
2. Inventory Restrictions May Be Limiting
Rental companies have peak seasons and you many find it difficult to rent the exact pieces you'd like. Planning ahead is obviously key. Renting means being a planner to ensure you have the booth you desire the most.
3. Rental Booths Might Show Wear and Tear
Like a rental car, rented tradeshow booths might have a little bit of wear and tear. This is also true of your customized booth as it will only look brand new for the first show.
Pros of Buying a Tradeshow Booth
1. Buying a Tradeshow Booth is ideal for Multiple Shows if there Is no Change in Floorplans
If you are positive that the floorplan of the show will never change, the venue will be the same show after show, then using your own purchased booth might be a good idea.
2. Potentially More Savings if Booth Size Is Greater than 10 x 10
Did you know that it is usually less costly to erect a pop-up 10 x 10 booth rather than constructing a hard-wall booth at the 10 x 20 size? This is because an increase in booth size may add to your labor cost and energy expenses.
3. A Purchased Booth Can Be Customized
When you own the booth, you have the ability to design it any way you like. You are able to make modifications as desired, giving you complete control.
Cons of Buying Your Tradeshow Booth
1. The Expenses of Ownership
There are additional costs to consider. Repairs, storage fees, insurance, upgrades, refurbishments and revisions are all factors.
2. High Upfront Cost
You will pay more upfront to build or buy your own booth. If you are on a budget, or aren't sure how frequently you will change your booth or use it, this can strap your business. Small and medium businesses, or large businesses who budget wisely, may want to do a cost analysis between the upfront costs, the risks, and the viability of buying vs. renting a tradeshow booth.
3. Your Booth Gets Boring
The same booth show after show gets boring after time. Imagine your clients seeing the same booth at each show. After a while, it becomes less intriguing to visitors. People gravitate to new and exciting. If you want customers to be interested in your new products and services, then showcasing them in the same booth every time won't bode well.
What type of booth do you like to use at tradeshows? What types have worked well for your business? Join the conversation in the comment section below.