~ Olaregen's Excellagen (flowable dermal matrix) is FDA approved for multiple wound healing indications ~
~ Generex hires Chief Commercial Officer and Chief Marketing Officer ~
~ Generex also announces agreement with NSABP Foundation to
manage a Phase 2 clinical trial of Merck's Keytruda in combination with Generex's vaccine candidate in patients with metastatic triple negative breast cancer ~
~ Company also announces agreement with Puration to develop and produce
NuGenerex CBD (cannabidiol) HydroHealth High Alkaline Water ~
The global wound care market is expected to grow from about $18 billion in 2017 to over $23 billion by 2024, according to a September 2018 report from Market Research Engine. Wound care products are used to treat acute and chronic wounds that can be difficult and expensive to heal. These deep wounds, or ulcers, as they're known, are common in diabetes patients, particularly in the lower extremities, according to the Cleveland Clinic. Most of these ulcers are a direct result of loss of sensation secondary to peripheral neuropathy.
Venous ulcers account for nearly 80% of all leg ulcers. The Cleveland Clinic says that about one third of patients with chronic venous insufficiency will develop venous ulceration before the age of 40 years, though peak prevalence occurs between 60 and 80 years of age. In addition, venous ulcers may have prolonged duration and a high rate of recurrence. About 15% of diabetes patients will develop foot ulcers at some point, and most lower extremity amputations in the US are preceded by a foot ulcer.
Miramar, Florida, based Generex Biotechnology GNBT is developing drug delivery systems, with a focus on proprietary technology for the administration of large molecule drug formulations to the oral (buccal) cavity using a handheld aerosol applicator. The company's two-fold strategy is to grow through accretive acquisitions and to align with global biopharmaceutical companies by providing financing for sponsored clinical trials.
Generex announced today the signing of a letter of intent to acquire a 51% stake in Olaregen Therapeutix. Full financial details weren't disclosed (see below re Olaregen's September 2018 deal), but Generex has made "an initial payment of $400,000 on November 27, 2018, to
secure the agreement." Olaregen is a private company whose key asset, Excellagen, is a flowable gel, dermal matrix formulation that is FDA-approved for multiple wound healing indication including:
Partial and full thickness wounds
Pressure ulcers
Venous ulcers
Diabetic ulcers
Chronic vascular ulcers
Tunneled/undermined wounds
Surgical wounds [donor sites and grafts, post-Mohs surgery, post-laser surgery, podiatric, wound dehiscence (ruptures along an incision)]
Trauma wounds (abrasions, lacerations, second- degree burns, skin tears
Draining wounds.
Source: Gene Biotherapeutics
Olaregen acquired the US rights to Excellagen from Gene Biotherapeutics CRXM, fka Taxus Cardium Pharmaceuticals, in September 2018, for $650,000 upfront plus up to an additional $3.35 million in potential royalties. Excellagen's unique collagen formulation activates platelets, triggering the release of essential growth factors to provide a structural scaffold that accelerates the growth of granulation tissue. Excellagen is topically applied through pre-filled syringes and is designed for once weekly application at once weekly intervals. Olaregen intends for Excellagen to serve as an enabling delivery platform for peptides, small molecule drugs, DNA biologics, antimicrobials, stem cell and exosomes. The company also plans to develop the Excellagen exosome product for the treatment of osteo and rheumatoid arthritis, cartilage repair, plantar fasciitis and Ehlers-Danlos syndromes, a group of rare connective tissue disorders.
We are enthusiastic to bring Olaregen into the Generex family of companies. This acquisition perfectly illustrates our corporate strategy as we build a new pharmaceutical company model. Excellagen is FDA cleared and ready to launch using our investment, which is directed at building sales and commercial value almost immediately. We are launching Excellagen through our direct to physician market channels established with our recently announced acquisitions in pharmacy and management services. As we have stated all along, Generex is focused on building an "end-to-end" solution to improve healthcare for doctors and patients, and the acquisition of Olaregen is a clear demonstration of this model. All of their pieces fit together beautifully in our current structure and in our plans for the future.

– Joe Moscato, CEO, Generex.
Concurrent with the LOI with Olaregen, Generex also announced today that it has hired Anthony J. Dolisi as Chief Commercial Officer and Michelle Starr as Chief Marketing Officer, to focus on the commercial launch of
Excellagen. Mr. Dolisi has over 24 years of experience as a sales executive with companies including American Home Products, Glaxo
SmithKline, Agouron, Pfizer, and Johnson & Johnson. Ms. Starr has over 25 years of experience in medical communications and strategic
planning in the pharmaceutical and biotechnology industries, spanning multiple therapeutic categories including cardiovascular
disease, neuroscience, osteoarthritis, rheumatoid arthritis, ophthalmology,
gastrointestinal diseases and inflammation.
Generex announced yesterday that it has signed an agreement with the NSABP Foundation (National Surgical Adjuvant Breast and Bowel Project), to provide clinical trial and site management services for the combination Phase 2 trial of Merck's Keytruda (pembrolizumab) with Generex's peptide vaccine candidate in patients with metastatic triple negative breast cancer. The trial, sponsored by Generex and conducted in conjunction with Merck, is currently being reviewed by the FDA, and clinical operations, including site qualification, drug shipment and packaging, and IRB (independent review board) review and approval are underway, with plans to enroll patients in the first quarter of 2019.
Earlier this week, Generex announced an agreement with Puration PURA to develop and produce NuGenerex CBD (cannabidiol) HydroHealth High Alkaline Water. The CBD used in the NuGenerex CBD HydroHealth product line will be exclusively derived from industrial hemp using a patented extraction process that yields ultra-purified and characterized formulations. Puration currently markets a line of CBD infused sports nutrition drinks. The NuGenerex CBD HydroHealth Water will be sold as therapeutic supplements for health maintenance in conditions in which CBD therapy has shown promise. Readers may recall that GW Pharmaceuticals received FDA approval for Epidiolex, a CBD formulation, in June 2018, for childhood epilepsy.
Generex stock has had an extraordinarily volatile run on the OTC Market for the past two months, and it wouldn't be a surprise to see some consolidation in the short term. At just under $25 million in market capitalization even after this climb, it's important to view the stock objectively through a risk-reward lens. Volume is very thin, so it doesn't take much to move the stock sharply in either direction, but the company has had a very busy news week and will undoubtedly be attracting more attention from both speculators and long term investors. We'll be watching this one closely to see if it can continue to execute on its acquisition and clinical trial sponsorship strategy.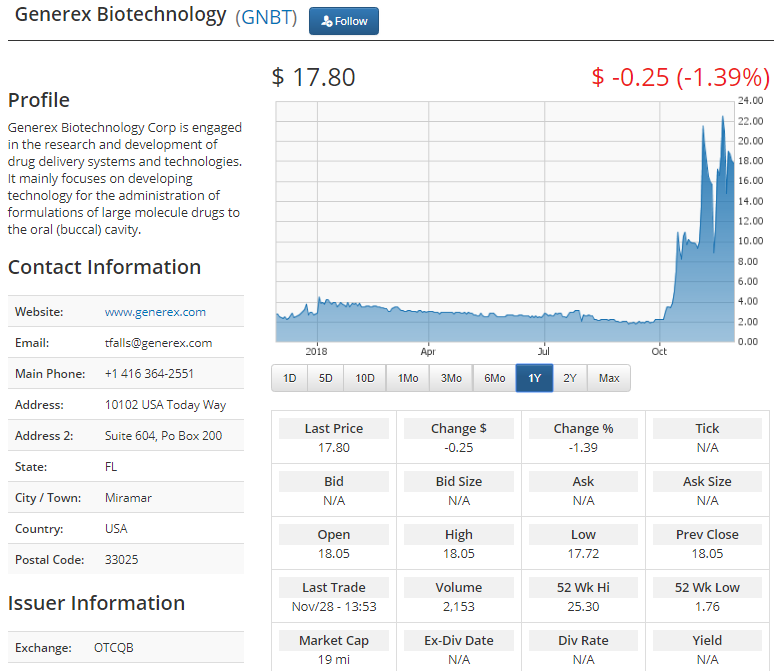 Please email us at [email protected] to see our Case Studies and Testimonials.
Please click here for information on our new trading platform.
Please click here to receive our free daily newsletter.