According to the American Cancer Society, over 234,000 patients will be diagnosed with lung cancer this year in the US, with non-small cell lung cancer accounting for 85% of all diagnoses. 25% to 30% of all lung cancers are squamous cell carcinomas, which start in early versions of squamous cells, flat cells that line the inside of the airways in the lungs. They are often linked to a history of smoking and tend to be found in the central part of the lungs, near a main airway.
Genentech, part of the Roche Group (Switzerland: RO, ROG; OTCQX: RHHBY), announced that its Phase III study, called IMpower131, of Tecentriq (atezolizumab) met its co-primary endpoint of progression-free survival (PFS) and demonstrated that the combination of Tecentriq plus chemotherapy — carboplatin and Abraxane (by Abraxis Biosciences, part of Celgene [CELG]) — reduced the risk of disease worsening or death (progression-free survival; PFS) compared with chemotherapy alone in the initial, or first-line, treatment of people with advanced squamous non-small cell lung cancer (NSCLC). Safety for the Tecentriq and chemotherapy combination appeared consistent with the known safety profile of the individual medicines, and no new safety signals were identified. Though a statistically significant overall survival (OS) benefit was not observed at this interim analysis, the study will continue as planned. These data will be presented at an upcoming oncology congress.
Source: You and Lung Cancer
Squamous non-small cell lung cancer is difficult to treat and there have been limited new treatment options over the last few decades. We will share the IMpower131 results with global health authorities and we look forward to seeing more mature overall survival data.
– Sandra Horning, MD, Chief Medical Officer and head of Global Product Development, Genentech
Genentech has eight Phase III lung cancer studies underway evaluating Tecentriq alone or in combination with other medicines, and five are expected to report this year. Tecentriq is already approved in the US, EU and more than 60 countries for people with previously treated metastatic NSCLC and for people with locally advanced or metastatic urothelial cancer who are not eligible for cisplatin chemotherapy, or who have had disease progression during or following platinum-containing therapy.
Mark Terry at Biospace writes that Jefferies published a research note today stating that "Roche has previously noted that it could be first to market in the 1L (first-line) squamous NSCLC setting if IMpower131 produced a superior result. We currently model $1.1 billion of peak sales for Tecentriq in this 1L squamous setting and have previously highlighted that a positive result from the trial could see 1 to 3 percent upside to EPS and valuation."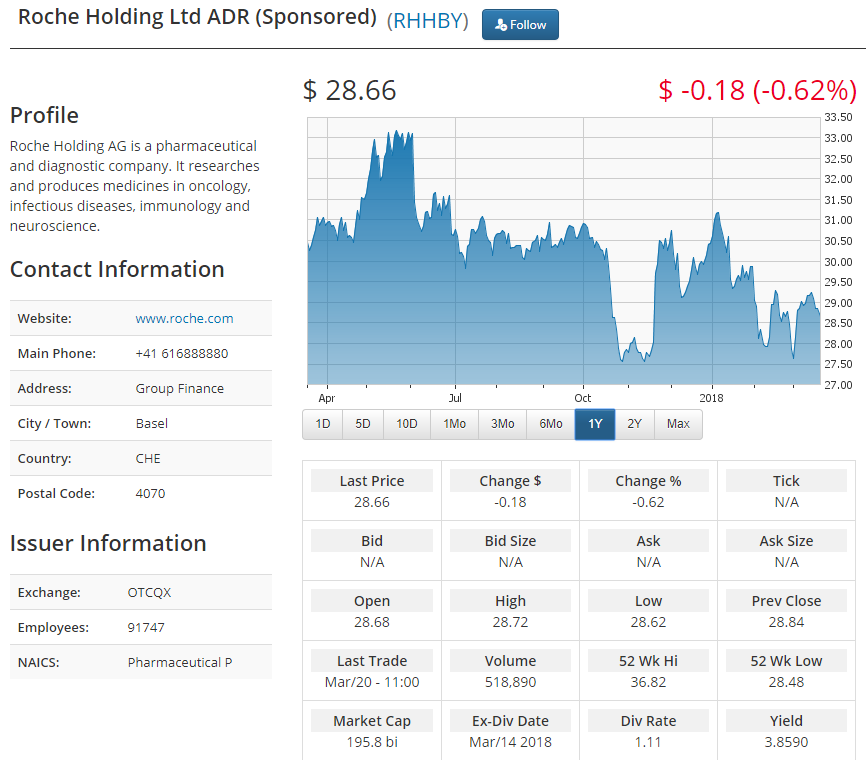 Please email us at [email protected] to see our Case Studies and Testimonials.
Please click here for information on our new trading platform.