Cardiovascular disease accounts for nearly 840,000 deaths in the US each year, or about one out of every three deaths, according to the American Heart Association (AHA), About 2,300 Americans die of cardiovascular disease every day, an average of death every 38 seconds. Despite overall improvements in health awareness, lifestyle changes and medical advances, the direct and indirect cost of heart disease remain extremely high, with the most recent AHA estimates pegging the number at $330 billion annually in health expenditures and lost productivity.
Atherosclerosis – the process of fatty buildup called plaque in the inner lining of arteries, which causes them to narrow, weaken and be less flexible – is among the leading causes of heart disease. The arterial plaque reduces the amount of blood and oxygen that is delivered to vital organs, and the interrelated causes of atherosclerosis include high levels of blood cholesterol and triglycerides, high blood pressure and smoking.
Triglycerides are the most common type of fat in the human body and are derived from foods, especially butter, oils and other fats you consume. The body also converts extra calories from other foods into triglycerides, storing them in fat cells. Triglycerides are measured in milligrams per deciliter of blood—mg/dL. People with TG levels above 500 mg/dL are also at increased risk for acute pancreatitis, a very serious and potentially lethal complication.

Source: US National Library of Medicine
Gemphire Therapeutics GEMP announced yesterday that gemcabene, the company's principal product candidate, significantly decreased triglyceride levels in patients with severe hypertriglyceridemia, defined as those with baseline serum triglycerides greater than 500 mg/dL. Patients on gemcabene showed a reduction of 47% compared to 27% for those on placebo in this Phase 2b "INDIGO-1" trial.In addition to this primary trial endpoint, the compound also achieved statistically significant secondary endpoints in lowering LDL cholesterol, non-HDL cholesterol, the apolipoproteins apoB, apoE and apoCIII, and serum amyloid A.
Gemcabene mechanism of action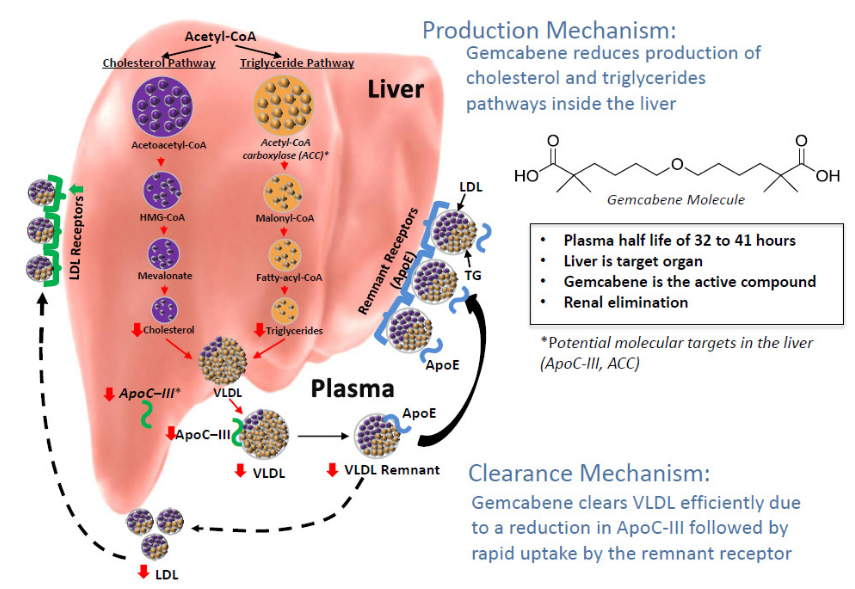 Source: Gemphire Therapeutics
We are pleased to reach this milestone of meeting both primary and multiple secondary endpoints and look forward to advancing gemcabene into Phase 3 trials. There are approximately 3.5 million SHTG patients in the United States in need of lowering their TG levels below 500 mg/dL to reduce their risk of developing acute pancreatitis. Our once daily tablet has demonstrated promising evidence of safety, efficacy and tolerability in more than 1,100 subjects thus far. Moreover, in prior studies 600 mg of gemcabene reduced LDL-C, hsCRP and other biomarkers that are typically elevated in a broad range of dyslipidemic conditions.
– Dr. Steven Gullans, CEO, Gemphire.
The news is particularly encouraging for Gemphire as it has previously been on the wrong side of the binary event risk outcomes that all biotechnology companies face with their clinical trials. While the company's prospects are clearly heavily dependent on the success of gemcabene in this and other indications, the latest news should give investors cause for optimism. Even with the boost to the stock price that has been realized in the past 24 hours, Gemphire's market cap—$135 million—is still well below its levels from last July.
Investors should watch for additional clinical events and data over the next few quarters as the company continues to advance gemcabene through its paces.
We are pleased to report that both of our ongoing NAFLD/NASH proof-of-concept trials are dosing patients and remain on track to report data in late 2018 and early 2019 as previously guided. In addition, we are using the information from our INDIGO-1 trial, particularly the dose finding results, together with the results from our previous Phase 1 and 2 clinical trials, to finalize our Phase 3 trial plans. We expect to communicate more information regarding the structure and timing of our Phase 3 program once we have completed our End of Phase 2 meeting with the FDA, which we will request following the completion of the FDA's review of the 2-year carcinogenicity study, which is currently in progress.

– Dr. Lee Golden, Chief Medical Officer, Gemphire.
Please email us at [email protected] to see our Case Studies and Testimonials.
Please click here for information on our new trading platform.
Please click here to see our weekly newsletter.