Source: General Electric Co.
General Electric Co. said the coronavirus could drag down free cash flow at the company by as much as $300 million to $500 million. In its detailed 2020 outlook, the industrial conglomerate warned that the virus was an "evolving variable" disrupting supply chains, contracting global demand and reducing air travel.

Source: GE 2020 Investor Outlook, Press Release
In the outlook, GE stood by its full-year forecast, which calls for adjusted earnings of 50 cents to 60 cents a share and industrial free cash flow of as much as $4 billion. The company noted that the impact of the coronavirus wasn't incorporated in its expectations beyond the first quarter.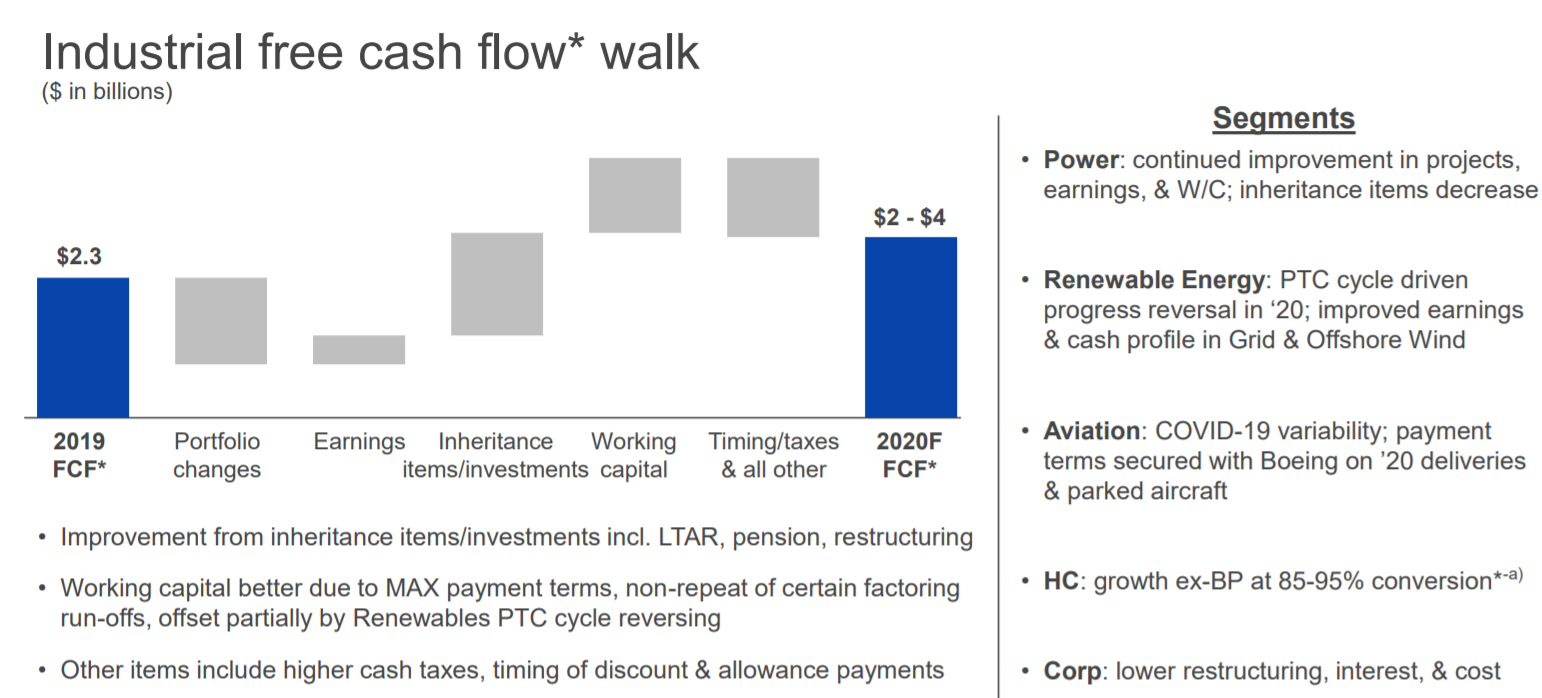 Source: GE 2020 Investor Outlook
For all of 2020, General Electric sees revenue growth in the low single digits across its power, aviation, renewable energy and health care segments. The company sees profits margins expanding in the troubled power division. GE also expects its financial services arm, GE Capital, to generate a loss of between $0.3 billion to $0.5 billion.
The coronavirus has thrown a wrench into the plans of Chairman and CEO H. Lawrence Culp, Jr as he attempts to lift GE out of one of the worst slumps in the company's long history.
"We entered this year with momentum having diligently addressed our most pressing issues and reset our foundation in 2019," Mr. Culp said in the press release. "While there's more work ahead, I am confident in our ability to execute given the strengths of GE's team, technology, and global reach and capabilities. We remain focused on our priorities of solidifying our financial position, continuing to strengthen our businesses, and driving long-term profitable growth as our multi-year transformation accelerates."
Adjusted earnings in the first quarter will be about 10 cents a share, GE said. That trailed the 13-cent average of analyst estimates compiled by Bloomberg.
GE stock was up 2.4% in pre-market trading.
_____
Source: Equities News