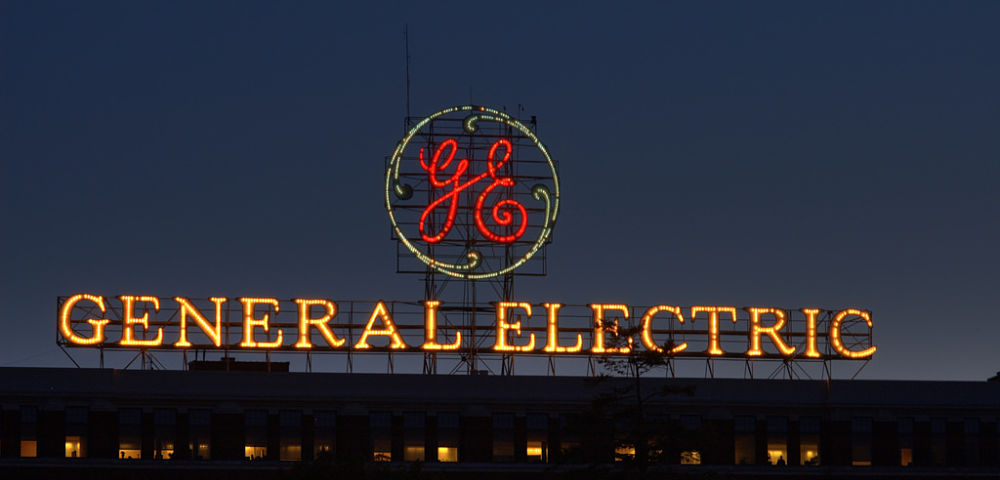 Image via Chuck Miller/Flickr CC
In a major transformation, General Electric (GE) has sold off the bulk of its massive financial arm, GE Capital, and it also has a new CEO, notes Bob Ciura, editor of Wyatt Research's Daily Profit.
GE has suffered from weak performance across many of its markets, especially oil and gas. Investors have sold the stock as a result. With the stock hammered in 2017, it could be a buying opportunity.
GE, whose roots date back more than 100 years, today has annual revenue of approximately $180 billion. GE's market capitalization is over $200 billion.
The industrial behemoth is exposed to virtually every industrial business line in the global economy. Its businesses include power, aviation, oil & gas, health care, transportation, lighting and renewable energy.
No business can last longer than a century without reinventing itself from time to time, and GE is no different. Over a decade, GE's financial business GE Capital became more of a liability than an asset.
GE Capital nearly brought GE to the brink of collapse during the 2008 financial crisis and it lost over $1 billion last year alone. GE's growth had ground to a halt.
Organic revenue was flat in 2016, as were GE earnings. Now, it could come back to life. As it offloads most of GE Capital, GE becomes more efficient. GE Capital did not have consistent profits. The "new" GE Capital will carry much less risk.
Now the company is nimbler and more likely to generate growth as it focuses on its core businesses. Demand for GE's industrial products and services remains strong. It ended last quarter with a nearly $330 billion backlog.
GE's oil and gas business were hammered last year with revenue falling more than 20%. But now, oil and gas prices are on the rise, And, GE has seen continued growth across its other businesses, including health care.
GE's organic revenue increased 4% in 2017's first half, and operating profit rose 11% in that period. For 2017, GE expects organic revenue growth of 3% to 5%. On an adjusted basis, earnings are expected to grow 7% to 14% for the year, to $1.60 to $1.70.
Plus, GE's huge divestments have GE flush with cash. It is using a significant portion of the proceeds to return cash to shareholders. GE returned $7.8 billion to investors over the first half of 2017, $3.6 billion of which was through share repurchases.
In addition to share repurchases, the GE dividend yield is a hefty 4%. And, the dividend is fully covered by earnings. Using its forecast of earnings for 2017, the current annual dividend of $0.96 represents less than 60% of EPS. This could even leave room for future GE increases, since GE's earnings are likely to grow.
The bottom line is that while GE's stock has declined this year, the stock has a much better outlook. Investors can use the market's short-term pessimism to buy this high-quality blue-chip stock at a discount.
Bob Ciura is contributing editor to Wyatt Investment Research.
Subscribe to Wyatt Research's Daily Profit here…
About MoneyShow.com: Founded in 1981, MoneyShow is a privately held financial media company headquartered in Sarasota, Florida. As a global network of investing and trading education, MoneyShow presents an extensive agenda of live and online events that attract over 75,000 investors, traders and financial advisors around the world.
DISCLOSURE: The views and opinions expressed in this article are those of the authors, and do not represent the views of equities.com. Readers should not consider statements made by the author as formal recommendations and should consult their financial advisor before making any investment decisions. To read our full disclosure, please go to: http://www.equities.com/disclaimer