We've been following a Las Vegas based company called GB Sciences GBLX, which produces medical-grade cannabis. The company aspires to develop certified cannabinoid therapies that target a variety of medical conditions, and, to that end, has established research and development partnerships with several academic institutions.
The company is focusing near term on cultivating and dispensing cannabis for medical purposes in Nevada and other states as it prioritizes cash flow. While recreational cannabis has only been legal in Nevada since July 2017, cannabis for medical use has been the law of the state since 2000 with the passage of the Nevada Medical Marijuana Act. In October 2016, GB Sciences acquired a 60% interest in a Nevada Medical Marijuana Production License and acquired the remaining 40% in October 2017. This production license enables the company to convert cannabis plants into oils and extracts that are suitable as the foundation of medical compounds and consumer products. The company received its State Registration Certificate for its cannabis cultivation facility in January 2017 and harvested its first cannabis in May 2017. In the nine months ended December 31, 2017 (the company has yet to release results for the fiscal year ending March 31, 2018), GB Sciences had revenue of $1.64 million.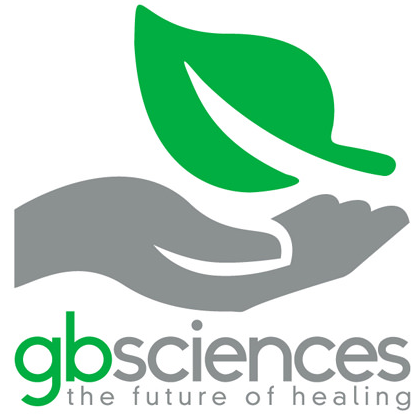 In March 2017, GB Sciences signed a deal with Kush Cups, an Arizona-based company, to produce cannabis-infused products in Nevada. GB Sciences will also distribute cannabis-infused Keurig-compatible K-Cups, hot and cold brew coffees as well as infused teas. The company is also the exclusive Nevada grower of Kyle Kushman's proprietary marijuana strains, which have been highly rated top sellers in California.
Intellectual property
GB Sciences has filed three patent applications so far for life science inventions. The first application covers cannabinoid-containing complex mixtures capable of enhancing dopamine secretion and protecting neurons in patients with Parkinson's disease, Alzheimer's disease, Lewy Body Dementia and Huntington's disease, among others.
The second patent application covers cannabinoid-containing complex mixtures capable of preventing inflammatory diseases including chronic arthritis, Crohn's disease, inflammatory bowel disease and asthma. The third patent application covers myrcene-containing complex mixtures capable of treating chronic pain and heart diseases and complements the intellectual property that GB Sciences licensed in 2016 from Makai Biotechnology regarding the regulation of the TRPV1 receptor. Myrcene is the most abundant oil found in cannabis.
Louisiana State University AgCenter
GB Sciences has pursued research and development partnerships with academic institutions as an efficient alternative to commercial partnerships. The LSU AgCenter is conducting research on plant varieties, compounds, extraction techniques and delivery methods and would split intellectual property rights on any generated revenue with GB Sciences. In a May 2018 interview with Marijuana Business Daily, GB Sciences CEO John Poss said, "For a couple of hundred thousand dollars or less a year, you can get a lot of research done. It's cheaper to use a university than it is to use a commercial company. We've accomplished great things in our drug discovery and research for not a lot of money." Mr. Poss said that the company also has partnerships with Chaminade University for drug discovery and with Michigan State University on how different cannabinoids that have no effect in isolation may work together in combination.
In April 2018, the Louisiana House of Representatives passed a bill that expanded the medical conditions for which doctors could prescribe medical marijuana. The Louisiana Senate followed with its own bill in May 2018.
The expansion of qualifying disease states will allow the LSU AgCenter, along with our partner, GB Sciences Louisiana, to provide new therapeutic opportunities to patients with these qualifying conditions. We are excited about the research opportunities with this plant and hope to be on the cutting edge of technology for what this plant can do in the future, both in the field of medicine and agriculture.

– William Richardson, PhD, LSU Vice President for Agriculture and Dean of the College of Agriculture.
Outlook
GB Sciences' primary obstacle will be capital. The company used $8 million in cash for operating activities in the nine months ended December 31, 2017, and it's been able — so far — to raise what it has needed through a public offering, private placements and obtaining operating funds from stockholders. The most recent private placement was in January 2018 when it raised $7.2 million in units at $0.40 per unit. Each unit consists of one share of common stock plus a warrant to buy one share of common at $0.90.
In May 2018, the company terminated its previously announced acquisition of NevadaPURE after discovering "some things in due diligence that made us revisit our bid price," according to Mr. Poss in the Marijuana Business Daily interview. The deal would have given GB Sciences a foothold into Nevada's retail cannabis market, though Mr. Poss said that the company may revisit the deal at another time at another price.
At $0.51 on the OTCQB Venture Market, the stock has a market cap of about $80 million. While the company faces capital hurdles, the stock feels akin to a fairly priced call option on the ability of management to leverage its research and development partnerships while generating sufficient cash flow from the medical cannabis business. We'll be keeping a close eye on GB Sciences for continued signs of milestone achievement and capital raising success.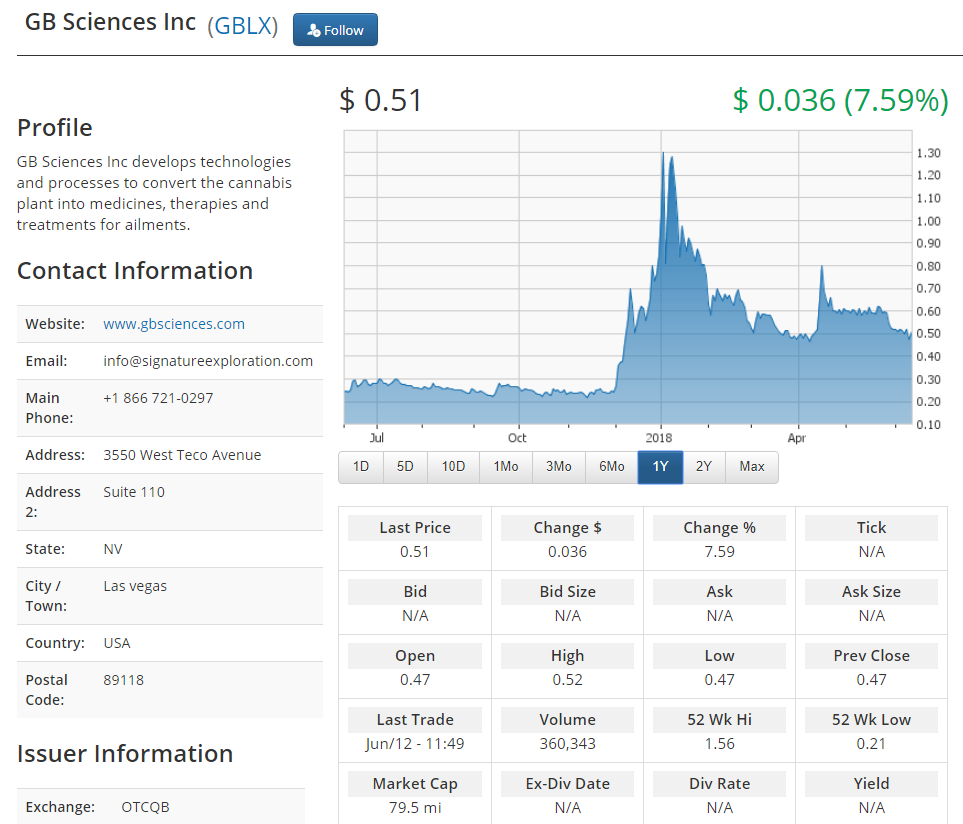 Please email [email protected] to see our Case Studies and Testimonials.
Please click here for information on our new trading platform.
Please click here to see our weekly newsletter.