Hematopoietic stem cell transplant (HSCT), commonly known as bone marrow transplantation, is the most frequently used cell therapy used to treat a variety of hematologic malignancies—a broad category of blood cancers including multiple myeloma, myelodysplastic syndromes (MDS), lymphomas and acute and chronic leukemias—and other serious conditions. In a stem cell transplantation procedure, a patient's stem cells are replaced by new cells either from the patient—autologous—or from another person—allogeneic. The choice of transplant type depends on a variety of factors, including the type and stage of the cancer, age of the patient and the ability to collect a tumor-free autologous graft.
While autologous transplants have a lower risk of life-threatening complications, there are notable drawbacks including the chance that the transplanted cells could be contaminated with cancerous cells that could trigger relapses. In allogeneic transplants, the new graft is free of contaminating tumors and contains donor-derived cells that may produce a new immune effect for the receiving patient. Allogeneic transplants also have severe limitations, however, including delays in finding a suitable match that could make patients ineligible for transplant because of disease progression, an insufficient number or delayed engraftment of donor cells that could lead to life-threatening immune deficiency following transplant, and lack of long-term compatibility between the donor cells and the patient's own cells that could result in potentially fatal graft versus host disease (GvHD). According to a May 2017 report from Transparency Market Research, the global market for HSCT is projected to grow from $13.1 billion in 2016 to $37.6 billion by 2025
Jerusalem and Boston-based Gamida Cell (proposed Nasdaq: GMDA) is developing cell therapies designed to cure blood cancers and other rare, serious hematologic diseases. The company's proprietary nicotinamide (NAM)-based cell expansion technology is designed to enable proliferation of donor cells while maintaining the cells' functional therapeutic characteristics. NAM is a naturally occurring substance that regulates multiple processes including cellular stress, cellular energy, mitochondrial functions and gene expression. Gamida Cell's lead candidate, NiCord, is a NAM-expanded cord blood cell therapy with the potential to serve as a universal curative stem cell graft for HSCT patients.
Gamida Cell is offering 3,571,429 shares at $13 to $15 via BMO Capital Markets and RBC Capital Markets. At the midpoint of the filing range, it would be a $50 million transaction with a post-IPO market capitalization of $259 million. Novartis NVS, the company's largest shareholder with a 21.6% holding (17.6% post-IPO), has been an equity investor since 2014. Other major investors include Clal Biotechnology with 18.6% (15.0%), Elbit Cord Blood with 17.9% (14.4%), Shavit Capital with 12.9% (10.5%), Israel HealthCare Ventures with 11.8% (9.5%) and Smartmix with 10.9% (8.9%). Certain existing holders, including Novartis, have indicated an interest to acquire up to $30 million of this IPO, according to the Form F-1.
The Company is currently enrolling patients in a pivotal Phase 3 clinical trial in 120 patients with various hematologic malignancies, including high risk leukemias such as acute myeloid leukemia, acute lymphocytic leukemia, chronic myeloid leukemia, myelodysplastic syndrome and lymphomas. Based on the results of Phase 1/2 trials, in which patients transplanted with NiCord achieved rapid engraftment and immune reconstitution, Gamida Cell received Breakthrough Therapy designation from the FDA. The company also has received orphan drug designation from both the FDA and the European Medicines Agency (EMA). Top-line data from the Phase 3 trial is expected in the first half of 2020.
The Phase 1/2 study's primary endpoint was time to neutrophil (infection-fighting white blood cell) engraftment, and was met based on recovery of neutrophils. Patients treated with NiCord recovered their neutrophils with a median recovery of 11.5 days after transplantation vs. 21 days observed in the historic controls from data collected by the Center for International Blood and Marrow Transplant Research (CIBMTR). Platelet counts recovered within a median time period of 34 days in the NiCord treated patients, compared to 46 days in the historic controls.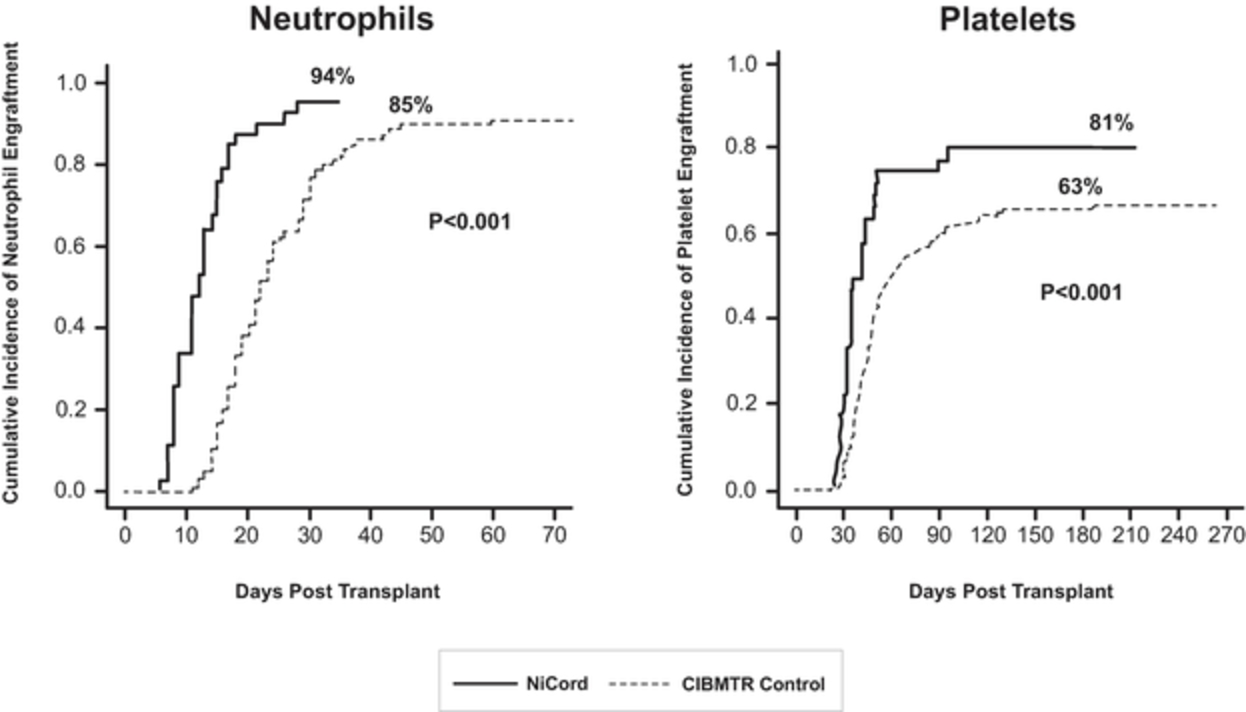 Source: Gamida Cell Form F-1
Gamida Cell owns 36 issued patents and 17 pending patent applications worldwide, including 11 US issued patents, three pending US non-provisional patent applications, two pending US provisional patent applications and one pending application under the Patent Cooperation Treaty (PCT). The company owns two issued patents in the US and 16 issued foreign patents related to NiCord.
Julian Adams, PhD, joined Gamida Cell's board of directors in August 2016 and has been CEO since November 2017. Dr. Adams has more than 35 years of experience in drug discovery and development. He was previously president and chief scientific officer at Clal Biotechnology, evaluating investment opportunities and supporting portfolio companies including Gamida Cell. Before Clal, Dr. Adams was president of research and development at Infinity Pharmaceuticals INFI and SVP at Millenium Pharmaceuticals, now part of Takeda TKPYY, where he led the development of Velcade (bortezomib), which is FDA-approved in multiple myeloma and mantle cell lymphoma. Dr. Adams currently serves as the Chairman of the board of directors of Vedantra Pharmaceuticals, and on the boards of directors of Warp Drive Bio, Pieris Pharmaceuticals PIRS and Neon Therapeutics NTGN.
Tony Peled is co-founder, Chief Scientific Officer and VP of of Research and Development of Gamida Cell. Dr. Peled was the lead researcher behind the discovery of the proprietary NAM technology and has more than 20 years of experience in drug discovery and development of cell therapies. Under her leadership, Gamida Cell has achieved several clinical milestones, which are supported by numerous patents as cited above. Prior to founding Gamida Cell, Dr. Peled served as a scientist in the hematology department at Hadassah University Hospital in Jerusalem, where she focused her studies on hematopoiesis and leukemic stem cell research.
Ronit Simantov, MD, is Gamida Cell's Chief Medical Officer, with more than 20 years of experience in hematology and oncology research, development, registration and product launch. Dr. Simantov was previously head of oncology global medical affairs at Pfizer PFE, where she was responsible for multiple programs including Sutent (sunitinib), Inlyta (axitinib), Ibrance (palbociclib), Bosulif (bosutinib) and Xalkori (crizotinib). She previously led phase 1-3 studies as VP of clinical research at OSI Pharmaceuticals and was chief medical officer at CuraGen, acquired by Celldex CLDX, where she led development of small molecules and antibody-drug conjugates. At Bayer HealthCare Pharmaceuticals BAYRY, Dr. Simantov led the phase 3 study of Nexavar (sorafenib) resulting in the first approval of a tyrosine kinase inhibitor in renal cell carcinoma.
Pipeline

The IPO is expected to price on or about Wednesday, October 24, according to Retail Roadshow. Though this microcap deal may fly under most investors' radar, we believe Galida Cell is a company worth watching given the early clinical results, market size for the potential stem cell transplant therapy, the management team and the involvement of Novartis.
Please email us at [email protected] to see our Case Studies and Testimonials.
Please click here for information on our new trading platform.
Please click here to receive our free daily newsletter.