The last couple of days have been tumultuous and this is reflected by the headlines in the media. In an article on the website of The Guardian, we read:
Bitcoin has all the hallmarks of a classic speculative bubble and even after almost halving in value in a matter of weeks it still has further to fall, according to a leading team of economists.
As regulators in South Korea again signalled on Thursday that they were considering a ban on cryptocurrency exchanges, Capital Economics also dismissed claims that bitcoin and its imitators could replace established currencies as "rubbish".
Bitcoin, which rose to more than $19,000 in December, recovered by 18% on Thursday after suffering heavy losses in the preceding two days.
Its value was sitting at $11,560 on the Luxembourg-based Bitstamp exchange shortly after 2am GMT.
It is as easy to describe Bitcoin as "done" now as it was to proclaim it the "new paradigm" a couple weeks ago. Both of these extremes seem to only scratch the surface. However, we have to go deeper to get to what the current situation might actually be. First of all, Bitcoin is probably not in the position to replace traditional currencies. Why? Well, it might be decreed illegal by the government and this would almost certainly happen in one way or another if the currency were to become big enough to threaten fiat currencies. And we're not even close to such a situation. Bitcoin is more like a big company than a currency when it comes to its size. Secondly, Bitcoin is not in a position to replace gold. Gold's value depends completely on what people are willing to pay for it, but at the same time, it has a very long history of being the asset of choice in times of unrest. As long as people are willing to rotate into gold when the going gets tough, there is a reason to treat it as insurance. The history of Bitcoin is not even comparable to that of gold. Also, the popularity of Bitcoin is akin to the popularity of Facebook – it relies on networks effects and these effects might reverse relatively quickly. For instance, it is conceivable that an improved version of the Bitcoin protocol might gain traction in the future. If you recall, in the world of technology the first instance of a solution is rarely the one to last. Just as Myspace (anyone?) lost its prevalent position in social media, Facebook might lose its. And Bitcoin is not immune to such threats, at least much less than gold. So, what might Bitcoin offer? It is a separate asset class for starters. It is not correlated to anything traditional. Secondly, Bitcoin is not a mature market and this makes it possible that it is still relatively inefficient and traditional trading techniques might work here better than in other more mature markets. So, having in mind that it's an extremely volatile asset and it should only be a very small part of ones portfolio (not more than, say 5%, but don't threat this as investment advice, since it depends on one's individual conditions), it might also offer outsized gains relative to risk. But you won't read this in traditional media outlets.
For now, let's focus on the charts.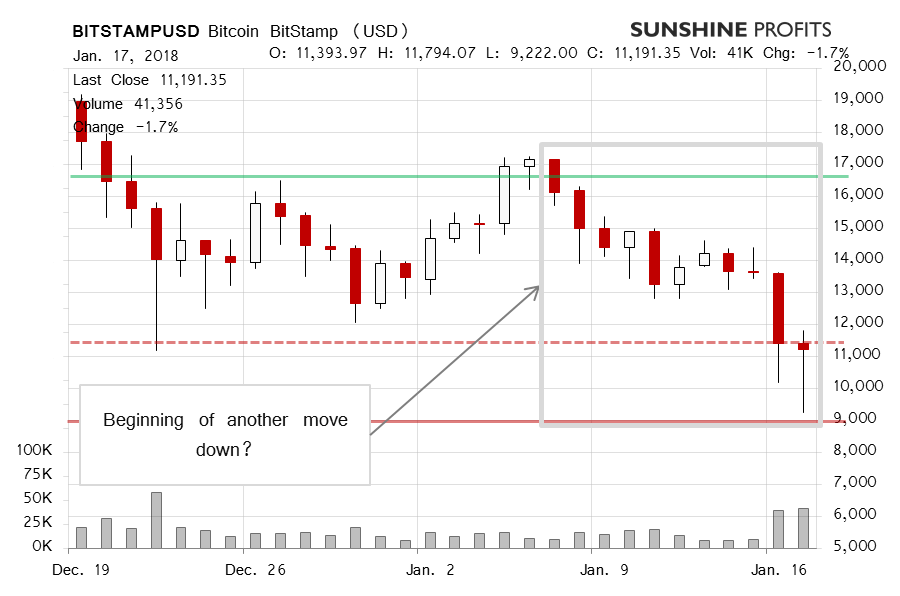 On BitStamp, we saw very significant depreciation which took place on significant volume. This looks like a potential game changer. But is it? We offer our opinion. First, recall our recent comments:
Since our previous alert was posted we haven't seen much depreciation. In fact, what we have seen looks like a period of weak back and forth trading. What is actually most interesting, is the fact that all of this movement has taken place very close to the 38.2% Fibonacci retracement level around $14,276. So far, the situation is such that we saw a couple closes below this level which suggests that the short-term outlook might be more bearish than bullish. At the same time, at the moment of writing this words (…), the price of Bitcoin is almost precisely at this level, having moved up. This means that, even though the situation is still more bearish, the outlook is clouded by the possibility of a move above the retracement.
If the situation was a bit unclear previously, it seems much clearer right now. The move below the 38.2% Fibonacci retracement level at $14,276 is now confirmed and we might even get a confirmation in time of the move below the 50% retracement at $12,611. This are extremely bearish developments, possibly game-changing.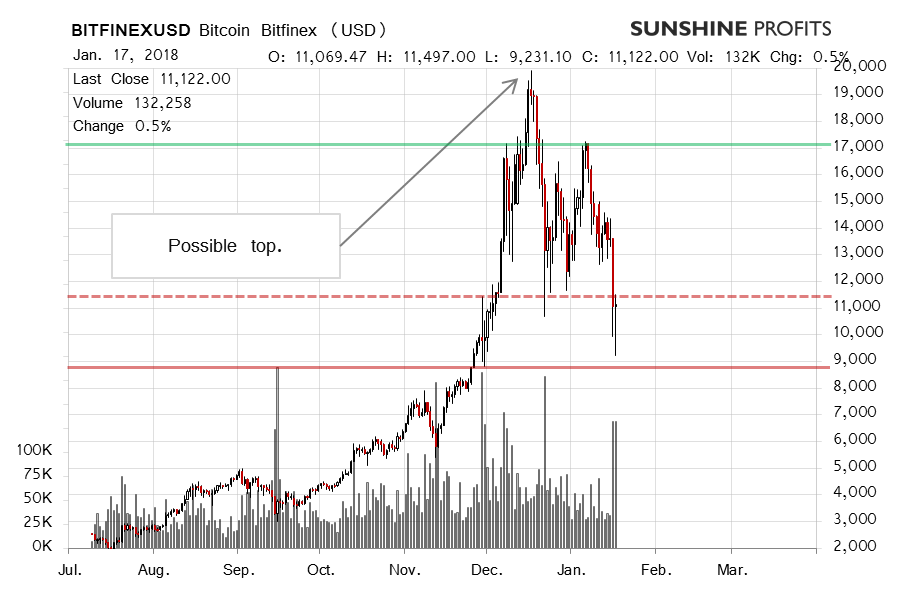 On the long-term Bitfinex chart, the previous appreciation looks like a dead cat bounce. The points mentioned above seem to confirm it. In our previous alert, we wrote:
The situation now is just as tense as it was at the time our previous alert was published if not more tense. It would be easy to proclaim that the move up has ended or that the currency definitely has to move down. We don't want to make such bold statements in light of the current cloudy situation. The pattern seen on the long-term chart suggests that we might have seen a very important top below $20,000, sharp depreciation and then a bounce to $17,000. This might imply that Bitcoin will be open to decline more substantially. The 38.2% retracement level might be the final barrier before the move. Since the move below the retracement is tenuous, we think it best to wait for the situation to clarify before considering hypothetical shorts.
In light of this, the 38.2% retracement indeed turned out to be the trigger for the move. And the move was actually a drop off a cliff. At the moment of writing, Bitcoin is even below the 50% retracement. In the current environment, the medium-term situation has changed to bearish and we would expect to see more declines in the next couple of months. The short-term situation is slightly less obvious as we might see a bounce to the upside. However, the risk of missing out on more declines seems too great at the moment in our opinion. Waiting for a move up might seem advantageous but it might not be possible to enter positions when the next move begins.
If you have enjoyed the above analysis and would like to receive free follow-ups, we encourage you to sign up for our daily newsletter – it's free and if you don't like it, you can unsubscribe with just 2 clicks. If you sign up today, you'll also get 7 days of free access to our premium daily Gold & Silver Trading Alerts. Sign me up!.
Thank you.
Regards,
Mike McAra
Bitcoin Trading Strategist
Bitcoin Trading Alerts