~ Equity + royalty financing for Phase 3 trial of lead product candidate in Q4 2018 ~
Oral mucositis is a commonly occurring, severely debilitating complication faced by patients undergoing treatment for cancer. Among the many ravages to the body caused by radiation and chemotherapy, the treatments break down the epithelial cells that line the entire gastro-intestinal tract, according to The Oral Cancer Foundation, rendering this tissue vulnerable to ulceration and infection. The oral mucosa—the part of this lining that covers the mouth—is one of the most sensitive parts of the body and is particularly vulnerable. In a 2014 study published in Pharmacoeconomics, Erika Wissinger, PhD, et al. found that 70% of adult head and neck cancer patients suffered from severe oral mucositis as a result of radiation therapy.
Patients with oral mucositis must often interrupt their cancer therapy as a result, compromising what otherwise may be a good prognosis for tumor control. Oral mucositis is accompanied by significant pain, leaving patients unable to eat solid food and, in the most severe cases, unable to even drink liquids. Weight loss, dehydration and serious infections can occur, leading to substantial increases in healthcare costs.
Malvern, Pennsylvania, based Galera Therapeutics is developing therapies to improve both the tolerability of current anti-cancer treatments and to directly treat cancer. Its lead product candidate, GC4419, has completed a 223-patient Phase 2b clinical trial in head and neck cancer patients that demonstrated:
92% reduction in duration of severe oral mucositis
34% reduction in incidence of severe oral mucositis through completion of radiation therapy
36% reduction in overall incidence of severe oral mucositis through 60 grays of radiation (1 gray = 100 rad = 1 joule/kg)
47% reduction in incidence of debilitating Grade 4 oral mucositis
Galera announced today that it has secured $150 million in a Series C financing and royalty purchase agreement led by new investor Clarus Ventures, with participation from additional new investors Adage Capital Management, HBM Healthcare Investments, Nan Fung Life Sciences, RA Capital, Rock Springs Capital and Tekla Capital Management. Existing investors Correlation Ventures, Galera Angels, New Enterprise Associates, Novartis Venture Fund, Novo Ventures and Sofinnova Ventures also participated. The deal includes $70 million in equity and an $80 million royalty financing payable from future sales. Per the terms of the royalty purchase agreement, Clarus Ventures will receive single-digit future commercial royalties from the sales of GC4419 and a related pipeline asset until the total royalty amount achieves an undisclosed multiple of the initial $80 million.

GC4419 is a small molecule enzyme mimetic that is designed to replicate the activity of superoxide dismutase (SOD), a family of enzymes that catalyzes the rapid conversion of superoxide to molecular oxygen and hydrogen peroxide, which itself is subsequently converted to molecular oxygen and water. Superoxide, a free radical form of oxygen caused by radiation or chemotherapy, is believed to be what causes the degradation of the mucosal lining. GC4419 fill the gap in this critical conversion activity when the body is overwhelmed by excess superoxide.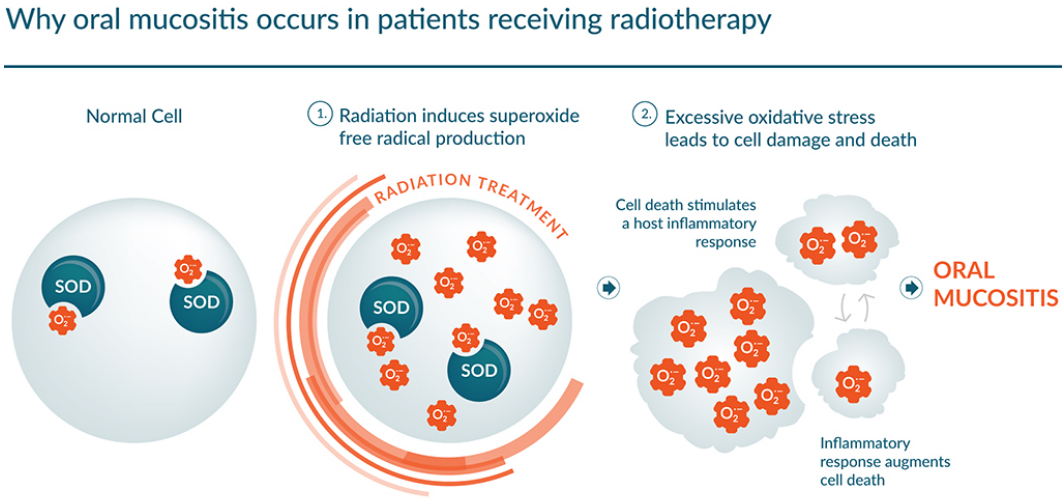 Source: Galera Therapeutics
Galera received Breakthrough Therapy designation on GC4419 from the FDA in February 2018 for the reduction of the duration, incidence and severity of severe oral mucositis induced by radiation therapy with or without systemic therapy. The FDA previously had granted Fast Track designation to GC4419 in 2016 for the reduction of the severity and incidence of radiation and chemotherapy-induced oral mucositis.
This significant raise further validates the dramatic and meaningful results of our randomized Phase 2b clinical trial and the potential of GC4419 to revolutionize radiotherapy. We are grateful for the robust support from existing and new investors as we prepare to advance GC4419 into a pivotal trial for severe oral mucositis in head and neck cancer patients in the fourth quarter of this year. The funds provide Galera with ample financial resources to complete the Phase 3 clinical trial, begin commercial planning activities and further explore the potential of GC4419 beyond SOM. We look forward to initiating a supportive care trial of GC4419 in radiation-induced esophagitis and a therapeutic trial in a second cancer indication, as well as continuing to evaluate the safety and anti-tumor effect of GC4419 in our ongoing Phase 1/2 pancreatic cancer clinical trial.
– Mel Sorensen, MD, President and CEO, Galera Therapeutics.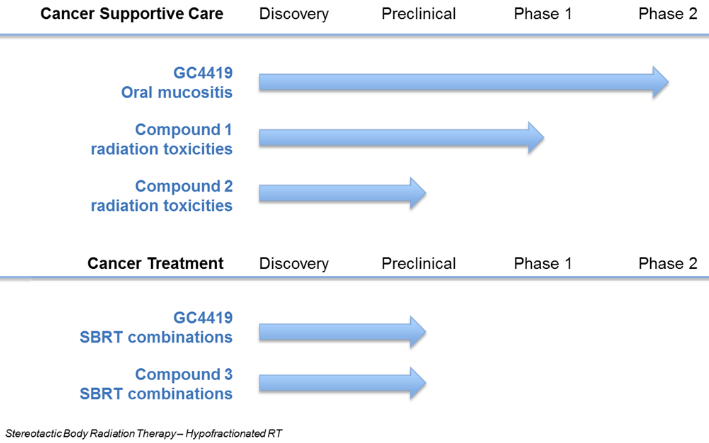 Source: Galera Therapeutics
Please email us at [email protected] to see our Case Studies and Testimonials.
Please click here for information on our new trading platform.
Please click here to see our daily newsletter.