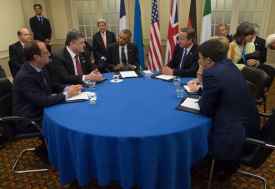 The Group of Seven (G7) Summit begins today as President Barack Obama and six of the world's most powerful leaders descend on the German resort town of Krün for a two-day meeting focused on addressing trade, religious extremism, and climate change.
Also on the agenda is escalating Russian aggression in Ukraine. Russia has been ostracized from what was previously known as the G8 since last year following its annexation of Crimea. Since then, increasingly harsh economic sanctions have proven ineffective at curbing violence in the region. Just this past Friday, a senior European monitor at the United Nations blamed both Russia and Ukraine for breaking a ceasefire as reported by Reuters. However, don't expect definitive action to be taken against Russia at the G7 Summit as European leaders are having a separate meeting later in June to decide whether to continue or expand sanctions on Russia.
Further complicating the Summit's official agenda is the Greek debt crisis. Host and German Chancellor Angela Merkel as well as French President Francois Hollande were forced into an emergency phone call with Greek Prime Minister Alexis Tsipras in an effort to break the deadlock between Athens and its international creditors. Their call was the fourth in only ten days designed to help structure the terms of a cash-for-reform deal that would see Greece avoid a default on its loans and a possible exit from the eurozone.
That being said, with Japanese Prime Minister Shinzo Abe, United Kingdom Prime Minister David Cameron, French President Francois Hollande, Canadian Prime Minister Stephen Harper, and Italian Prime Minister Matteo Renzi also in attendance, it is expected that there will be new partnerships and efforts announced in accordance with Chancellor Merkel's G7 Summit goal of securing commitments to fight climate change ahead of the United Nations climate summit in Paris in December.
According to the BBC, Chancellor Merkel also seeks to "streamline and re-focus the World Health Organization, widely judged to have been ill-equipped when Ebola hit, and build up an international reserve force of doctors and scientists for deployment in a future crisis." She has the full support of Prime Minister David Cameron, who recently announced plans to develop a rapid reaction force composed of "disease detectives" who are properly equipped and trained to respond to future pandemics. Summit participants are also expected to discuss increasingly aggressive militant threats from the Islamic State of Iraq and Syria (ISIS), Boko Haram, and Al-Qaeda in the Arabian Peninsula (AQAP).
The G7 Summit itself is set to take place in the Schloss Elmau, a former castle that has been developed into a high-end resort with luxurious suites, restaurants, pools, and spas. Nikolai Bloyd, the general manager of the Schloss Elmau, described the German government's renting of the entire hotel as a "huge honor...The spotlight of the world is coming down to look at this beautiful area of Germany, this picturesque alpine valley in the Bavarian Alps."
The beauty of the resort will be complemented by elegant dining plans developed by the German government and Mario Corti, the head chef of Luce d'Oro. The menu is rumored to feature regional cuisine made from local ingredients, but its exact contents have not been revealed to the general public. Corti has previously cooked for VIPs including Bill Gates and Prince Charles.
Security around the resort has been tight for several weeks, with police deploying 17,000 officers and searching all items and vehicles entering the venue in an effort to keep the world leaders safe. While that may seem extreme, thousands of anti-G7 protesters gathered and marched in the nearby town of Garmisch-Partenkirchen on Saturday. CNBC reported that there were "sporadic clashes with police and several marchers were taken to [the] hospital with injuries," but noted that "the violence was minor compared to some previous summits."
In total, the G7 countries represent more than 64 percent of the net global wealth according to the Credit Suisse Global Wealth Report published in October 2014. The lack of a focus on social inequality and anti-poverty efforts was notably missing from the Summit's agenda, leading Oxfam to stage a protest on Saturday in which the G7 leaders were depicted with huge heads while wearing traditional German garb. The charity urged leaders to find the "right path" to overcome poverty.
**Ari Zoldan is on location for this assignment in Krün, Germany at Schloss Elmau. Alex Hantman contributed to this article.
DISCLOSURE: The views and opinions expressed in this article are those of the authors, and do not represent the views of equities.com. Readers should not consider statements made by the author as formal recommendations and should consult their financial advisor before making any investment decisions. To read our full disclosure, please go to: http://www.equities.com/disclaimer