Facioscapulohumeral muscular dystrophy (FSHD) is the most common of the nine primary types of muscular dystrophy. Studies once estimated prevalence to be about 1 in 20,000 people, according to the FSH Society, but a 2014 study by Johanna C.W. Deenen and colleagues at Radboud University Medical Center in The Netherlands reported a much higher number of 1 in 8,333—which would translate to about 900,000 people worldwide. Even this number may be low due to the high amount of undiagnosed cases. The progressive loss of skeletal muscle in FSHD patients is most noticeable in the face (facio), back (scapula) and upper arm (humeral) muscles.
FSHD affects both sexes equally, and has no particular racial, geographic or ethnic distribution. The age of onset can range from infancy to adulthood, and the progression of the disease is generally slow and always relentless, leaving about 25% of patients over 50 years of age needing a wheelchair for mobility. The FSH Society says that 30% of newly diagnosed patients have no prior family history of the disease and are affected by a congenital spontaneous genetic mutation. Once present, however, FSHD is transmissible in autosomal dominant fashion, meaning that an affected parent has a 50% chance of passing on the genetic defect to each child.
Source: FSH Society
Cambridge, Massachusetts, based Fulcrum Therapeutics is developing small molecule therapies based on modulating gene regulation via control of genetic on and off switches of disease genes. The company draws from four scientific disciplines—gene regulation, human genetics and disease, cell biology, and screening and computational tools (such as CRISPR-Cas9 and chemical probe libraries)—to identify novel drug targets and develop breakthrough therapies. Fulcrum announced today that it has raised $80 million in a Series B round led by Foresite Capital, with participation by Fidelity, 6 Dimensions Capital, Casdin Capital, Sanofi Ventures, Section 32, NS Investments, entities affiliated with Leerink Partners and other undisclosed institutions.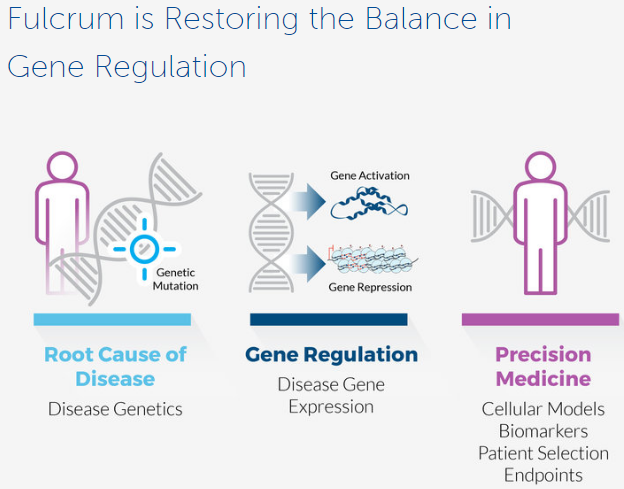 Source: Fulcrum Therapeutics
Fulcrum will use the proceeds to advance its lead program in FSHD into clinical testing, and to progress its pipeline of therapeutics for rare, genetically-based neuromuscular, central nervous system and hematologic disorders. The company has initiated clinical trial readiness studies in FSHD in partnership with the FSHD Clinical Trial Research Network in order to standardize a set of tools and measurements for Fulcrum's future clinical drug trials. The company's other programs are in the discovery stage, including Duchenne muscular dystrophy, fragile X syndrome, ?-synuclein mediated neurodegeneration (including multiple systems atrophy, Lewy body dementia and Parkinson's disease) and sickle cell disease.
Fulcrum is leading the way with their small molecule, precision medicine approach to treating severe genetic diseases. We believe the convergence of biology and data science will be the key to unlocking novel treatments for patients and families that have run out of options. We look forward to supporting the Fulcrum team as it works to advance its rare disease-focused pipeline.
– Jim Tananbaum, MD, CEO, Foresite Capital, and new board member, Fulcrum Therapeutics.
President and CEO Robert Gould, PhD, has been with Fulcrum since its launch in 2016 with $55 million from Third Rock Ventures. He was previously president and CEO of Epizyme EPZM from 2010 to 2015, and director of novel therapeutics at the Broad Institute of MIT and Harvard from 2006 to 2010. Dr. Gould spent 23 years at Merck MRK where he held a variety of leadership positions, culminating in the role of vice president, licensing and external research, and was instrumental in advancing more than 20 compounds from discovery into clinical development.

Please email us at [email protected] to see our Case Studies and Testimonials.
Please click here for information on our new trading platform.
Please click here to see our daily newsletter.