​Friday the 13th Tweets by Whistleblower's Lawyer is Tesla's Nightmare
Michael Markowski Follow |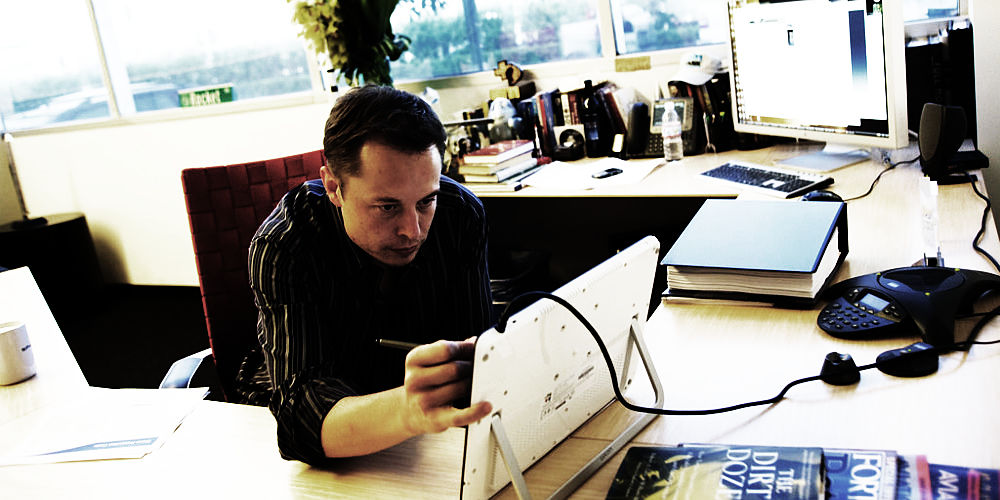 Image via OnInnovation/Flickr CC
On Friday July 13, 2018, Stuart Meissner, an attorney representing Tesla Whistleblower Martin Tripp, put out two tweets about Tesla. If what the lawyer said is true, the result would be nightmares for both Tesla and its CEO Elon Musk. The first tweet was put out Friday morning.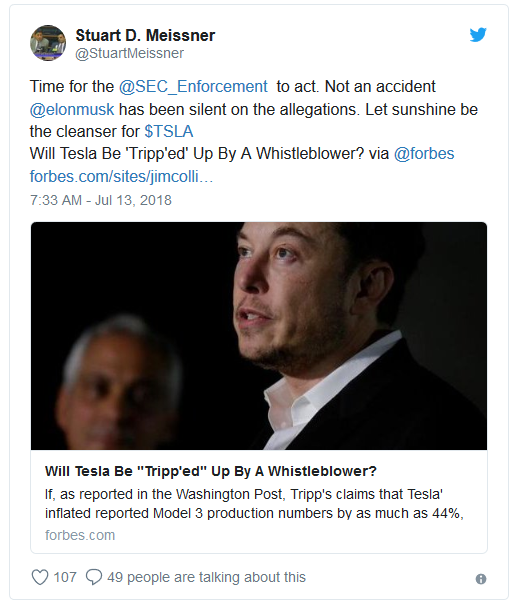 When Mr. Meissner was asked as to whether he was short Tesla's (TSLA) shares after he sent out his early morning tweet he replied that he was not short but that he should be from what he and everyone else now knows.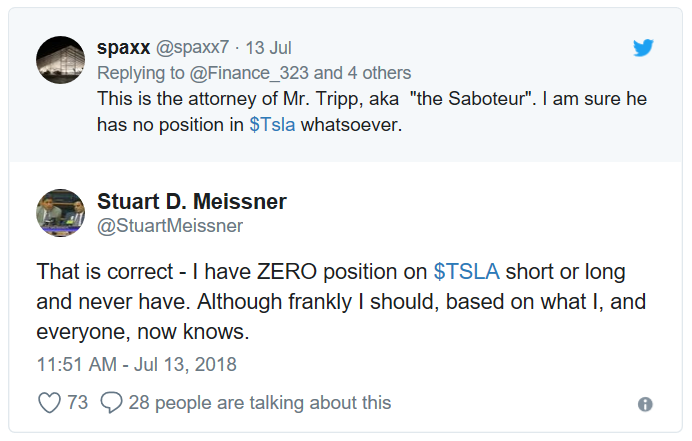 According to the article by "Tyler Durden" entitled "Tesla Whistleblower Attorney Says 'I Would Short Tesla Based On What I Know" that was published by Zero Hedge on Friday July 13, 2018, Meissner Associates, a law firm representing Martin Tripp, the former Tesla employee who had been accused of sabotaging the company and who Tesla had filed a lawsuit against on June 20, 2018, filed a SEC whistleblower claim against Tesla. In his article, Durden provided details about the claims, which were included in the whistleblower filing that Mr. Tripp had alleged that Tesla had:
Placed batteries containing dangerous puncture holes in vehicles which proceeded to the end of the assembly line in a process known internally at Tesla as "Containment AR622" and which input into vehicles was tracked until the end of the assembly line process;
Overstated to investors the number of Model 3 vehicles being produced each week by as much as 44%. The whistleblower alleges that the famed factory board which reflects a daily Model 3 production count and often referred to by Tesla is inflated;
Lowered vehicle specifications impacting upon safety such as placing battery cells too close to one another and which were not properly affixed, risking future combustion; and
Systematically reused parts already deemed scrap/waste in vehicles without regard to safety.
Above bullet points above excerpted from Zero Hedge article.
The events and drama, including the allegations of sabotage and the filing of a lawsuit against a former employee, are in further support of my thesis that Tesla does not have a scalable manufacturing process and that its founder Elon Musk has become fanatical about maintaining Tesla's share price and valuation. See my two recent articles about Tesla:
The filing of the whistleblower claim against Tesla should be taken very seriously. Meissner & Associates is a law firm which specializes in Whistleblower cases. Further, since Musk has been an aggressive promoter of his company if there is any truth to Mr. Tripp's claims both Tesla and Mr. Musk could be charged with serious allegations by the SEC. The result could be Mr. Musk having to step down as CEO and Chairman of Tesla. Should this happen it would be devastating for Tesla and Musk.
Tesla is the most overvalued company that I have come across in my 42 years that I have been in the capital markets. Based on its most recent valuation of more than $50 billion it has the highest risk and lowest reward ratio of any investment opportunity that I have ever come across. Holders of Tesla shares should either sell them or purchase put options to protect themselves against significant downside risk.
To be alerted when my next report or article is published about Tesla go to www.BullsnBears.net and register for the FREE alerts.
DISCLOSURE: The author does not have a position in Tesla.

---
The views and opinions expressed in this article are those of the authors, and do not represent the views of equities.com. Readers should not consider statements made by the author as formal recommendations and should consult their financial advisor before making any investment decisions. To read our full disclosure, please go to: http://www.equities.com/disclaimer
Companies